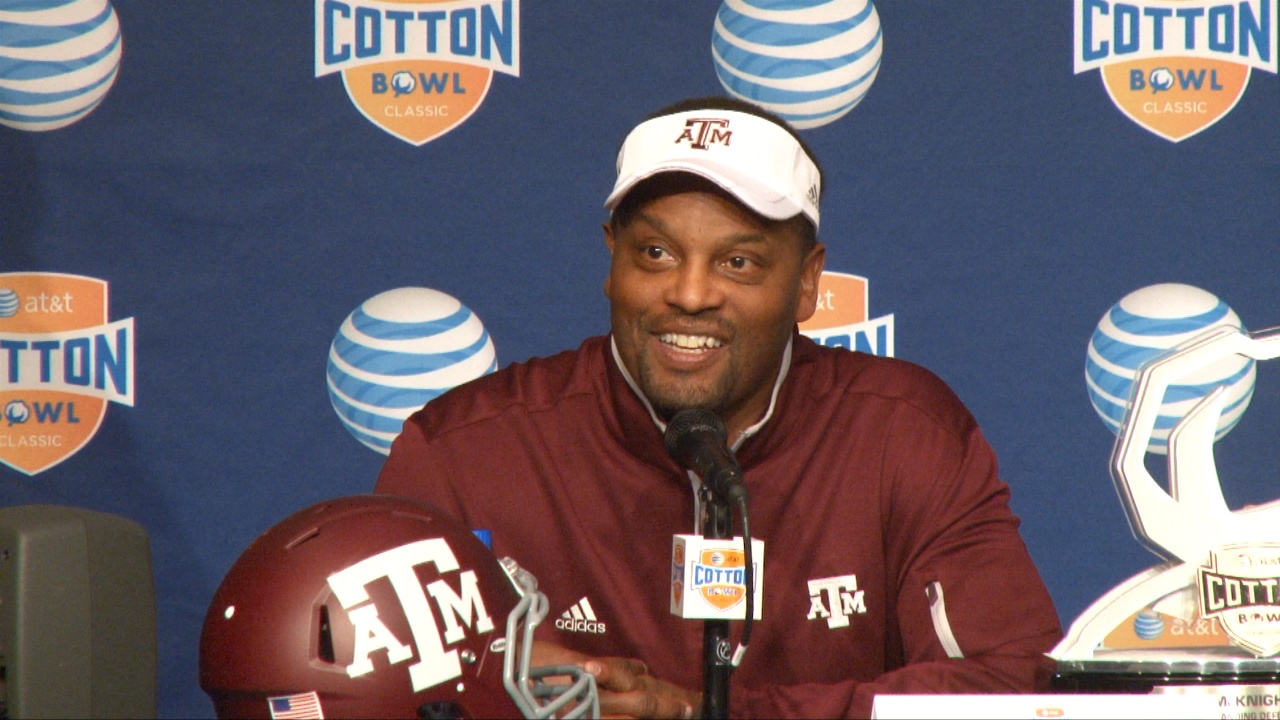 Texas A&M Football
Post-Cotton Bowl press conference: Sumlin, players
---
Kevin Sumlin
On whether he's asking 'what if' regarding a playoff with his team playing so well...
"No. We know what the rules were before the season. It's all set up that way. When the rules change, then there's time to talk about that.
"Everybody's playing under the same rules before the season. You have your schedule. You play your games. You try to win 'em all. That's the way college football is set up right now. That means that every game you play is important. Every game that you win gets you closer to that. One loss or two losses, depending on who you played, can change your season.
"The way things are set up now, no, there's no reason to look back and ask that. When that format changes, as a coach, as a team, you try to play your way into that playoff system. Obviously that will be a goal when that changes. As for now, you know, the rules are the rules. We get that. We know that before the year."
Johnny Manziel
On where this ranks among his games this season...
"As far as an offensive standpoint for me, this is the kind of a game that turned the page again. You asked me questions earlier in the year about what game made it all click. There was the Arkansas game, and this game tonight made me flashback to that. The coaches did a great job of putting a great game plan together.
"Everybody was talking about, 'OU guys have this much time to scheme up y'all.' Well, we have this much time to scheme up OU as well, so people didn't really give us enough credit for that. They did a great job of putting a good game plan together.
"And really, the offensive line, the receivers, everybody went out and executed tonight. It was a great night for the offense."
On finishing his first season and looking at what's ahead...
"It's been crazy. It's been a rollercoaster to see how things have played out from the first game to where they are now, and what things have played out in my life as well as everybody on this team, how we've progressed as a team, how we've continued to get better every week.
"Came and played one of our best games all year today. I'm not really worried about the future and that right now. I'm really enjoying this. Some of the seniors, the last time they'll get to be in the locker room with all of us, just enjoying the time with all these guys, that's what my main focus is."
On putting an exclamation point on the season and the seniors' role...
"For me, it was a different feel. There's so much talk, uncertainty about everything, us as a team, us as an offense for sure. We knew what we had with Coach [Clarence] McKinney. So going into today, there was just a different look in everybody's eyes.
"To look at Pat, Swope, the seniors on the offense, just a different feel about it. They knew it was their last one. I think every underclassman on our team wanted to get it for them. I know for me, without them, none of my success this year would have been possible. I'm thankful for Pat and what he's done with the offense line we've had. Swope, all the seniors, it's going to be hard to see them go, but they need a lot of credit."
Ryan Swope
On where this ranks among Manziel's games this season...
"I think offensively, guys just bought into the system. We knew what we had to accomplish tonight. The coaches put us in a good situation. We had trust in them. Offensively, we went in at halftime, made some adjustments and knew that guys had to step up and make plays. Everyone just bought in. It was real fun.
"Obviously, Johnny had a great night. The offensive line gave him protection. Everyone came out and played and knew what was at stake."
Luke Joeckel
On putting an exclamation point on the season the team has had...
"You know, I think we've got to give everything to the seniors. They're definitely the leaders of our teams. We might have gotten the accolades and stuff like that this year. Without the seniors, we wouldn't have had the season we had. They brought into Coach Sumlin's system and the rest of the coaching staff's system from the get go. They could have checked out for their last year, but they bought in for us.
"Speaking as a junior, the rest of us followed. I followed Patrick Lewis. I think Spencer Nealy gave him the nickname "The General," and he is the general of our offense. I've enjoyed playing with him for the last three years. It's going to be hard to watch him go. We might have gotten all the accolades, but the seniors are definitely the leaders of our team."
Damontre Moore
On what his last game at A&M meant...
"Words can't describe how I feel right now. I'm just overwhelmed with excitement and joy, just to get such a big win, all the goals that we set for ourselves at the beginning of the season, to see them be accomplished. I'm going to miss this whole atmosphere with the coaching staff helping me grow, my teammates helping me grow.
"We had our ups. I didn't cause a lot of downs (laughter). I'm kind of just going to miss the whole brotherhood and everything, everybody getting on me, helping me grow up at the same time, them coming back and telling me that they love me.
"I've enjoyed spending time with Johnny. He's one of the funniest people I ever met. One of the most talented. Ben (Malena), I grew up with him. Swope, he always came to me when we shared lockers next to each other, telling me how I need to mature, You need to stop doing this.
"Right now I'm trying to bask in the moment. I'm tired of crying. I just want to cry from excitement and joy that we won this. I think it was a big, monumental win for us, me and the juniors and the seniors that were here, 'cause our freshmen year we came here, were doing good, it went downhill. We lost in the Cotton Bowl. I think it was a good redemption win for us. We're kind of excited about the whole situation."
On putting the exclamation point on the team's season...
"I want to piggyback off of what [Joeckel] said. It's the same thing with the defense. Just because we got accolades, it's not us. If it wasn't for the seniors buying into the system, telling us that we're going to buy into the system ... we're going to follow exactly what these coaches say, then they set a good example for us. If they didn't, who knows where we would be at right now.
"Honestly, I give all the seniors and upperclassmen, the offense and defense, credit for my success. Without them, I wouldn't be here. There were many a day they told me, 'Damontre, you shouldn't do this.' They tell me what's going to do this, what was the cause, I go back and it actually happens. I'm like, 'Man, what if I would have disobeyed them?' I give them credit for my success and my maturity throughout this whole process.
Dustin Harris
On his personal growth through his senior season...
"It was hard work, day in, day out. Going in in the season as a senior, knowing that you still have competition with the freshmen, the sophomores, juniors coming up, everybody's battling for a spot. Coaches were on my butt every day trying to get me straight. Finally it happened.
"You know, I bought into what Coach Sumlin and Coach Yates and Coach Snyder were saying, just like all the rest of these guys. Our success, it comes from them, because all they had to do is tell us what to do. If we did it, we would end up where we are right now.
"I just give all the blessings to God, thank them for a wonderful season, all the seniors. We've been in it for four years. It's been a rough and long ride, but we ended it with a success. I'm just thankful."
---
Post-Game Notes
- Texas A&M's Johnny Manziel set the all-time FBS bowl record for rushing yards for a quarterback. The previous record was 201 by Dwight Dasher, Middle Tennessee vs. Southern Miss in the 2009 New Orleans Bowl.
- Texas A&M's 599 total offensive yards is a Classic record, breaking the previous mark of 578 by Southern California vs. Texas Tech in 1995.
- Texas A&M's Johnny Manziel set a Classic record for total offensive yards in a game. The previous record was 407 by Graham Harrell, Texas Tech vs. Ole Miss in 2009 - Texas A&M gained over 400 offensive yards for the 12th-straight game.
- Texas A&M broke the SEC record for yards of total offense and is the first team in SEC history with 7,000 total offense yards in a season.
- Texas A&M's Johnny Manziel set the Classic single-game rushing record for a quarterback. The previous record was 164 yards by Texas' Eddie Phillips vs. Notre Dame in 1971.
- Game attendance was 87,025. It is the second-highest attendance in Classic history behind 88,175 from the 2009 Classic (Ole Miss vs. Texas Tech).
- Oklahoma's Landry Jones shattered the record for first-half completions for a quarterback with 23. The previous record was 15 by Rick Clausen of Tennessee in 2005. His 30 attempts is also a first-half record.
- Texas A&M's Johnny Manziel is the fourth player in NCAA Football Bowl Subdivision history to rush for 20 or more touchdowns and pass for 20 or more touchdowns. Others are Florida's Tim Tebow, Auburn's Cam Newton and Nevada's Colin Kaepernick.
- Kenny Stills is now third in Oklahoma history with 203 career receptions.
- Oklahoma's Landry Jones' 10-straight pass completions set a Classic single-game record, previously held by three others (Texas' Bobby Layne in 1946, Oregon's Tony Grazini in 1996 and Arkansas' Clint Stoerner in 2000) with eight straight.
- Oklahoma's 18-play drive was the Sooners' longest scoring drive of the season (in terms of plays). 7:26 is also the longest drive of the season for OU (in terms of time).
- Oklahoma was the first team to score in the first quarter vs. Texas A&M since Ole Miss in the fifth game of the season. In the last eight games, A&M has outscored its opponents, 120-3.
- Texas A&M's opening touchdown drive was the 7th quickest scoring drive in Classic history (since 1949).
- This marked the 18th time a team has scored following the opening kickoff (18 times in 77 years).
- Texas A&M has scored first in 18-straight games dating back to 2011.
- Texas A&M's Johnny Manziel has set the Classic single-game records for total yards with 516. The previous mark was 407 by Texas Tech's Graham Harrell in 2009.
- With the win, Texas A&M got its first win in Cowboys Stadium. A&M was 0-4 in previous games in the stadium.
- The win gives the SEC five-straight Classic wins (2009, 2010, 2011, 2012 and 2013).
Never miss the latest news from TexAgs!
Join our free email list
PRESENTED BY