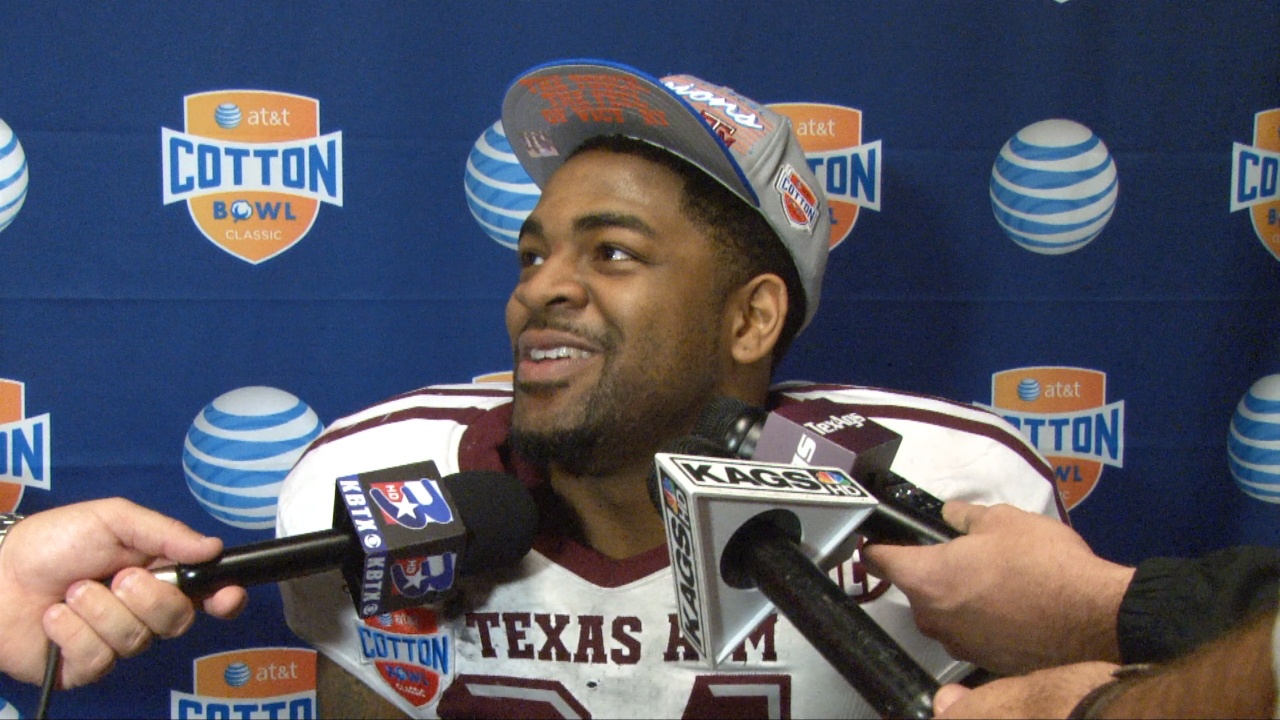 Mark Snyder
Ryan Swope
Damontre Moore
Texas A&M Football
Locker Room: Cotton Bowl victors Snyder, Swope, Moore
---
Select quotes from locker room interviews

Mark Snyder
On beating OU to cap off a great season…
"Awesome [night]. Incredible experience. Incredible week. Any time you can win 11 games, it's pretty special. The way it happened this year was really nice, and this culmination right here was [great]. I'm tired, but I'm really excited."
On adjustments defensively in the second half…
"We started heating up [Landry Jones] a little bit more. They were prepared and they did a great job. He had a really good first quarter-and-a-half. We had enough bullets in the holster when we came back out [after halftime] to keep giving him different looks. And then at some point in time, the kids [caught] fire."
On Damontre Moore's growth on and off the field…
"Damontre [made great strides] as a person. It's amazing that when you do things right off the field, you can do things right on the field. I think that happened for him. The guy matured and ended up having a terrific season for us."
Ryan Swope
On going out the right way with a Cotton Bowl win over OU…
"It was just a very emotional night and no better way to go out than to get the win here in Dallas and to get that monkey off of our back [at Cowboys Stadium], and to be a part of something really special here [the last] four years in Aggieland."
On the bright future of A&M football…
"[The future of A&M football] is very bright. I've got confidence in these coaches and players. Hopefully we can make a legacy and start something really special here in Aggieland. I'm just happy to be a part of making history … coming into the SEC, getting 11 wins and being the fourth team ever to do that as an Aggie. It's very humbling and I thank God for allowing me to have these four years in Aggieland. It's been incredible.
Damontre Moore
On going out with a Cotton Bowl win over OU…
"This is the best way to go out. Ben Malena and I walk the field before every game, and he was like, 'What better way to go out?' A lot of us started in Dallas [growing up] and we did some great things in College Station. To end [our careers] back in our home crowd with a major win against a former opponent and a powerhouse was a good thing. To say that we're on our way [is great]."
On the bright future of A&M football…
"[A&M's future] is really bright. It's a wonderful institution. The coaching staff and camaraderie will play a part, as will the great schemes that Coach Sumlin and Coach Snyder are putting in and the great talent that is coming in. We're bringing in all of this talent and applying this talent, so the sky is the limit."
Never miss the latest news from TexAgs!
Join our free email list
PRESENTED BY