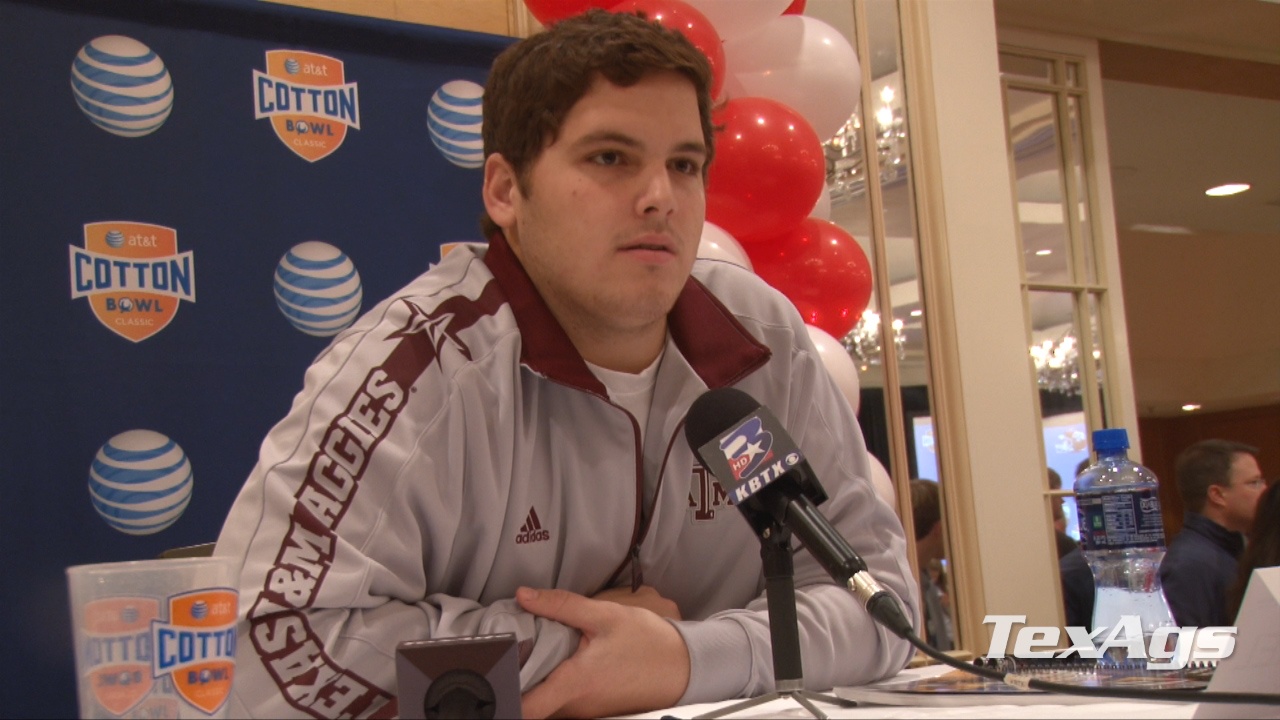 Kevin Sumlin - Video
Kevin Sumlin - Audio
Johnny Manziel
Ben Malena
Ryan Swope
Uzoma Nwachukwu
Luke Joeckel
Texas A&M Football
Cotton Bowl Media Day: Texas A&M Offense
---
Kevin Sumlin
On recruiting defensive end David King to Oklahoma…
"He's been through a lot. I remember leaving and him having a death in his family. There have been so many things that have happened, and you get involved in guys' lives. Obviously, he has had a really good career there. It's been five years, but a lot of guys have come and gone. There will be a lot of guys in this game, on both sides, that I have been fortunate enough to be part of their life."
On keeping his team in check emotionally…
"I don't know if we have kept the lid on the emotions. I think people think we practice every day after the season, right up until this game. That's not the case. These guys are kids, and the ability to get away from school and practice and from me is probably important after a year where we had the first game postponed and went 12 straight weeks without a bye week.
"When you're playing meaningful football, there is a lot of pressure involved in that. We try to lighten it up, but these guys feel it, particularly when you just turned 20."
On his approach to coaching a Heisman-winning quarterback…
"We've had some conversations, and I've said it before, winning the Heisman should not be a punishment. It's like a lot of different things where you have friends who achieve a certain status or they get a different job, and the first thing their friends say is, 'I hope he doesn't change.' Now we're telling Johnny, we hope he does change.
"I don't know if that is all right or all wrong, but my point being is that a lot of things that have made him successful in one season are the things we don't want to take away. Certainly, his life has changed. The Monday and the Heisman gala was probably the biggest effect on me or him that I have ever seen because there are guys that have actually won the award, not reporters or me or some other people trying to tell him what to do.
"When Doug Flutie came and talked to me for five minutes about how he wished he could play football right now in our offense … These guys have egos too, but for him to sit down and talk to you and watch him exchange phone numbers with Johnny, that's a huge deal. Tony Dorsett said it (shortly after Johnny won the Heisman), 'Tomorrow morning, his life will be different forever. When he gets up in the morning and comes out of the hotel room, people will be opening doors and will be getting stuff for him. It will just be a different deal for him. We're here to support him with that.'
"To watch those guys talk to him and exchange phone numbers and talk to him about things that we have no idea how that works, I think that is extremely important."
On having an offensive identity…
"You are who you are at this point in the year. We all have 12 games on video, and you get a chance to look at every game and study it. Bob does a great job with that. Offensively, Mike (Stoops) will be looking at that and going through it with a fine tooth comb. We have plenty of time as coaches to be able to do that. I think a lot of times, it's just like the first game when people said, 'They couldn't adjust.' We knew what was going on.
"As coaches, we can adjust. It's, can your players adjust? And in particular, the first game with a freshman quarterback, we didn't have a lot of offense in. We are a very different team now than we were in week one. I think people have seen that evolve and it's not about what you understand as a coach or the adjustments you make as a coach, it's what your players can execute.
"With this much time off and knowing those guys and our guys, we're not sitting around doing the same thing every day. There will be some interesting things going on in this football game, but that's all part of bowl games."
Johnny Manziel
On getting back on the field for a game after more than a month off…
"It's going to be fun to get back into the groove of things and get back onto the field and play with all the guys. We'll see how we mesh with Coach Kingsbury being gone and we expect to come out and play a good game."
On how the events of the past month have affected him…
"It hasn't changed me as a person. It might have changed the way I have to do some things and the way I go about in public, but it hasn't changed me as a person."
On what he did to get back into the swing of things after his media tour…
"I don't know if it was focus, but it was more of getting back into the routine and making sure to get your throws back and getting your game touched up more than it was being focused. I was eager to get back. As soon as New York was over and all that stuff was over, I was eager to get back. Once I got back, it was more fine tuning the skills again and getting it back to where it was before."
On the Oklahoma defense…
"I feel like they have a very solid defense. They are a good defense who are quick and very athletic. I think that jumps off of film whenever I look. It will be an interesting matchup."
On his abnormally large hands and feet…
"For being as short as I am, six foot, I have really big hands and really big feet. I wear a size 15 shoe. It's not easy to find when you wear a XXXL in gloves and wear size 15 shoes. I'm definitely a little odd I guess."
On Oklahoma linebacker Tom Wort…
"Tom is a guy that I played against in high school. He stood out from the get go. He had a thousand tackles a year in high school and just lit everybody up. I remember playing against him, and he's one of those guys that leaves the impression after you play. He has that wow factor and he's gotten better as the years have progressed. I've been watching him for sure."
On playing in his first bowl game…
"I'm very excited. This is the first time I will play in Cowboys Stadium. I got to come last year when we played Arkansas. It's a cool stadium and a great atmosphere, but I didn't get to play. I'm excited to play under the lights and the jumbotron. It will be fun to play in a bowl game."
Ben Malena
On the importance of establishing the run…
"It's always important to get a good run game going against opponents because it keeps the defense honest. If we can get a good run game going, I think Johnny can take care of it in the passing game."
On practicing for the Cotton Bowl…
"Maybe the first one or two day, not having Kliff there to be the person to really lead this offense. After that, everything has been running smooth, our offense has picked back up and we're back rolling."
Ryan Swope
On how the receivers have helped Manziel…
"Well, I think, obviously we got practice. We do the route running and the little things like blocking. I think that's been a key for the receivers this year and the coaches have emphasized it. We take it personal. We want to go out and set the tone of the game. It's important to us that we come out with fire and get as many body blows as possible.
"I think Johnny extends the play for so long, you have to be on your toes at all times. You have to be a great blocker in this system, especially with Johnny running around. It's fun and at the same time you have to learn how to scramble and get open. You just have to be aware at all time and all situations."
On Manziel's last month…
"I just think it's one of those things that it's once every blue moon when you have a Heisman winner come through your university. The crazy thing is he's a freshman and he's really just had a great year for us. He deserved it. I'm excited for him and can't wait to see what he does in years to come. It's scary that a freshman is winning the Heisman, so we'll see what he does the next three years. It's pretty interesting."
On all the media coverage the team has been getting…
"I think it's really cool. You don't see that every day, a Heisman winner on your football team. We're absorbing it, but at the same time we have a goal here and we can't get sidetracked. Our ultimate goal is to win this football game. The award is great for Johnny, but I know Johnny too well. He's not going to get caught up in this. He knows what's at stake for us and that's to win a bowl game."
Uzoma Nwachukwu
On the layoff between the end of the regular season and the bowl game…
"It's been forever, and I feel like we have been talking about this game for forever as well. We're just ready to get on the field and see what we have been doing in practice."
On trying to finish his collegiate career with a victory…
"That's the way you want to go out. That's the way you want to end your college career, with a win. Especially coming back to Dallas, it would be amazing. That's what you want to do, and you try to harp that onto the younger guys to motivate them in practice a little bit more."
On Sumlin's ability to treat the Cotton Bowl as just another road game…
"He's done a great job, even the meetings are the same. He's made sure that our whole schedule is the same and that we feel comfortable. We do what got us here and what got us winning ball games."
On playing a familiar team in a season of unknowns…
"When you play all these teams in the SEC that you haven't seen before and that haven't seen you as well, it's kind of nice to play a team that you have played before. You know their guys and they know you. If they look at film and see a route that you're running, they understand how you're going to break on it and how you're going to come out of your route, just like I know how they will open up on their press.
"It's going to be a challenge, but we're up to it."
Luke Joeckel
On Oklahoma's defensive line…
"They are a big, athletic group and they've got a lot of depth. Oklahoma gets some of the top recruits in the country every single year and you can definitely see that on film, the kind of athletes they have. They're all well-coached. You can see how well they're coached with how they use their hands when they're pass rushing and even how they use their hands playing off blocks in the run blocking game.
"It's going to be a fun matchup for our offensive line. We like to think we have a pretty athletic group too, and a pretty solid group. We've gotten better every single week and had five or six weeks to prepare for this game, and I think we've gotten a lot better over that time."
On representing the SEC in the Cotton Bowl…
"Yeah, it's a little weird. Sometimes I'm still thinking I'm in the Big 12, but I look back at the season and we didn't play any Big 12 teams. It's been a weird season. It's been a great season. It was such a great decision for us to make the move.
"You've got to thank Texas A&M University and all the guys that helped make that decision for us. It brought so much attention to A&M. We got a Heisman trophy winner. It's just been such a great season and all. It brought so much attention to Texas A&M, and it's been a such a fun year to be a part of all of that."
On Clarence McKinney calling plays…
"You know, I think it's going to be the same thing. Coach McKinney has done a great job calling plays. He's been practicing a lot. I'm an offensive lineman, but I really don't even notice the difference. To me, it's the same thing. I pass block, I run block. I think we're moving the ball well in practice, so I think it's about the same."
Never miss the latest news from TexAgs!
Join our free email list
PRESENTED BY