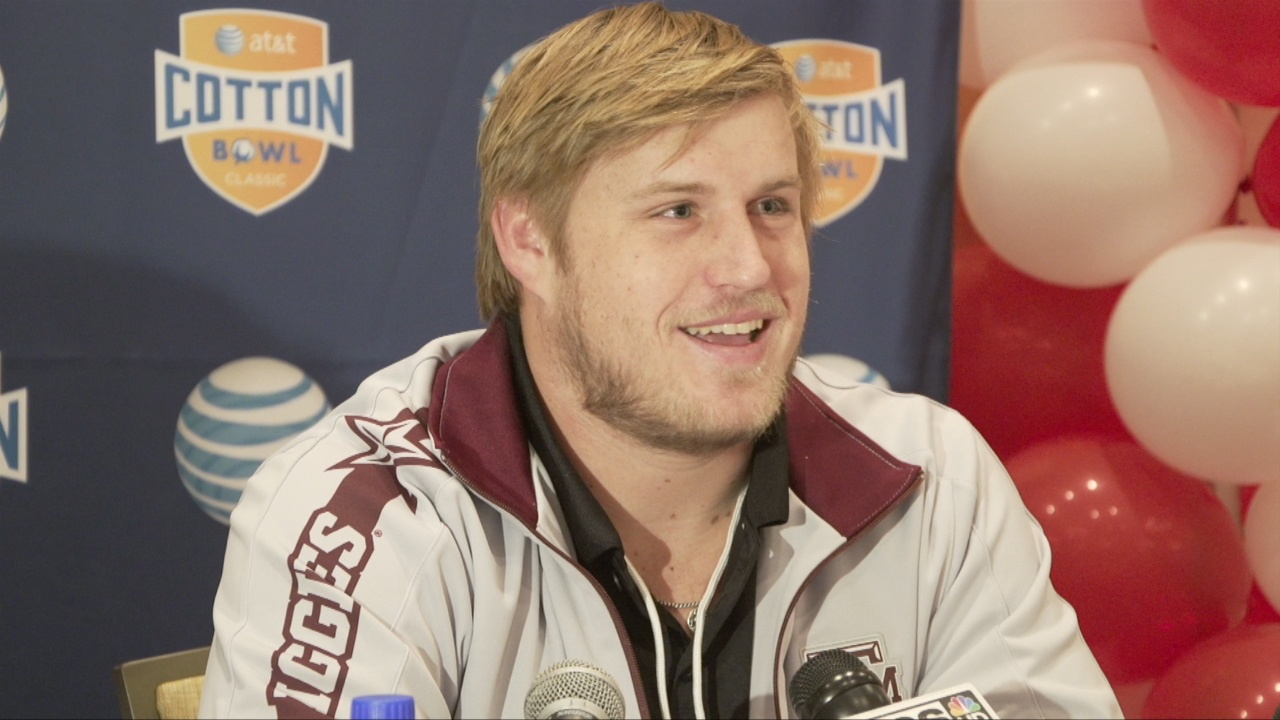 Mark Snyder
Damontre Moore
Spencer Nealy
Sean Porter
Jonathan Stewart
Steven Terrell
Texas A&M Football
Cotton Bowl Media Day: Texas A&M Defense
---
Mark Snyder
On comparing the Big 12 to the SEC…
"I've never been in the Big 12. I just got here, so I don't really know the comparisons from the Big 12 to the SEC. I do know this: The SEC is the best league in America. After going through it for a season, it's a very good league. It's a very talented league."
On matching up with Oklahoma…
"They are a little bit of everybody. They are a good football team. Their offensive line is right up there with some of the ones we faced. Their quarterback is a lot like A.J. McCarron in that he runs the offense very well. He runs that system very well. He's been in that system for a long time and there are not a lot of things he hasn't seen.

"At wideout, OU is probably the best group that we have faced, maybe not the single best one, but as a group they are the best wide receivers we have faced. I think they have an SEC tailback as well."
On Damontre Moore declaring for the NFL Draft…
"Like I said earlier, from him playing standing up to putting his hand on the ground and buying into what we are doing, practicing the way he practiced, playing the way he played … We talk all the time about how you get what your work deserves. He's got what his work deserves.


"If he continues to work the way he has for us, he is NFL ready. As long as he continues to do what he has done to get him to where he is at, he will be fine."
On Oklahoma quarterback Landry Jones…
"He has that moxy that a quarterback has. Again, I've never played him, so I get to draw from what I've seen on film. I've watched a couple of TV copies and he just has some moxy about him, a lot like A.J. McCarron. A.J. had that, you could sense it on the field. There was no panic in the kid, he knew where to go with the football and he just waited his time until sooner or later, he was going to get you. You hope that you get them more than they get you."
Damontre Moore
On making his decision to declare for the NFL Draft…
"It's a good feeling to have it out of the way. It's one less thing, so now I can truly give my all and focus on beating OU. It hasn't really set in yet. It still seems kind of surreal that this is the opportunity that I have the privilege to take part of."
On when he actually decided on declaring for the draft…
"Yesterday was kind of the official day. It kept going back and forth because it was a really tough and hard decision. Once I told my teammates and told the coaching staff and talked to my parents again yesterday, it was official. We talked about it and we all decided that it was the best thing."
On the possibility of being selected in the first round of the NFL Draft…
"It would be a huge honor and a tremendous blessing if I am privileged enough to go in the first round. Honestly, it doesn't even matter. I'm just ready to get out there and play the game I love at the highest level.


"You never know what can happen. At any given moment, something can happen. To hear and even be mentioned in the first round is a huge honor. I'll be happy wherever I go because I get to play the game I love at the highest level, and I've been dreaming of doing this since I was younger."
On following in the path of Von Miller…
"That's a good stepping stone, but at the end of the day, I am my own man and I want to set my own path. It's a huge honor and not too many people get to be in this position to have such a great role model like that. I cherish that, but on the same token, I am my own man and I want to make my own name and try to build more names within the A&M name."
Spencer Nealy
On the importance to starting the game off fast…
"It's huge. In every game, we've scored first. For our confidence level, if we get them to go three-and-out or we stop them and then Johnny pulls some miraculous play and we score, it makes us feel like, 'We got this.' Against Louisiana Tech, that's how we felt, but I don't know what happened.

"It's huge. If we start off slow it's one of those things like, 'Oh, it's going to be a long game,' but if we start off fast, it's like, 'Let's roll!' Once you see Dustin Harris start dancing on the sideline, you know the start has been fast. Sometimes I'm like, 'Dude, it's the first quarter. I know we're up 20, but c'mon. Let's tone it down a little bit.' That's our biggest thing, to start off fast."
On his reaction to Damontre Moore declaring for the NFL Draft…
"I was just like, 'That's awesome.' I had an idea (that he was going to declare for the draft.) It's hard to pass that up. Damontre is awesome, and he had kind of hinted it to me. I knew, but I kept it quiet which is shocking. Me staying quiet is very rare."
On whether Luke Joeckel and Jake Matthews have hinted at their decision regarding the draft…
"I have no idea, I don't really talk to them. Luke is one of my best friends, so when I'm talking to him, we don't even pay attention. We don't talk about football. We don't even really like watching football on Sundays. You do it for six days of the week and you kind of just want to watch soap operas and stuff like that on Sundays."
Sean Porter
On the differences in tempo between the A&M and OU offenses…
"I don't know how much different it is, but we go really fast in practice. If anyone has ever seen one of practices, they are high paced and guys were almost falling out at the beginning of the season until they got used to it. I don't think our conditioning or anything like that is going to be a factor in this game because we can run all day."
On Damontre Moore declaring for the NFL Draft…
"I kind of knew it was coming. I wasn't really surprised about it. Damontre is a good player. If he thinks he is ready for the NFL, then I do, too.


"I saw him as a little pup when he was a freshman. He came in kind of wide-eyed and didn't really know what was going on. He has definitely matured and he has gotten a lot smarter. I think his game has grown a lot and if he can continue that path, he will be a great player in the NFL."
On Oklahoma quarterback Landry Jones…
"Landry is a good player. He makes good decisions and he is a veteran quarterback. He's a senior guy who has been out there for a while. I think he is a good decision maker and we're going to have to move him around in the pocket and get a good pass rush on him. We'll see if we can make him think a little harder than he wants to."
Jonathan Stewart
On what makes Johnny a good friend…
"I don't know we just clicked together. The first time I met him, he was in my English class. It was his freshman year, he was quiet and didn't know anybody, so I just started talking to him. I don't know, we clicked. We hang out all the time, regardless of him winning the Heisman trophy. I told him, 'I could care less if you won the Heisman trophy. You're still the same person to me.' He's a cool guy. I don't want to start naming on characteristics he has like he's my boyfriend, or something like that, but he's a great guy.
On what Coach Jackson has been able to do…
"Yeah, Coach Jackson did a great job. I remember when he first got here in the spring it sucked. I hated it. It was terrible. Then the summer sucked too and I remember I told him, 'Coach Jackson, look, all of this stuff that you're doing better work, or I'm going to get you fired.' But it has worked out. He's just done a great job. We feel it on the field. We're not as tired, we recover faster, and we feel bigger, stronger and faster when we're out there playing.
On making Landry Jones uncomfortable…
"As a defense we have to move around, stem around a lot and try to get him confused on what he's going to see on defense. We have to allow our defensive line to get one-on-one's, and if they're able to dominate and make him uncomfortable in the pocket, then we should have a lot of success on defense."
Steven Terrell
On what he believes will make the difference in the game…
"Whichever team is the least rusty. With bowl games, it's basically like the first game of the season again, and there are a lot of missed tackles and things like that. Whichever defense plays the best and doesn't give up the big play is going to win this game."
On having a month to prepare for Oklahoma…
"It's just so long, just waiting around so long, we're ready to play. The first two weeks you really just focus on yourself, focus on your fundamentals and things like that. As a secondary we've been really focusing on our footwork, press coverage, technique, and things like that.

The closer you get to the game; you really start to focus on OU and when you have a talented receiving corps like them, we've been putting in extra time watching film and little things like that."
On how excited he is for his last game…
I'm really excited. This is my last game, being back in Dallas, you know I'm from Allen. It's good for us to go out at the Cotton Bowl.
Never miss the latest news from TexAgs!
Join our free email list
PRESENTED BY