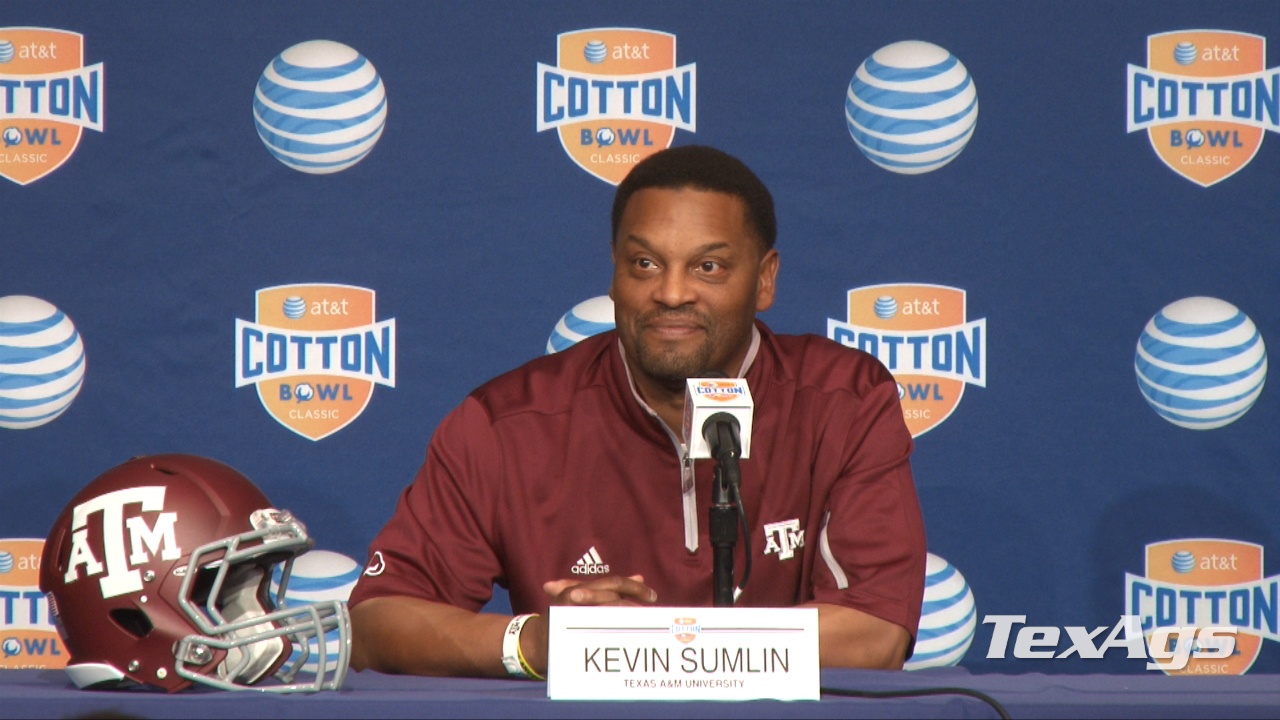 Kevin Sumlin
Johnny Manziel
Ben Malena
Mike Evans
Luke Joeckel
Jake Matthews
Patrick Lewis
Damontre Moore
Spencer Nealy
Texas A&M Football
Cotton Bowl Media Day: Texas A&M Aggies
---
Kevin Sumlin
On relationship with Bob Stoops and how much he has impacted his coaching career...
"Coach Stoops has obviously had a huge influence on my coaching career. We have known each other for a long time. People might be surprised that we played in the same league, he was leaving when I was coming to Purdue. Mike (Stoops) was playing and so was Jay Norvell at Iowa. I was playing at Purdue. Then as we moved in coaching we were actually recruiting South Florida together and recruiting a lot of the same players whether I was at Minnesota or Purdue and he was at Kansas State.
"We were head to head all the time on the ground down there. Both of us had tough jobs trying to get guys to leave Miami and Fort Lauderdale to go to Manhattan, Kansas and Minneapolis, Minnesota or West Lafayette (Indiana). Over the course of time, we have kept in touch and then he hired me. I spent five years at Oklahoma. It was five great years from a learning standpoint. From a time where it was a difficult situation to play for two national championships and lose, but to get close.
"One of those teams is one of the best teams I have ever been a part of. Then to go through really what was a rebuilding situation, losing a bunch of draft picks, how you handle that, how you handle adversity. I think we lost the first game in a long time at home against TCU and we bounced that team, that program back to get to the Holiday Bowl and winning and getting the program back on track. You learn a lot during that time.
"Probably the biggest thing is the daily expectations of players, how you treat players and the expectation level you have for everybody and creating a family atmosphere. I think it is important for wives and kids, but because it is not like that everywhere. They are a part of what you are doing. I think people take that for granted because it affects your wife, your girlfriend and your kids just as much as it affects you. The more you acknowledge and keep them involved I think it keeps the energy level up. Bob (Stoops) does a great job of that and always has.
"From that standpoint, as I said before, people look at this team (Oklahoma). I can't tell you how many people have thrown out that this isn't one of his better teams. What are you talking about? I'm not sure how many 10-win teams he has had. The level of expectations that has been created in the 14 years that he has been there is extremely high. When I get a question like that or an attitude like that, it tells you what kind of program he has created."
On how he's handled visiting with Johnny Manziel in managing all the attention that comes with winning the Heisman Trophy...
"Sure I have talked to him about it. Winning the Heisman should not be a punishment. It is a unique situation that we have in that we have freshman that has won the highest award given in college football. It has never happened before. It is completely different situation than anybody has ever had.
"Usually you are looking at a player's last game, the bowl game he is playing in, or he may play one more year, that's it. This is a redshirt freshman. The advice that you are giving is day to day advice. It is not career advice. From that standpoint, I think people are watching to see what is going to happen, number one. You have a guy that just turned 20 (years old) in Orlando (College Football Awards show) or in New York and he is a 20-year old kid.
"You have to be careful about heaping on too much of what the expectations are for a young man. As I said we have to be very, very cognizant of what is going on. I think he understands that. But at the same time, a lot of things that have made him who he is right now, all of sudden you can't shut that off."
On season of wide receiver Mike Evans and whether he had expectations for that type of season from Mike back in August...
"He is extremely raw. He has tremendous upside. This is a guy that didn't play very much football period in high school. He was a basketball player. I remember watching him at camp and he didn't even know what a corner route was, trying to catch the ball over the wrong shoulder. He is really raw. He has a tremendous amount of upside.
"He continued to get better. He understood what we were trying to do. It wasn't until midway through fall camp, I really thought — hey, we've got something here. He is big. He is a little bit stronger than you think he is, a little bit faster than you think he is. Toughness has never been an issue with Mike. He was hurt basically the whole year. He played as well as anybody in our league.
"I would say probably the last five weeks, he only practiced on Thursday because of injury situations just to get ready. For a freshman to do that and perform the way he performed in games particularly at that position shows a lot about where he was in the mental state during the week, during practice and during the games. I look for him to continue to get better. He is definitely another piece we can build around."
Johnny Manziel
On teams changing how they defend the A&M offense…
"I guess it has progressed a little bit. I think they have adapted from the beginning of the season when they didn't know that we could run the ball like we did and that I could do some things when running the ball. I think people will go back and look at the games we struggled in and try to do some of the same things. OU has a great coaching staff, so I definitely feel like they know what they are doing and will game plan well."
On the momentum achieved by beating top-ranked Alabama…
"We knew that if we wanted to go 10-2, get double digit wins and do some things that had never been done at A&M that we would have to go through the best. To look at the schedule and see number one, in Tuscaloosa, that's daunting. To sit there and look at that before the game … that was a big road block. To go in there and do what we did and have so much success in that game, it's neat to see what has come from that game and how much it impacted everything.
"It changed everything. That game has had just such a huge impact, and what kind of game it was had impact. I read somewhere that it was the second most-watched college game in the country this year. The SEC and what notoriety they bring and how big everything is, it has been huge for our program."
On Sumlin's demeanor…
"He came in from the first day and let it be known how he was and how things would go around here. He laid it down from the very beginning, exactly how it was going to be and it hasn't changed. He is still just as hungry and still exactly how he has been since he got here."
Ben Malena
On finishing his solid season in Dallas...
"You've got to love it. Especially at a venue like this, with an opponent like OU, I have so many friends that go to OU, grew up with, ran track with, played little league football, basketball with ... it's just going to make this game that much more exciting, plus being in my hometown."
On not ending on a bad note with a loss after the 10-2 year...
"That's one thing Coach Sumlin has been preaching on this whole bowl season. Only six or seven teams have had 11-win seasons at this university in 100-plus years of football. It'll be very nice to go down in history as another team that had 11 wins. We've been preparing and we feel pretty good about 'em."
On this season's meaning individually...
"It's pretty fitting, with the offseason work I put in this year. Hats off to Coach Larry Jackson with his summer strength & conditioning program, which helped me out a lot. But me personally, the individual stats don't matter to me a lot. What matters is my team winning, and when I'm out on the field, that I'm producing in a way to help my team win."
On being special teams MVP...
"I think it just says I'm a complete team player. I'm on punt team, punt return, kickoff, kickoff return team, and I'm the starting running back. All of that, when Coach asked me if I could do it, I said, 'Yeah.' Then as the season went on and my role on offense increased, I stayed on special teams, I didn't care. I feel like when I'm out there, I'm just trying to make plays to help my team win."
On the future of the running back position at A&M...
"I've seen myself and Trey Williams. But two guys I'm very excited about are Brandon Williams and Tra Carson. Tra Carson actually got snaps when he was at Oregon. You know, Oregon has a plethora of running backs. That says a lot about him that he got carries his true freshman year. Brandon Williams, man, he's a special talent. You don't see too many guys that work harder than him. Every snap he goes full speed, which makes us go full speed.
"The competition at that position is at an all-time high right now. It's all for the better, because any one of us can get in the game at running back or special teams – because, trust me, we want to be in special teams — and we want to help this team."
On Manziel's rushing ability...
"I said earlier in the season, we have three running backs — me, Christine Michael and Trey Williams — but our fourth running back is out quarterback. That guy there, he's special. He can make something out of nothing really quick. With #2 at quarterback, that's pretty dangerous."
On what he sees from OU on tape...
"Well, they're 10-2 for a reason. I honestly think people are overlooking Oklahoma because of the season we had this year. They're 10-2, their combined losses are to teams that are 23-1. They won 10. Their defense is very tenacious, they have an All-American in Tony Jefferson at safety, great defensive line ... it's a storied program. If we want to win, we have to be on our A-game. Because I know they will."
Mike Evans
On his mid-season injury...
"It held me back some, but ... I played through it."
On how big his fourth-quarter, 3rd-and-19 catch against Ole Miss was...
"We probably still could've had a chance. I don't know. There was something like six minutes left in the game. Lucky play, I guess. I'm fortunate enough to have made the catch, so I don't have to worry about [how the season would have gone if he didn't]."
On whether he was surprised at his spectacular season...
"Not really. But I just do what I have to do."
On how much basketball carries over to football...
"A little bit. Jump balls, I know to time my jumps and act like I'm going for a rebound. Quickness, off the line of scrimmage when you're trying to get by the press. Stuff like that."
On growing up in Texas and now playing in the Cotton Bowl...
"I never really paid attention to the Cotton Bowl, only when I committed here and we played LSU. That was my first time ever watching it."
On how high his ceiling is...
"I think I've got areas I can improve in. Probably more hands, better routes, getting more explosive."
On who made the biggest imapct on him...
"Lots of people. I had a great relationship with Coach [Troy] Walters. Coach [David] Beaty is a great coach. Our GA, Coach [Klint] Kubiak. They've all been great."
On whether defenses changed to adapt to A&M's offense and Manziel...
"Definitely. LSU played straight man the whole game. Mississippi State played a lot of Cover 3, Cover 6, they switched it up a lot. We've seen a lot of defenses. For [Manziel], I don't think you can stop him. But you can probably limit him some."
Luke Joeckel
On his thoughts about leaving early for the NFL Draft…
"I'm focusing on playing football. I'm lucky enough to have a great dad who is kind of doing all the research with that right now. He's taking care of all of that for me and I'm just focusing totally on football and playing against a great team in OU on January 4th.
"I've been part of the whole thing for a little bit. I've talked to Coach Sumlin about it at talked to my offensive line coach. I've talked to my dad, and he's been kind of advising me through it all. I've weighed all the options, but I have not made a decision yet."
On bringing the national spotlight back to College Station…
"I can't believe the season. It has been a fun season. When I was getting recruited to A&M by Coach Sherman and Coach Turner, they told us that we wanted to come to A&M to bring the spotlight back to A&M. It has been such a blessing to do that. Being a big deal in Texas again, that's why I came to A&M. I'm glad to be here and I'm glad to do what I wanted to do when I came to A&M."
On the factors about A&M that could convince him to stay for his senior season…
"I love the school. I love A&M, and it was the best decision of my life coming here. I love the people here, that's why I came here … the 12th Man and the coaching staff. The coaching staff switched, but I visited Houston when Sumlin was there and I loved that, too. I loved Coach Sumlin and I'm glad he is here now. He has been a great coach for us and he is a fun guy to follow.
"It's going to be hard to leave all the people. I haven't made my decision yet, but no matter what happens, it's going to be hard to leave my teammates and my coaches."
On Sumlin's advice to him…
"He told me a bunch of different stuff. Graduating. Education is great, it's big with me and my family. It would be hard to leave and not graduate. I have about 27 more hours, so I'm not far away, I could graduate next December.
"He told me about all that, and then he told me about having a great next season. We have Johnny coming back, and everyone knows how great of a player he is. He's recruiting a little bit, but it's going to be a tough decision. I haven't really thought about it, but I'll think about it after the bowl game."
Jake Matthews
On improvements in his game this year and what still needs to be improved…
"There is always something that I need to get better at, especially as an offensive lineman. I'm never going to be satisfied with where I'm at. I think I have improved all-around this year."
On who is guiding him through his decision to stay in school or leave for the draft…
"I'm talking to my dad and my older brother, Kevin, predominantly. I've also talked to my cousin Clay up in Green Bay. There are so many people in my life who have had success doing this, and they know what it takes. They know the process. I'm really just trying to take advantage of that because they understand it."
On what Sumlin has told the juniors who could leave for the draft…
"He was telling us that he was going to support us no matter what we do. That's something that I really respect out of him. No matter what we do, he isn't going to hold a grudge if we leave. I know he wants us to stay more than anything, but he has been really supportive and a great coach to have, especially for this first year."
On whether he is leaning one way or another about coming back to school…
"I've thought about it a little bit, but I really haven't gotten together with the family and gone over it. I'm still thinking about it and haven't made a decision. I'm trying to focus on this (the bowl game) this week, and then I'll worry about it then."
On whether playing with his brother is weighing into his decision…
"I got to play one year with him in high school and that was one of the most fun years we have had. Him coming up this year and being part of the team is something that has been really special and I've enjoyed it a lot. That really is one of the bigger things that is kind of weighing my decision right now."
Patrick Lewis
On being able to play in Cowboys Stadium again…
"We're just really excited to be here. Most people didn't expect for us to get this far. For this to be my last game and to be in this place where we have never won before is amazing. It makes it that much more exciting that we could possibly get a win in Jerryworld for the first time. It has been a season of firsts, so we plan on keeping it rolling and hopefully can get a win in the Cotton Bowl come January 4th."
On whether he talks to Luke Joeckel and Jake Matthews about coming back for their senior season…
"I just kind of leave them alone in that area. You want them to do what is best for them. If leaving is what is best for them or if staying is what is best for them, you kind of just have to wait and see what they will do. They definitely know the pros and cons of leaving or staying and playing another year at Texas A&M. They know the consequences that come with that lifestyle, and I think they will make the right decision. I trust their judgment."
On Oklahoma's defensive front…
"They have some pretty decent size. It's Oklahoma, they are going to bring it. They have a great tradition of defensive linemen, and they have good depth to where they will be able to rotate a couple of guys in there. Losing McGee may hurt them a little bit, but they always have someone coming up from the sidelines or someone who wasn't really known until he makes a name for himself.
"That's just part of playing Oklahoma. That's just part of playing good teams. There are always backups with potential to come in and steal the show."
Damontre Moore
On whether the juniors have talked to each other about leaving early for the draft…
"We have talked about it a little bit, but not too much. We have really been focusing on beating OU because the last time we played them, we lost. We have a bad taste in our mouth right now."
On the offensive linemen of the SEC compared with the Big 12…
"A lot of them were a lot bigger and physical, but at the same time, I didn't really see too much of a difference because I'm going up against the two best offensive tackles in college football on a daily basis. We have arguably the best offensive line in college football, so going up against them in practice makes for not too much of a drop off."
On what factors are weighing into his decision to stay or leave for the NFL…
"My degree is probably the biggest thing. From there, I love being here, I love the coaching staff and just the environment. Right now, I'm talking to my family and the coaching staff and we're evaluating everything. We're just going to see how it plays out after this one."
On whether he is leaning one way or the other…
"No, I'm not. We're just still talking about it and trying to figure things out."
On his timeline to make his decision…
"I'm going to get through the bowl. After the bowl, I'm just going to talk about it a little bit more and just see where everything falls out."
On how often he talks to Von Miller…
"I talk to him on a weekly basis. If it's not just about football, it's about life in general. We talk about everything. I've been talking to him, his parents and my parents. We're all just kind of waiting it out right now."
Spencer Nealy
On one difference he noticed this year between the SEC and the Big 12…
"Everyone is really big and it's really physical. My body felt it after the Missouri game because we kind of got a week of downtime. I was sitting there and trying to get up, and you feel things you don't normally feel. It was a lot more physical than speed wise. For the Big 12, it was a lot faster and more east and west, but in the SEC it was all north and south and them trying to put you in the ground."
On the importance of closing the year with a victory…
"We have to win. It's the last game. You have a 10-2 year, that's awesome. But 10-3 sounds a lot worse than 11-2. I really want to win here. This place is cool. I don't want to have the bad taste in my mouth about this place."
On what it would mean to win 11 games…
"I think 11 wins is pretty cool. We have had a whole month of practice which has kind of been a pain in the butt. It hasn't been exactly fun being the only people in College Station, but you have to do it and you have to go out and win."
On playing one more game with Johnny Manziel…
"It's not the Texas A&M Aggies, it's the Texas A&M Johnny Footballs. We watched that Fox Sports thing and I was like, 'Woah, is there anyone else on the team?' I can't wait to play with him. He's going to be awesome. I just hope he remembers me after he makes it big time."
On whether he has talked to the juniors about their decision regarding the NFL Draft...
"I give them words of wisdom sometimes. I haven't talked to them. I don't like talking to them about it, especially Luke, because he's one of my good friends. He is like a little baby. He gets all nervous talking about it. I'm like, 'Dude, you know you could be making millions right? You need to start maturing up and talking a little more.' It's an awesome honor for all three of them to even be in the equation of stuff like that. I'll let it be, but after this game I'll probably start talking to them a little."
Never miss the latest news from TexAgs!
Join our free email list
PRESENTED BY