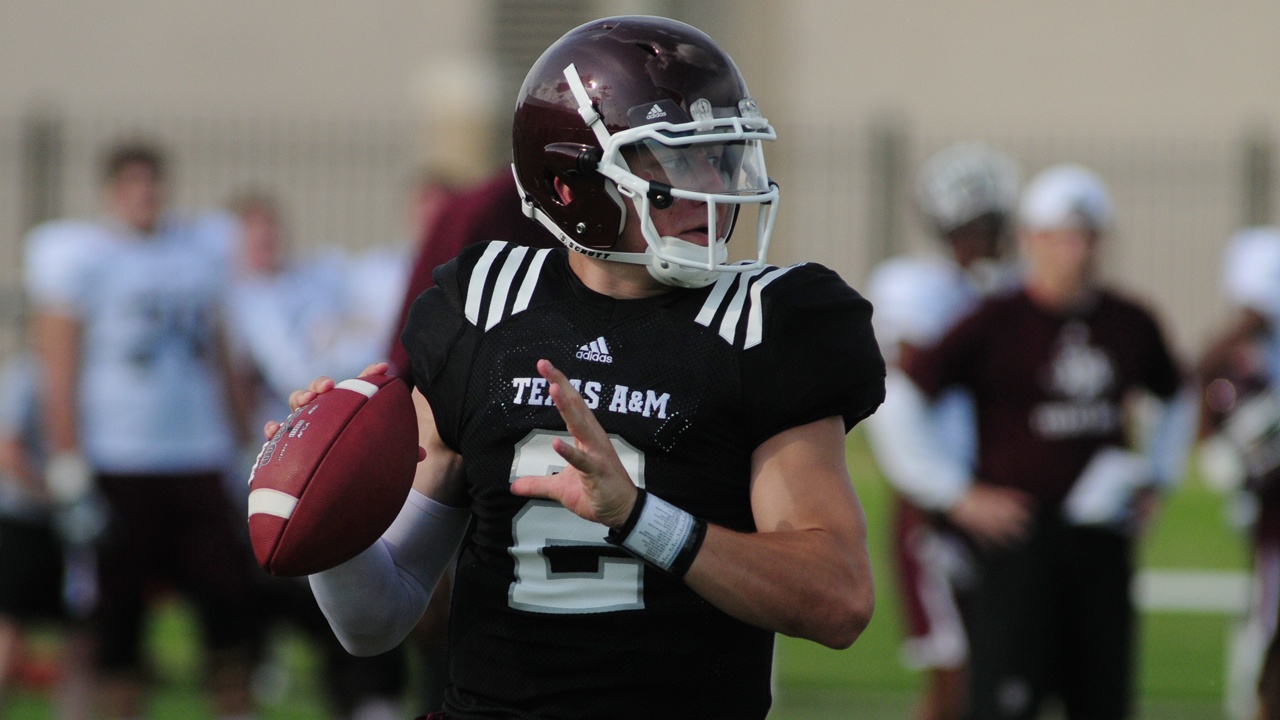 Photo by Andrew Kilzer, TexAgs
Texas A&M Football
QB guru George Whitfield Jr. breaks down his pupil, Johnny Manziel
---
Notes from George Whitfield Jr. interview

* He first met Johnny Manziel this past May. His first thought was that Manziel could play nearly any skill position because he was such an incredible athlete. Once Manziel picked up the ball, a couple of things jumped out to him. The first was that Manziel possesses natural arm talent and the second was his overall athleticism.
* Initially, he saw some problems with how Manziel distributed the ball with his arm, but that wasn't a hard fix and was taken care of early on. All of his power came from his arm and he worked with Manziel to redistribute some of that power back into his lower body and core. Fixing that problem was not so much about just correcting one thing here or there, but more about taking a different approach to throwing the ball. That was job number one, and then working on his touch was job number two. In order to be successful in Sumlin's offense, having good touch is vital.
* Manziel joined his staff in San Diego while Donovan McNabb was also around his program. Manziel talked to McNabb about how badly he wanted to get on the field and compete for the starting spot this fall which shows how hungry he was and how hard he was willing to work over the summer. From day one, you could definitely feel that highly competitive spirit within Manziel. Knowing a guy is very competitive and knowing that they take a lot of pride in their game really sets the table for success.
* Manziel did a great job with his broom drill. The broom is used as a tool to get guys to move around in the pocket and to simulate a pass rush. Guys are only going to move so much if a coach is rushing them out of the pocket, however, with a four foot broom, the guys will move a lot more. He uses the broom drill to bring the heart rate and adrenaline of the quarterbacks to a higher level. With that added adrenaline and heart rate comes more stress, and the drill allows him to see how the quarterbacks react under that stress. Manziel is easily one of the best athletes he has ever worked with at the quarterback position.
* Manziel has more tools, physically, than Colt McCoy. It's hard to compare Manziel to any other quarterback because he is a very unique player, and because of that, he will probably define his own path. Over the summer, he didn't get to see Manziel perform in real time with defenders coming at him, but he was able to take out his entire arsenal of weapons and work on each individual one. Manziel is extremely talented at so many different things.
* One guy who he has worked with that was nothing like he had ever seen before was Cam Newton. He was around Newton for about three months and after watching him be somewhat of an SEC superhero, actually watching him up close and personal was very impressive. Another guy he worked with who was very impressive was Andrew Luck. He was blown away at how big both Newton and Luck were and thinks that both of them definitely have the frame to play linebacker in the NFL. He also worked with Ben Roethlisberger and was amazed at how nimble and athletic he was for a man his size.
* While in San Diego, Manziel had about three days where he was paired up to work with Florida State's E.J. Manuel. He put both Manziel and Manuel into the drills at the same time, and if you turned your back on them and just watched the receivers, you wouldn't know which one was throwing the ball. After a while, he started thinking about how this young guy from Texas was going toe to toe with a 6-5, future draft pick quarterback from Florida State without any problem. You could tell that Manziel was eager to learn whatever he could from whoever he could by the way he peppered Manuel with questions both on the field and off the field during the lunch break.
Never miss the latest news from TexAgs!
Join our free email list