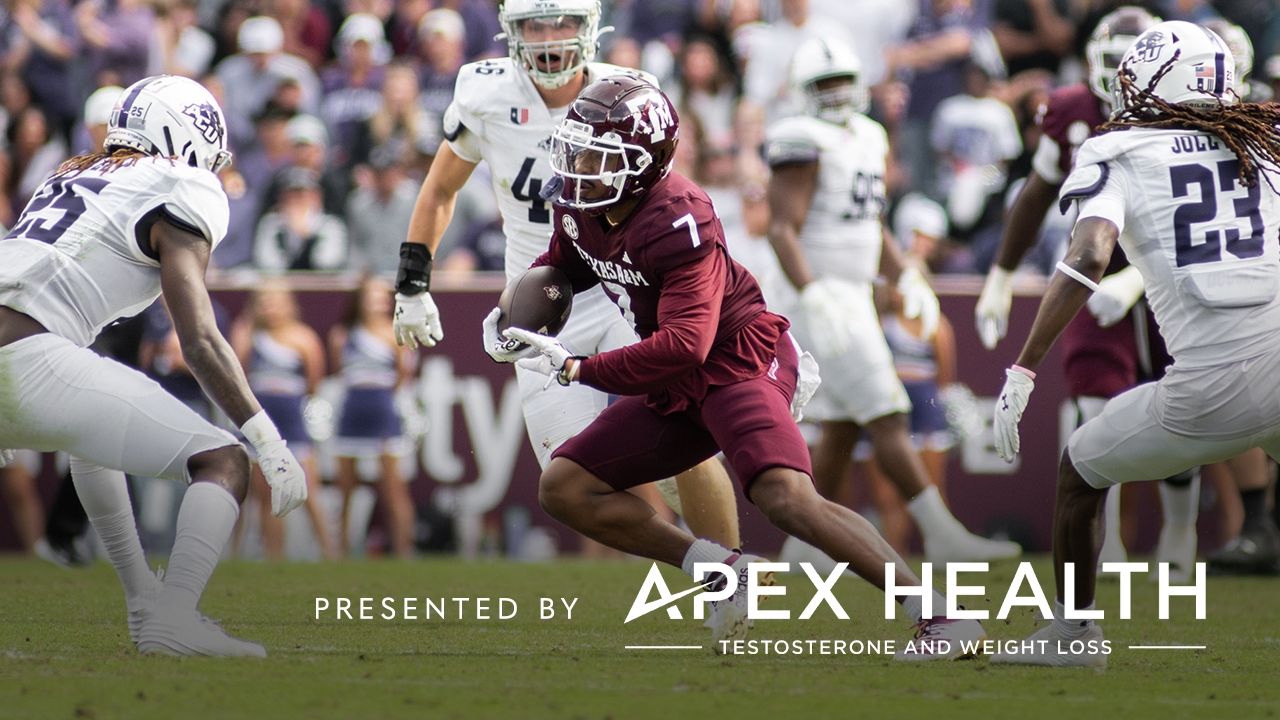 Texas A&M Football
Apex Performance of the Week: Moose is loose, Rueben Owens & HC3
---
In this week's Apex Performances of the Week, we highlight Texas A&M football's Muhsin Muhammad III and Rueben Owens following their efforts in the Aggies 38-10 win over ACU as well as Henry Coleman III on the hardwood last week for the Maroon & White
---

David Nuño's Performance of the Week: Muhsin Muhammad III & Henry Coleman III
Whoever kills the fly will be the Apex Performer of the Week. He's like Devon Achane vs. LSU last year. Nobody can catch him.

Moose Muhammad had four catches for 104 yards and a touchdown. He had the one-handed catch, the hurdle, the acrobatics. He did it all.

Rueben Owens had a 100-yard game. He was consistently good. It was chunks at a time. He had great vision and can cut.

Henry Coleman III was great vs. Oral Roberts. Buzz Williams said that he doesn't know if they're 4-0 without Coleman. He has been fantastic. To play at this level will be tough, and that would be Player of the Year-type stuff. The offense has been up and down. If Coleman can give you these numbers or close, consistently, you're going to win a lot more games consistently.

You have to give Buzz props for the development of players between seasons and in season. We've seen that with Wade Taylor IV. Solomon Washington is really becoming a nice player. Tyrece Radford has become a better player since he has been here.
Olin Buchanan's Performance of the Week: Rueben Owens
I can't imagine a better play than the one Moose Muhammad made.

I want to see more of Rueben Owens. He had a swing pass vs. Auburn, and he made a move to pick up a 20-yard gain. He has some juice. I want to see more of that.

Henry Coleman III has been a double-double machine. Two years ago, he was really good. Last year, not so much. I think that's because Coleman does what is needed from him in that particular game. He doesn't mind doing the dirty work, but if he needs to be more active in scoring, he will do it.

What I like about Buzz Williams is that his scheme and offense will evolve as the season goes along. Two years ago, it was about featuring Quenton Jackson. Last year, they took Tyrece Radford and Wade Taylor IV and attacked the rim. He figures out what his team needs and adjusts. He may not even have to do that this year. They might be good all year long. I hope so.
Never miss the latest news from TexAgs!
Join our free email list
SPONSORED BY