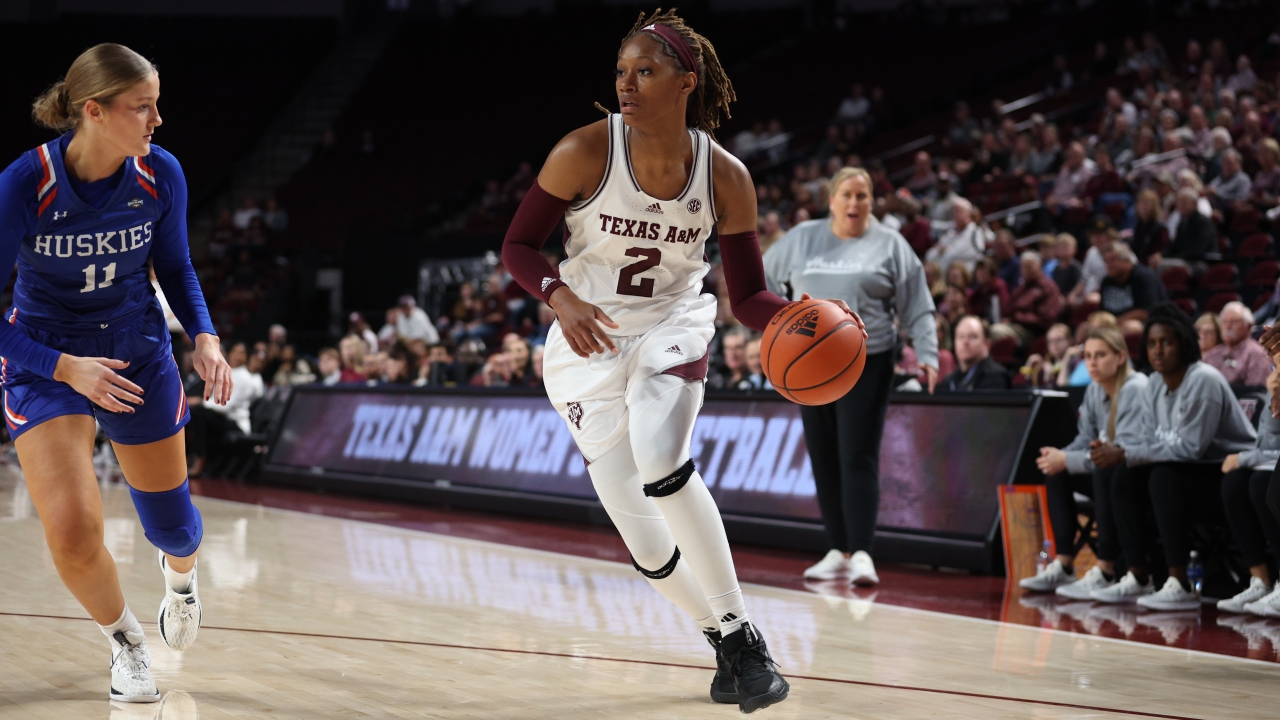 Joni Taylor
Barker & Williams
Texas A&M Women's Basketball
Four Aggies reach double figures as Texas A&M blasts Huskies, 80-35
---
Brought the fire.
Joni Taylor's Texas A&M Aggies (3-1) took care of business in dominating fashion with an 80-35 win over Houston Christian (1-4) to extend their home winning streak to three.
It was an all-around complete performance.
In just her fourth game of her sophomore season, Janiah Barker was the headliner of the Monday night meeting, posting a 15-point and 10-rebound double-double.
Alongside Barker, Aicha Coulibaly — again — proved her productivity with her third double-digit scoring output in four games, contributing 13 points.
Additionally, all nine A&M players that saw action provided scoring contributions, with four players in double-digits.
The Aggies were hot from the jump.
Scorching, really.
The Aggies sped away with a 15-0 lead in the first, not allowing the Huskies to score a bucket until 4:37. A&M continued to share the wealth down low and behind the arc to hold a 23-11 lead going into the second quarter.
"We came out with a fire under our butt. The Purdue game bothered us a lot. I am glad it bothered us the way it did," Barker said. "The start was a result of the loss we had on Thursday."
Thursday's 72-58 loss at Purdue fueled the Aggies as they kept their foot on the gas.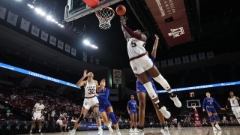 TexAgs
A&M continued to apply the heat with six early points down low, four of which were from offensive boards. Sahara Jones and Barker maintained their presence in the paint all night, assisting in outrebounding the Huskies, 52-23.
The Aggies saw some early flashbacks of last year's limited roster, playing with just eight available at one point.
However, A&M's lack of depth did not present an issue as all nine players received valuable minutes.
"It's really important for us to make sure we share the ball and have assists," Barker said. "I am really happy every got to score the ball. It's fun to be excited for your teammates."
With an 18-point lead at halftime, the Aggies continued to fire away from the field, posting a 50 percent clip, their best this season. Barker scored 10 of the Aggies' 24 third-quarter points.
"There are shots we missed that we should have made," Taylor said. "With that being said, I thought we took the right shots, and that's what we were looking for."
The final quarter saw a hot hand from freshman Solè Williams, who sunk two 3-pointers and showed off her range as the Aggies finished off their dominating performance.
"It felt amazing, honestly," Williams said. "I was patient. I have supported everyone on the court, and my time finally came."
After only scoring more than 70 six times last season, A&M has already posted three 70-point games, proving an uptick in offensive production.
The bounce-back win applied some of the lessons learned in West Lafayette that allowed the Aggies to plow right ahead into Thanksgiving weekend.
Looking to carry this momentum on the road, A&M will participate in the Raising the B.A.R Invitational, taking on Winthrop in Berkeley, California, on Friday at 4:30 p.m. CT.
Never miss the latest news from TexAgs!
Join our free email list