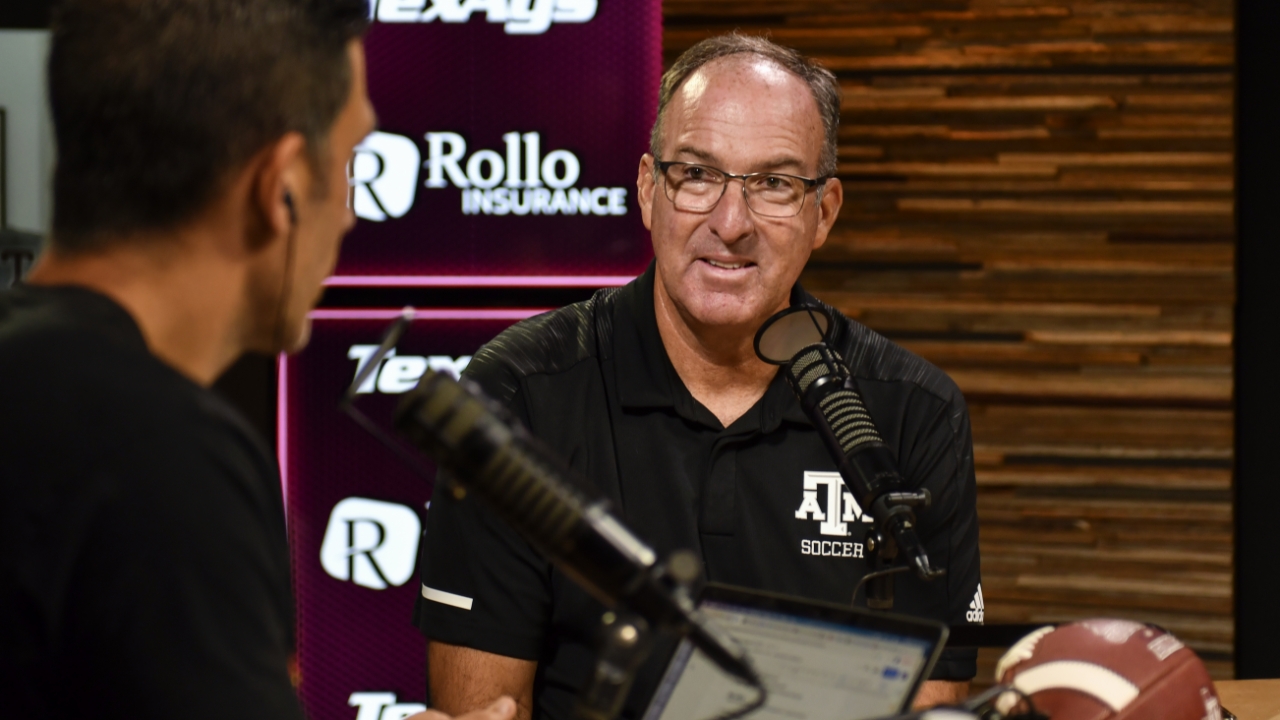 Photo by Jamie Maury, TexAgs
Texas A&M Soccer
Aggie soccer prepares for 'huge challenge' vs. No. 1 overall seed Florida State
---
Entering the second round of the NCAA Tournament, G Guerrieri and Co. face a big test on the road taking on the No. 1 overall seed Florida State. The head coach joined TexAgs Radio to discuss the massive challenge ahead in Tallahassee.
---

Key notes from G Guerrieri interview
We are playing with house money right now, and I am feeling pretty good. The bad news is we are going to go play the No. 1 team in the country at their place. We are excited.

If you need an example of how hard work pays off, Mia Pante is your perfect example. The ball started with Kenna Caldwell in our penalty area. She hits a long ball, and it goes all the down toward their goal. Their defender went to clear it, and Mia just was full-force going after her. It carries off Mia's shin guard and goes just underneath the crossbar, miraculously, in the goal. I almost laughed when it went in. Of all the crummy bounces we have had, for it to finally fall, was poignant for us. We led at the half.

Colorado had the leading scorer in the Pac-12. We found a way to curtail her. We held her without a shot on goal all night. No team has done that. I feel good about our defensive performance. We will have to do that again this Friday. The crowd was great.

People use the analogy, "Play with your hair on fire." We have quite of few players who are like that with Kate Colvin's body language. Maile Hayes is that way. Carissa Boeckmann, too. On the flip side, Sydney Becerra is just cool. It's neat to see. It's been a fun ride with this group. We have a big, big test on Friday. 4:30 p.m. CT on ESPN+.

It will be a monumental challenge for us. We opened the season with Florida State, and the stats were dead even. They took one for shot than we did. We lost 2-1. In that game, they rested key players because they were back from the World Cup. They are by far the best team in the country. They are a really, really, really good team. They have gotten better, but so have we.

Can we do it? It's a 90-minute game. Our team, on the day, can play with anybody.

They have a week to prepare for us. They have probably the Rookie of the Year. Her first game was against us, but she knows what she is doing now. They have the Offensive Player of the Year. She played half a game against us cause she was coming back from the World Cup. they have tremendous players in the back. Their coach Brian Pensky does a very good job. It's a huge challenge, but we would not have it any other way. It's the wrath of the underdog.
Never miss the latest news from TexAgs!
Join our free email list