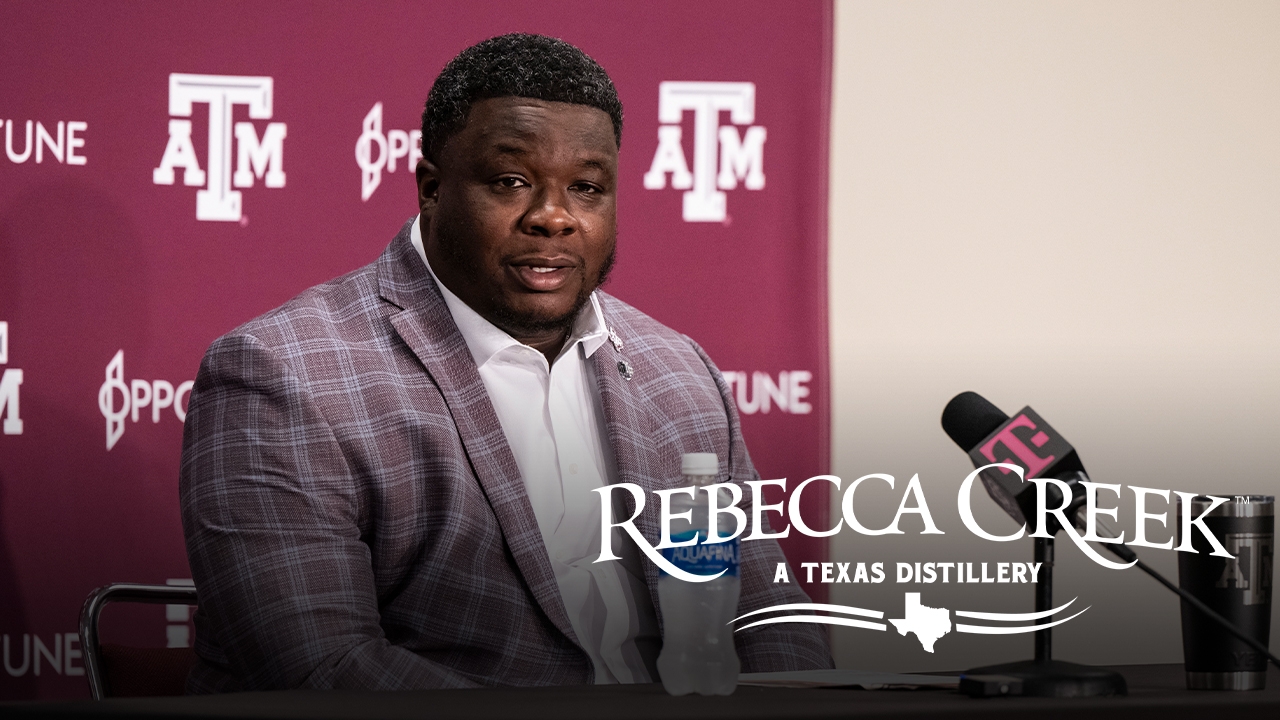 Photo by Jamie Maury, TexAgs
Texas A&M Football
Press Conference: Robinson previews Texas A&M's matchup with ACU
---
For the final time in 2023, Texas A&M will play in front of the 12th Man as the Aggies host Abilene Christian on Saturday at Kyle Field. On Monday afternoon, interim head coach Elijah Robinson spoke to the media to preview A&M's final non-conference matchup of the season.
---
The following are live, paraphrased notes from Elijah Robinson's Monday afternoon media availability:
Howdy! First, I want to give all thanks to coach Jimbo Fisher and what's has done for me and my family. I want to thank Ross Bjork for being the guy to help with the transition.

The players are the most important in the program. This is a brotherhood.

The news had broke. I met with Ross Bjork, and it was a great meeting. He asked to lead this thing. I met with the players. They handled it well. They enjoyed last week. We will try to continue that.

Coach Bobby Petrino has a great resume. I trust and believe in everything he decides to do with the offense.

This has been the place I have been the longest outside of my alma mater. I love it here and my family does too. I am not looking to leave Texas A&M. I would love to be here.

We have a unique group of guys. We will prepare the same way, and we will be ready to go on Saturday.

You never plan for these situations. I was, more so, grateful when Ross asked me.

The first priority was to get in front of our players and check on them. Give them the most support in this transition.

When I talked to the team, we addressed the transition. They embraced me. They were not happy, but they understood. They are ready to see what is next.

We wanted to support the guys and then reach out to the parents.

I did not grow up wanting to be a coach. My plan was to use football to be a savior to my family. I wanted to play for three years and then go to the NFL. I had a career-ending injury. I thought I was going to take a job in marketing, and I got a call about being a GA. I got an opportunity.

I love recruiting guys with a story and making an impact. I love pouring into these young men.

I focus on how I can be an asset to these young men. It's a blessing to coach these young men.

The moment the news broke, we hit the ground. Ross will be a great help to me as we transition. I have not returned every text or phone call yet. I love my mom, and I did not talk to her until 11 p.m. She is not on Twitter.

If it was easy, everyone would be doing would be doing what these young men are doing. They are getting pulled in different avenues. We are there to teach these guys to control what they can control. They are trying to do things on a time schedule. That is not how life goes.

I have not had any conversations about guys looking to leave. The most important thing is what is happening today. The biggest thing I talked about earlier is the brotherhood. People are not in a rush to leave a brotherhood when it's real.

I had text exchanges with Jimbo Fisher. It was me reaching out and thanking him for everything. I took notes every day under him.

Every day, you fight for the inches. That is real. Our job as a staff is to teach those guys to get the inch.

When these guys decided to come to school here, it's not just football. It's not a four-year decision. It's a 40-year decision. You will not play this game forever.

I had no idea what marketing was. I needed a job.

I can go all the way back to Little League to all the coaches who made an impact on my life.

I'm not sure I am smart by practicing with the D-line sometimes. We have fun with it. I pay for it the next day. That has always been my style of coaching.
Never miss the latest news from TexAgs!
Join our free email list
SPONSORED BY