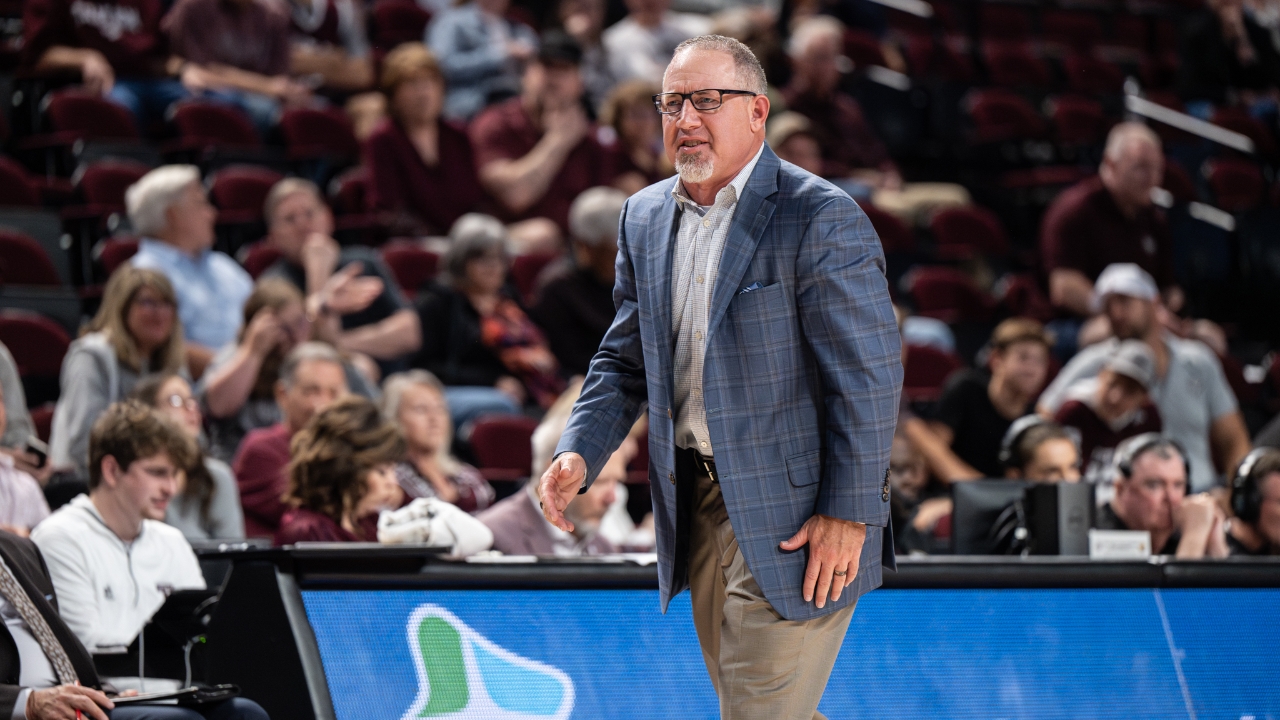 Photo by Jamie Maury, TexAgs
Texas A&M Basketball
Buzz Williams happy with 'mature' first week of 2023-24 season
---
Texas A&M men's basketball is 2-0 to start off their 2023-24 campaign, coming off a big Quadrant I victory at Ohio State. Head coach Buzz Williams joined Monday's edition of TexAgs Radio to detail the win on the road and what is to come for Aggie hoops this year.
---

Key notes from Buzz Williams interview
I thought there was great competitive charisma and synergy from the first week to be in that sort of environment against that type of opponent. These were a lot of lessons. There was fun with the result. There were a lot of things we can build on. It's a quick turnaround.

SMU has already played three games last week. They are the fastest team thus far since I have been here. They bring a different type of problem. Our guys were good yesterday. We need to be good again today.

The dates always play a factor. Over the last three to five years, as the net has replaced our RPI and all of those things, that has completely changed the model of how the schedule works. Truthfully, I don't know how many teams in Power 5 will play back-to-back road games in the first week of the season.

Different styles of play do prepare you. It gives you a rep of what's coming or if it is coming again. We played SMU last year. The portal changes how teams play because of who they acquire. There is little carryover. This team tomorrow is completely different than last year.

If we can have those numbers the rest of the way, we will be in a lot of games. We had a low turnover rate. We turned it over seven percent of the time. On any team, if that number is single digits, that means it's very good. It means you get a shot, get a rebound or have a chance to get fouled.

In the first half, we were really good on the glass. The physicality of the game did not seem like it was the first week of November. It felt like the third week in February. We need that to be part of the fabric of who we are.

Wade Taylor IV has a winner gene. You would have to do DNA testing for that. I did not think he played very well. I do not think Tyrece Radford played very well. Those two guys are so critical to our success. We will live with the results, good and bad. When Wade was struggling in the first half, you think the next possession will be fine. He made a lot of plays that you cannot coach that were winning plays in a tough environment. Without those plays, we don't have a chance to win.

I have great genuine love for the people in our group. I thought Henry Coleman III was an absolute animal. He has matured at a rate that was difficult to find. I thought Hayden Hefner, for a guy who has not started back-to-back games in his college career, had an incredible first week. I think Jace Carter has all of the right intangibles. I think Eli Lawrence is a microwave. You put him in, and he is about to score.

Manny Obaseki is gaining consistency on a daily basis. Andersson Garcia may shoot one ball a half, but I can't take him off the floor because he impacts the game in so many ways that are not on a stat sheet. Solomon Washington was great on Monday. He struggled with foul trouble at Ohio State. Boots, you just count on day after day. It's the collection of all of those guys. It was a very mature first week of the season. I am happy for them.
Never miss the latest news from TexAgs!
Join our free email list