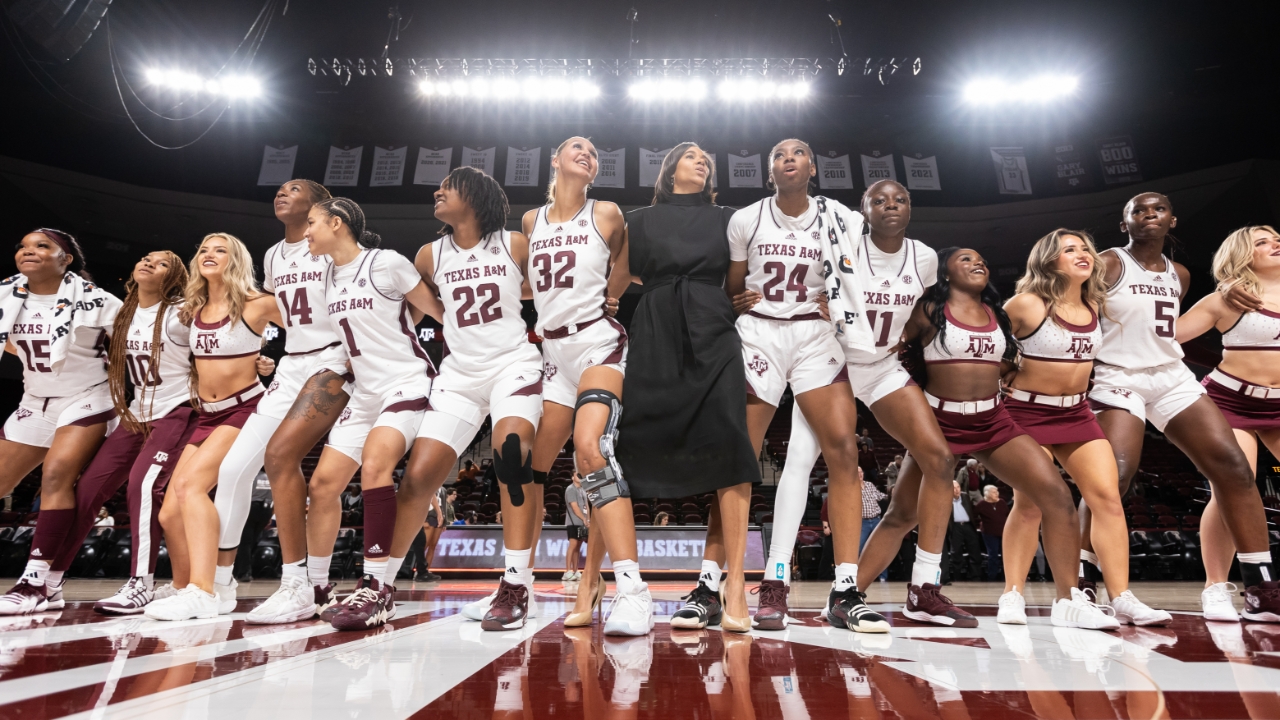 Joni Taylor
Rogers & Ware
Texas A&M Women's Basketball
Transfers shine as A&M routs Corpus Christi in season opener, 73-50
---
Getting familiar — with each other and with winning.
Prior to the start of the 2023-24 season, Texas A&M women's basketball head coach Joni Taylor stated all the ways her team would excel this year.
Their first priority? Learning how to win after winning just nine games a year ago.
One down.
A trio of transfers shined for the Aggies as they took care of business on Thursday night with a 73-50 victory over Texas A&M-Corpus Christi at Reed Arena.
All starting on Gary Blair Court for the first time, Aicha Coulibaly, Lauren Ware and Endyia Rogers combined for 44 points to earn the season-opening win.
Although unfamiliar with Aggieland, the three are certainly familiar with ball.
Coulibaly is a two-time All-SEC selection. Ware played two seasons at Arizona. Rogers is a three-time All-Pac-12 selection.
"I thought we did a great job of sharing the basketball. When you have got that type of talent, it can be really easy to focus on 'me, me, me, me.' I am really pleased with that."
Yet, their delayed arrival to College Station did not prevent them from making immediate contributions.
The Auburn transfer, Coulibaly, led the Aggies with 17 points and also tallied her 1,000th career point in her debut.
Ware, who has not played a collegiate game in two years due to injury, recorded her first career double-double with 15 points and 12 rebounds.
Rogers posted a career-high four steals and showed promising signs as A&M's true point guard, scoring seven of the Aggies' 20 points in the first quarter.
Tineya Hylton also returned to her scoring ways, leading the Aggies in points off the bench with seven.
For Taylor, the combination of new and returning faces could make for a potent offense.
"I thought we did a great job of sharing the basketball," she said. "When you have got that type of talent, it can be really easy to focus on 'me, me, me, me.' I am really pleased with that."
In the second, Corpus-Christi scored six unanswered and pulled within five, yet an 8-0 run allowed the home squad to stretch their lead, despite shooting 2-for-10 from beyond the arc.
The third kicked off with a 5-0 Aggie run and more production down low from Ware as the former 13th-ranked prospect out of high school recorded her first double-double of her career with an offensive board.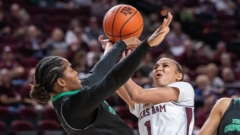 TexAgs
Alongside Ware, SEC All-Freshman selection Janiah Barker contributed in the paint, but foul trouble kept her on the bench, recording just two points and six rebounds to begin her sophomore season.
On the positive side, the newcomers' production allowed the Aggies to have success without Barker — last season's leading scorer — on the floor.
"Any team that wants to compete for championships, you have to be well-rounded," Taylor said. "It takes the pressure off of [Barker] to feel like she has to score. She is a willing passer and a willing rebounder."
A&M's 19-minute drought from the three-point line was put to sleep by Solé Williams, another new face and 2023 Ohio Girls Gatorade Player of the Year. In the final frame, an 11-2 run for the visitors put the Islanders within 13 until the Aggies regained control to tally a 23-point win over the SLC foe.
"This was a great season opener for us," Taylor said. "Pleased with what we did tonight and looking forward to building on it."
Sunday presents another opportunity to become more familiar with the win column and each other as Texas A&M returns to Reed Arena to face North Texas at 2 p.m. CT.
Never miss the latest news from TexAgs!
Join our free email list