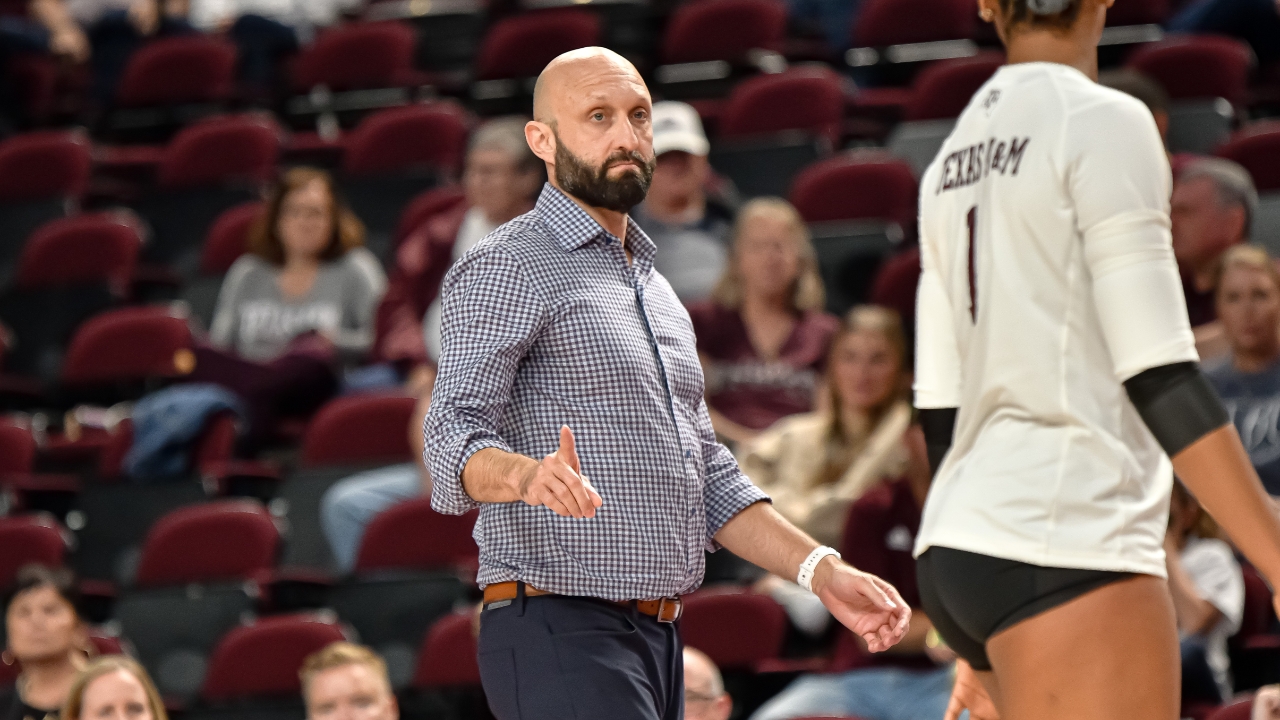 Photo by Zoe Kelton, TexAgs
Texas A&M Volleyball
Morrison relives matches against Alabama & Auburn, previews Mizzou
---
Texas A&M volleyball head coach Jamie Morrison joined Tuesday's edition of TexAgs Radio to discuss how last week went, including Friday's 3-0 victory over Alabama and 3-2 nail-biting loss to No. 24 Auburn on Sunday, before previewing the Aggies' rematch at Missouri this Friday.
---

Key notes from Jamie Morrison interview
We're trying to create something at Reed. We care about the 12th Man. We care about the fans. We're trying to create an atmosphere. Shoutout to 12th Man Productions for all that they do. We talk about building an exciting brand of volleyball that people want to watch.

There is so much speed and grace in the sport that doesn't always show up on TV. We're the one net sport in the world that is broadcasted from the sideline. Tennis and all of the others are broadcasted from the inline. We've talked about more of our broadcasts coming from the inline so you can see how fast the ball is moving and how fast the people have to move.

You're in control of the game itself and putting the ball where you want it to go. You're in control of your emotions. Our sport is the clash of two identities, and you can feel when you're pushing or if you're on your back foot. That can always turn. We pushed Alabama for a solid hour or so. We were in control for 99 percent of it.

The attacking piece is something we talk about a lot. That's the style of volleyball we want to play.

Auburn was the No. 24 team in the country, and it was back and forth on Sunday. We fell in five sets. We lost Nisa Buzlutepe, and we'll learn more about that today. We run a system with two quarterbacks on the floor, and after she went down, we played with a sense of urgency to figure it out on each point. We don't have to be perfect, but we have to find ways to win. That might be different on every single point.

Each team is a little different. There has to be a sense of urgency to where "we need to win this point no matter what," and that comes with time. The people who have been in the postseason understand that it's not just a switch that gets flipped on. There is a sense of urgency where you have to get better every single day.

Before we played Missouri the last time, I thought they would be difficult. They were close to last in the SEC last year, and Dawn Sullivan has done a good job turning that program around. They have some really good players out there. They ate our block up the last time we played them. We have to be disciplined, or we're going to be in trouble. I expect it to be a battle.

We need to find out more information about Nisa first, and go from there, we have to make sure we're ready to play regardless. We have to be ready to beat them regardless of the personnel we have. I was watching our last match and it was helping me understand what we need to do to beat them while also understanding how to be the best version of ourselves.
Never miss the latest news from TexAgs!
Join our free email list