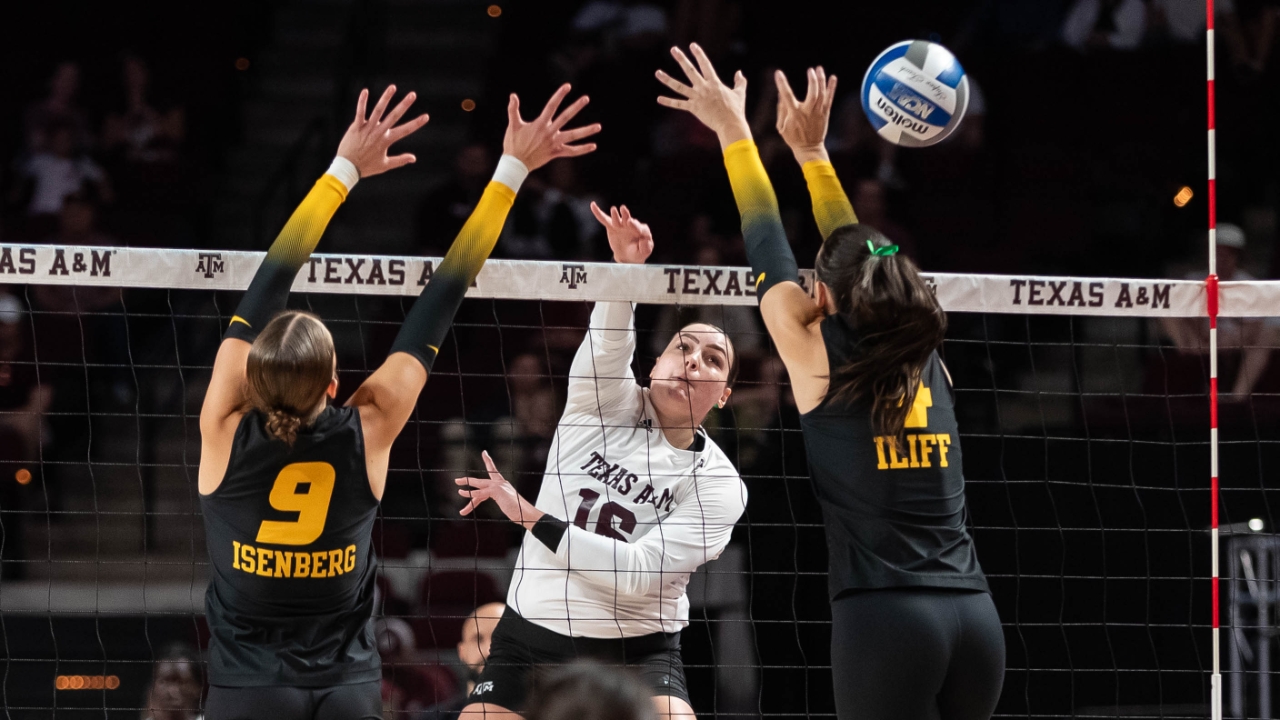 Photo by Chris Swann, TexAgs
Texas A&M Volleyball
Texas A&M volleyball upended by Missouri at Reed Arena in four sets
---
After a shocking upset over No. 4 Florida on Wednesday, Texas A&M returned home to take on the Missouri Tigers only to fall in four sets (25-22, 25-22, 19-25, 25-21).
The Tigers leave Reed Arena at 10-5 overall (2-2 in SEC) as the Aggies fell to 10-4 with a 2-2 conference mark.
Mizzou began with an aggressive approach. A&M quickly found an opportunity to show the bounty of practice, covering the tip — which has been a thorn in the Aggies' side since August. The Maroon & White had trouble gaining control on defense, and seven first-set service errors prevented A&M from sparking momentum as the Tigers took a tight opening frame, 25-22.
A&M was sent scrambling in the second as Missouri keyed in on tooling the Aggies block.
Nisa Buzlutepe brought impressive hustle throughout the rally, connecting with Ifenna Cos-Okpalla and Morgan Perkins, who both hit over .500 in the set. However, a lack of communication served as A&M's downfall in the stanza as the Tigers once again won by an identical 25-22 score.
"People were a little down when things didn't go 100 percent our way," head coach Jamie Morrison said. "Teams that are able to extend a rally, we just get frustrated with them instead of playing better volleyball."
A&M found a second wind in set three.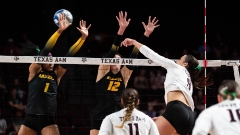 Chris Swann, TexAgs
Though mostly point-for-point, the Aggies could not be denied in the third.
Lauren Hogan picked up an ace, and Logan Lednicky earned a big kill as both boosted A&M's trajectory. The scrappy plays were evident as Aggies were flying across the court to pick up anything Mizzou attempted to put down. Perkins sealed the third to keep the Ags alive, 25-19.
Attempting to even the match, Caroline Meuth took the first kill to start off set four.
A remarkable save from Hogan allowed Meuth to once again unleash her artillery, followed by kills from Perkins and Brooke Jeffery.
Cos-Okpalla led the match with 11 blocks helping to only permit Mizzou a .146 hitting mark in play today, but the Tigers ultimately pulled too far ahead as the final stanza ended 25-21.
A&M's blocking brigade made its return, gaining 17 blocks in the match, but 17 service errors served as a Sunday undoing.
"Our serve-pass game has to be a bedrock of what we do," Morrison explained. "We got aced a lot, which is pretty rare, or we couldn't get them out of system in the first couple of sets, so we have to go to work on that back in the gym on Tuesday."
Texas A&M travels to Oxford on Friday to take on Ole Miss.
Never miss the latest news from TexAgs!
Join our free email list