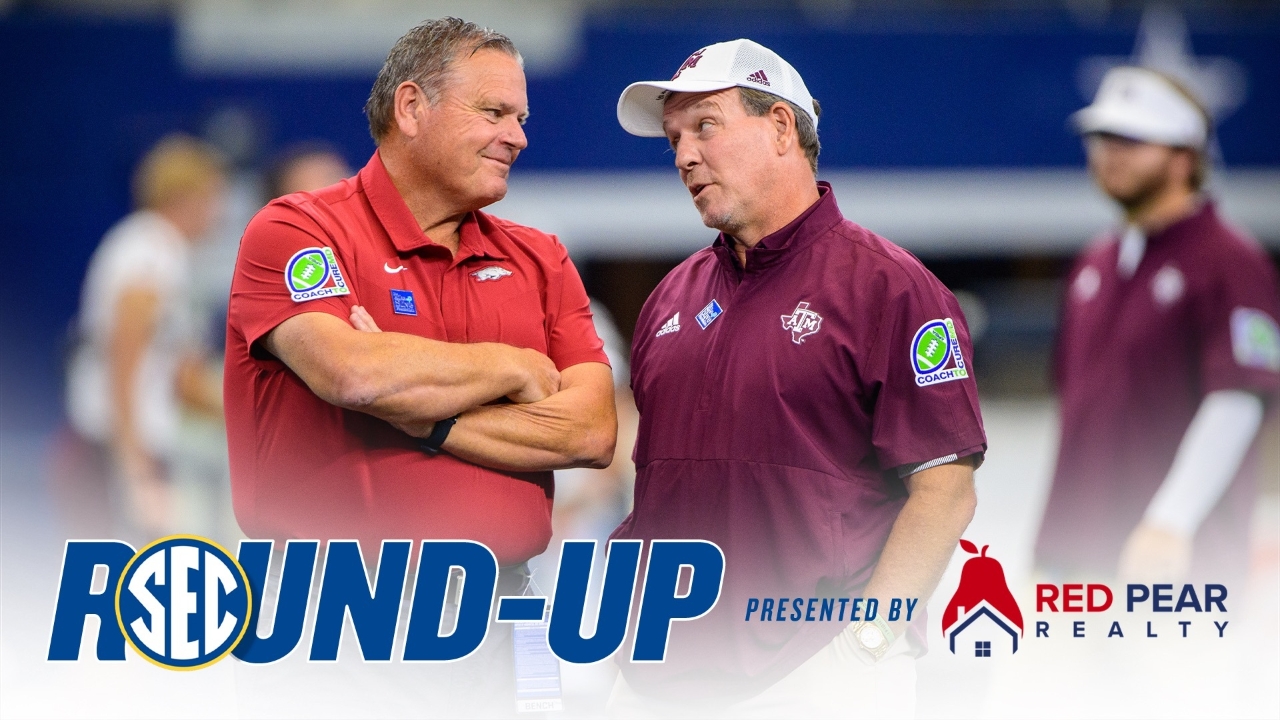 Photo by Jerome Miron-USA TODAY Sports
Texas A&M Football
SEC Round-Up: Southwest Classic offers A&M the chance to stand up
---
Way back in 1956, the television show "To Tell the Truth" originated.
Three sitting contestants — two of them imposters — faced several questions from a panel seeking to identify a central character. Ultimately, the legitimate contestant would stand up.
Similarly, it's time for Texas A&M to take a stand on Saturday in a vital Southeastern Conference football clash with Arkansas.
The game determines if A&M (3-1) is a legitimate SEC championship contender or just an imposter playing a role.
Make no mistake, an SEC championship is within reach.
Alabama is more vulnerable than it has been since about 2007.
LSU has already lost to Florida State and barely escaped Arkansas.
Ole Miss has defensive issues.
Even two-time defending national champion Georgia appears beatable.
A&M coach Jimbo Fisher knows this. So do the Aggies.
Therefore, Fisher stresses the importance of not looking past Arkansas. Not even with Alabama looming next week.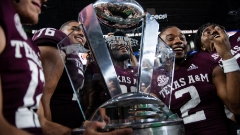 Jamie Maury, TexAgs
"As a coach, you look and see what's out there in the big picture," Fisher said. "But as a player, you have to live in the moment. You have to live in today.
"What good does that do to see what's out there? How you affect what's out there depends on what you do on a daily basis, so what you've got to do is understand what you can control."
Can the Aggies keep their focus solely on Arkansas? That's just one of several questions they face.
Also, can they reach their full potential with Max Johnson stepping in for injured starting quarterback Conner Weigman? Was the defense really that dominant in a victory over Auburn last week? Or was a 27-10 win just a byproduct of facing an inept opponent? Was the humiliating loss at Miami a bad day or a bad omen?
Can this Texas A&M team really win the SEC West when so many others have come up short?
The game against Arkansas should provide the answer.
The Razorbacks (2-2) showed their ability last week in a 34-31 loss at LSU, which was decided on a field goal with five seconds remaining.
Arkansas is always hyped up to face Texas A&M, but now the Razorbacks are also fighting for their SEC relevancy. They'd likely be eliminated from contention in the west with another loss.
Quarterback KJ Jefferson leads a big-play passing game. The Razorbacks have a strong pass rush.
The Aggies tend to allow big pass plays when facing Arkansas.
Last season, Jefferson threw touchdown passes of 32 and 56 yards against the Aggies. The previous season, he had touchdown passes of 85 and 48 yards.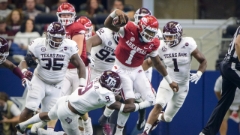 Jerome Miron-USA TODAY Sports
Arkansas has sacked opposing quarterbacks 14 times. The Razorbacks need that pass rush. Although they have managed six interceptions, they have an otherwise flimsy pass defense that gave up 320 yards to LSU.
A&M seemingly has a significant advantage with receivers Evan Stewart, Ainias Smith and Noah Thomas against the Arkansas defensive backs.
So, it would seem pretty clear.
Avoid turnovers. Limit big plays. Protect the quarterback
If the Aggies can do that, they will stand up as legitimate SEC contenders.
That's the truth.
Around the SEC
This week's games: Texas A&M vs. Arkansas (Arlington); No. 22 Florida at Kentucky; No. 1 Georgia at Auburn; No. 23 Missouri at Vanderbilt; No. 13 LSU at No. 20 Ole Miss; South Carolina at No. 21 Tennessee; No. 12 Alabama at Mississippi State
Who's hot: LSU quarterback Jayden Daniels is on a tear. In SEC victories over Mississippi State and Arkansas, Daniels has completed 50-of-63 passes (79 percent). He has accumulated 681 passing yards and six touchdowns. He also rushed for 64 yards vs. Mississippi State and had 36 rushing yards against Arkansas.
Who's not: Auburn's offense — particularly its passing game — is in a deep freeze. And no, that's not a compliment to head coach Hugh Freeze. Auburn averages just 371 yards to rank 13th in the SEC in total offense. It's worse than that, though. Those stats include games against UMass and Samford in which the Tigers compiled more than 1,000 yards. Against Power 5 opponents Cal and Texas A&M, Auburn has managed just 430 total yards and 17 points. Also, in those two games, Auburn quarterbacks completed 19-of-40 passes (47.5 percent) for 150 yards.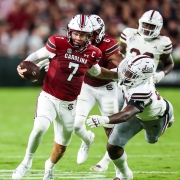 Jeff Blake-USA TODAY Sports
Keep an eye on: Last season, South Carolina quarterback Spencer Rattler torched Tennessee's defense for 438 yards and six touchdowns. The potential is certainly there for another big game for Rattler. First of all, he is ranked second in averaging 310.5 passing yards per game. Secondly, Tennessee's pass defense is virtually untested. The Volunteers haven't faced a quarterback as good as Rattler. Heck, Austin Peay's Mike DiLiello passed for 260 yards on them. But there is a caveat. Spencer must be protected. Tennessee leads the SEC in sacks. South Carolina has allowed an SEC-high 17 sacks.
Pressure is on: Florida's offense must get traction to end a two-game losing streak to Kentucky. The Gators scored 16 points against the Wildcats last year and only 13 in 2021. This year, the Gators are the lowest-scoring team in the SEC. Meanwhile, Kentucky has allowed 17 points or less in three games. Florida has not endured three consecutive losses to Kentucky since 1949-51. That was when Bear Bryant was Kentucky's coach.
Best matchup: Alabama's passing game is erratic. Therefore, the Crimson Tide relies heavily on its running game. Three of its four touchdowns in the last two games were scored via the running game. Running backs Jase McClellan and Roydell Williams have combined for 461 rushing yards. Mississippi State linebackers Jett Johnson and Nathaniel Watson will lead the charge to contain Alabama's rushing attack. Johnson leads the SEC in tackles. Watson is fourth.
Never miss the latest news from TexAgs!
Join our free email list
SPONSORED BY