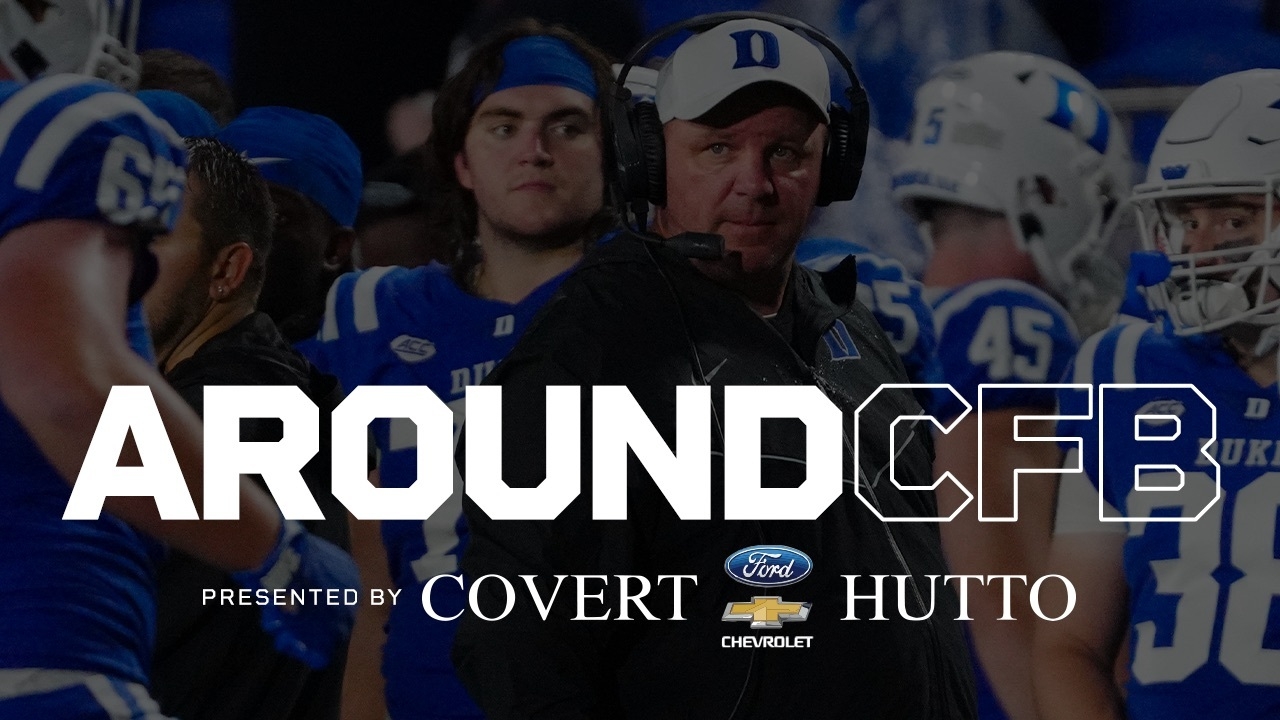 Photo by James Guillory-USA TODAY Sports
Texas A&M Football
Around CFB: National spotlight shines on Duke football, not basketball
---
That ESPN's College GameDay will be in Durham, N.C., on Saturday isn't so unusual
What is unusual is the game involves a brown oblong ball and not an orange round one.
Duke — yes, Duke — is in the national spotlight.
When that happens, a basketball coach with a name no one can spell is supposed to be the central figure.
Instead, the credit goes to second-year Blues Devils coach Mike Elko, the former Texas A&M defensive coordinator who has built Duke into an Atlantic Coast Conference championship contender.
The No. 17 Blue Devils (4-0) already have an impressive win over Clemson. If they defeat No. 11 Notre Dame (4-1) on Saturday, they'll be established as a bona fide College Football Playoff contender.
That was Elko's plan all along. But he'll admit the plan may be well ahead of schedule.
"I did not take the job with the hope and expectation that we could be a middle-of-the-road program," Elko said on Monday. "That's not why I came here. That's not why I left my previous destination. That's not who I am. It's not really how I'm wired.
"Did I anticipate in game five of year two, that we would be on this stage? No, of course not. That is a credit to our kids. That's really all it is. It's a credit to our kids and what they bought into and how hard they've worked."
Historically, Duke would be a mere stepping stone for Notre Dame. The Fighting Irish lead the all-time series 7-2.
Duke beat Notre Dame in 1961. Five years later, they lost to the Irish, 64-0. Notre Dame's other four wins over Duke then have been by an average of 17 points.
"I did not take the job with the hope and expectation that we could be a middle-of-the-road program. That's not why I came here. That's not why I left my previous destination."
Duke also rallied to defeat Notre Dame 38-35 in 2016.
The Blue Devils, of course, are underdogs, but they are capable of beating Notre Dame again.
Duke has allowed just 35 points in four games to rank fourth in the nation in scoring defense with an 8.8 average. The offense averages 37.3 points.
Further, they may have a psychological advantage.
Opponents always get pumped up to face Notre Dame. Playing Duke might not mean as much to the Irish.
Also, Notre Dame must shake off the disappointment of losing to a much-anticipated clash with Ohio State last week. The Buckeyes scored on the game's final play when Notre Dame only had 10 players on defense.
Elko believes the Blue Devils do not need emotional peaks and valleys to pull off a big win.
His task this week is convincing Duke players to believe that, too.
"I think the biggest thing is getting them to understand that they should be confident in their preparation, confident in how they've trained, confident in the things they've done to put themselves in this position," Elko said. "And then understand the work it's going to take this week for them to go out and have a chance to have success on Saturday. I think they understand it."
Heisman Watch (If my ballot was due today)
1. Michael Penix, Washington, QB: The nation's passing leader had another stellar showing. In leading the Huskies to a 59-32 victory over Cal, Penix completed 76 percent of his passing attempts. He threw for 304 yards and four touchdowns. He has thrown at least three touchdown passes in every game. Overall, Penix has completed 74.6 percent of his passes for 1,636 yards and 16 touchdowns.
2. Caleb Williams, USC, QB: Last year's Heisman recipient had a typical performance in a 42-28 victory over Arizona State. Williams completed 20-of-31 passes for 322 yards and three touchdowns. That raised his season totals to 1,200 passing yards and 15 touchdowns. He has not thrown an interception.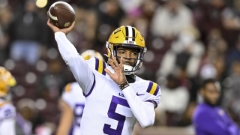 Maria Lysaker-USA TODAY Sports
3. Jayden Daniels, LSU, QB: Daniels exceeded 300 passing yards for the third time and four games last week. He threw for 320 yards and four touchdowns in a 34-31 victory over Arkansas. Thus far, he has completed 72.6 percent of his passes for 1,296 yards and 12 touchdowns. Daniels, who is ranked third in the nation in total offense, has also rushed for 193 yards and two scores.
4. Jordan Travis, Florida State, QB: The stats aren't as gaudy, but Travis has already led Florida State to signature victories over LSU and Clemson. His stat-padding games await. Last week, he threw for 289 yards and two touchdowns. He now has 1,028 passing yards, 10 touchdowns and just one interception.
5. Shedeur Sanders, Colorado, QB: His Heisman campaign took a hit in a 42-6 blowout loss to Oregon. Sanders passed for only 159 yards and one touchdown. Still, he remains second in the nation in passing. He has thrown for 1,410 yards and 11 touchdowns. He's rushed for another score.
Predicted Playoff Participants
1. Georgia: The Bulldogs appear vulnerable. Yet, they've still posted 21 consecutive victories.
2. Michigan: The defense is the nation's stingiest. The offense has been merely OK.
3. Florida State: Sometimes you've just got to be lucky. The Seminoles have benefitted greatly from good fortune in their last two games.
4. Texas: The Longhorns have cachet with the victory over Alabama, but their other three wins aren't overly impressive.
Games to Watch
No. 11 Notre Dame at No. 17 Duke: Is it that crazy to suggest Duke just might be better? Maybe. But you can bet coach Mike Elko would've risked a penalty to get 11 men on the field with the game on the line.
No. 13 LSU at No. 20 Ole Miss: Look for LSU to get some big plays in the passing game. Also, look for LSU to give up some big plays in the passing game.
No. 24 Kansas at No. 3 Texas: Kansas represents Texas' biggest challenge since Alabama, and, well, Kansas often causes problems for the Horns.
No. 10 Utah at No. 19 Oregon State: Seriously, four weeks ago, who saw this Friday night game as a clash of top-20 teams? Liar.
No. 8 USC at Colorado: Some might think the Buffaloes were exposed as frauds last week. This is a chance for them to prove they're not.
Never miss the latest news from TexAgs!
Join our free email list
SPONSORED BY