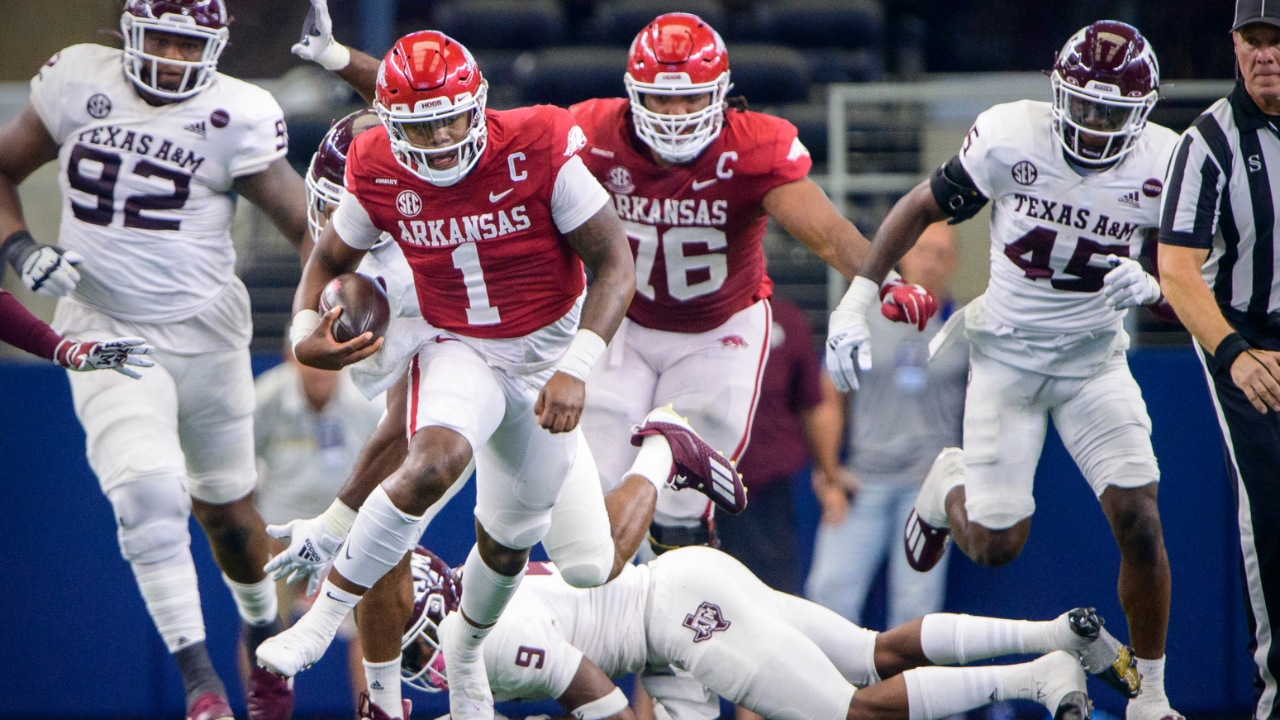 Photo by Jerome Miron-USA TODAY Sports
Texas A&M Football
Arkansas play-by-play voice Chuck Barrett analyzes Ags vs. Hogs
---
On Tuesday's edition of TexAgs Radio, Arkansas football play-by-play announcer Chuck Barrett joined the show to talk about how the Razorbacks have looked this season and how they could stack up against Texas A&M on Saturday in the Southwest Classic at AT&T Stadium.
---

Key notes from Chuck Barrett interview
I think this is an important ballgame. Arkansas lost a heartbreaker last week at LSU. They played well, but I think there was some belief restored. There might not have been much belief after the BYU game. Arkansas and Texas A&M have always seemed to play good games at that stadium. This is a very important game for Arkansas.

The offensive line was better against LSU, and LSU is pretty good. They get after the quarterback pretty well. The BYU game is one people look back on and say they shouldn't have given up so many sacks. Arkansas has first-year starters at both tackle positions. There are other things that have led to the offensive line being a longer building process than they were hoping for. Arkansas has not gotten enough push. They moved KJ Jefferson around more against LSU, and he did more on the move against them. I'd expect to see more of that moving forward. The offensive line is a work in progress, but it is getting better.

Dan Enos and Sam Pittman are very familiar with each other. They were on Bret Bielema's staff at Arkansas. It is different, and there is a process that comes with that switch. The offense was a lot better against LSU, and LSU's defense is good. They scored 31 points in that game. We'll see if they're able to continue to do that.

When you look at how Jefferson throws the intermediate routes, he has improved a great deal at that. His footwork and release point have improved a lot. When you look at his command and his presence on the field now compared to when he began his career, there is no comparison. He has always thrown the deep ball, but when you look at his best games, it comes back to his ability to run. What made Arkansas better vs. LSU was that it was the first time they cut him loose and allowed him to run. They needed to run him more against LSU, and I expect we'll continue to see that as we move forward.

That play at the goal line changed the game last year. I have not been in that situation, but I cannot imagine that Jefferson would allow that to linger. Does that motivate him to play a great game? I'm sure it does. Is it a storyline? I don't know. Jefferson has not been made available to the media yet, so I'm not sure he'll have anything to say about that. Still, people will talk about it.

Andrew Armstrong from Texas A&M Commerce has been a real find for the Razorbacks. He has caught more passes than anybody else. He has carved out a niche in a hurry. They have a really good freshman tight end in Luke Hasz, and he'll become an All-American. You'll be talking about him for the rest of his career. He is emerging as a target. Armstrong is a guy they really like. I think he'll have a chance to help them the rest of the way, and they need him to.

Adding size was an emphasis. Arkansas reconstructed its receiving corps through the portal. Tyrone Broden caught his first Arkansas touchdown at LSU, and he caught 13 of them at Bowling Green. All of these guys are big guys, and I don't think that was a coincidence or by accident. In re-tooling that room, I think being a big target was a big emphasis.

Pittman is a ball coach to the core. He's a lifer. He lives it every day. If there is one thing about Pittman that separates him is that kids know when you care about them. You can't fool them. When you're around Pittman, you know that he genuinely cares. I could tell you a lot of stories about Pittman's involvement in kids' personal lives. In their darkest moments, Pittman will be the first to call. He's an old-school football coach. He'll get after you like your old high school coach would. He has that quality about him.

Arkansas has to have great quarterback play against Texas A&M. Jefferson is the alpha and the omega. Arkansas goes as he goes. Arkansas needs to improve defensively from where they were a week ago. We have a lot of respect for Bobby Petrino around here and what A&M will do offensively. It would not surprise me if this game becomes a Texas shootout.
Never miss the latest news from TexAgs!
Join our free email list