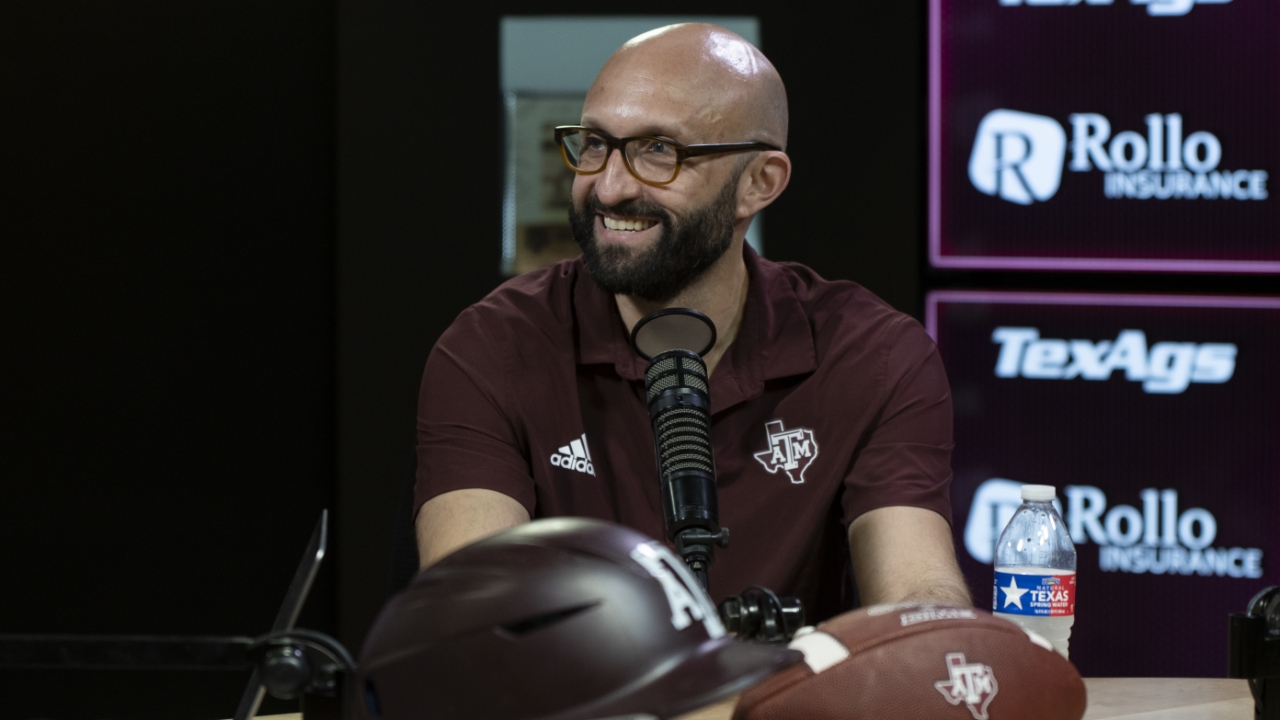 Photo by Jamie Maury, TexAgs
Texas A&M Volleyball
Jamie Morrison reflects on Texas A&M volleyball's first week of SEC play
---
Texas A&M volleyball head coach Jamie Morrison joined Tuesday's edition of TexAgs Radio to reflect on his first week guiding the Aggies through SEC play before previewing what is ahead with matches against No. 4 Florida on Wednesday and Missouri at home on Sunday.
---

Key notes from Jamie Morrison interview
We talked a lot about my first time going through the SEC and how the program is going to play with our style and attitude. This is the first time we can show that to opponents, and we ended up with a win and a loss this week. We showed Mississippi State who we are, and they couldn't adjust. Then we went to Arkansas, who is now No. 14 in the country. I came away disappointed from that one because we had a chance to beat them. I think we can be a top-25 team. I'm interested to see us get another crack at Florida on Wednesday.

What these student-athletes do is very hard. There are so many stressors going on in their lives. The fact that they can lock in for a match is impressive. There were some blips in the third and fourth sets at Arkansas.

Against Mississippi State, we locked into who we are as a team. The great teams can do that for two-and-a-half hours. The great teams can keep doing it. The really great teams can do it for a month, and the spectacular teams can do it for an entire season. We're getting there.

This week, we go on the road to play Florida before coming home to play on Sunday at Reed Arena. I'm looking forward to playing at home. It's fun to put on a show for people and our fans. We're showing our fans what we're like.

Logan Lednicky had some matchups that gave us an advantage at Arkansas. She was pretty unstoppable. She's making some changes in the way she swings. She has a few more tools in her tool kit, so it might not be the last time you see that. Still, the next time we play, it might be someone else's night. To have her reach 500 kills this quickly in her career is impressive. Morgan Perkins just got to 150 blocks in her career. It seems like we're always celebrating something each week.

Ifenna Cos-Okpalla is a force up there. She had like four straight blocks in the third set against Mississippi State. I am surprised at how good of a blocking team we are, and that has become a part of our identity.

We want to hold opponents under .200 in efficiency. That is a sense of pride for us. If we can hit over .300 and do that, we're going to win a lot of volleyball matches.

Hats off to our team and our sports science staff for identifying when to push the throttle and when to pull back. I think this stretch during the middle of mid-terms is hard, but our practice yesterday went shorter. We'll push harder tonight. They were still getting after it yesterday, and they were fired up.

We get a metric that measures output and how much the players are exerting themselves in a match, but also, what leads to players getting hurt most is their perception of how tired they are. We pay attention to all of their stressors, and our sports science team gives us a report each week. We look at the numbers after matches. We also talk about our most valuable assets, which are the athletes. These numbers and conversations give us a good idea of what we need to do each week.

Florida is ranked fourth in the country. They had a heartbreaking injury to their setter, which has changed them a little bit. They had two five-set matches vs. Auburn and Georgia. They're figuring out how to adjust without one of the best setters in the country. I'm excited. They have a lot of good arms. They're a really, really good volleyball team. The way we played against Arkansas, if we can get rid of some of the blips, I like our chances.

Anybody that is listening that has been to our matches: Thank you. Different people are making up our crowd, and when I say that I'm ready to be home, I'm not talking about sleeping in my own bed. It's about playing in front of the 12th Man. We're trying to make it really fun to go to a volleyball match.

As the season goes on, I see us picking off a top-25 team. I actually see us picking off a lot of these top-25 teams.
Never miss the latest news from TexAgs!
Join our free email list