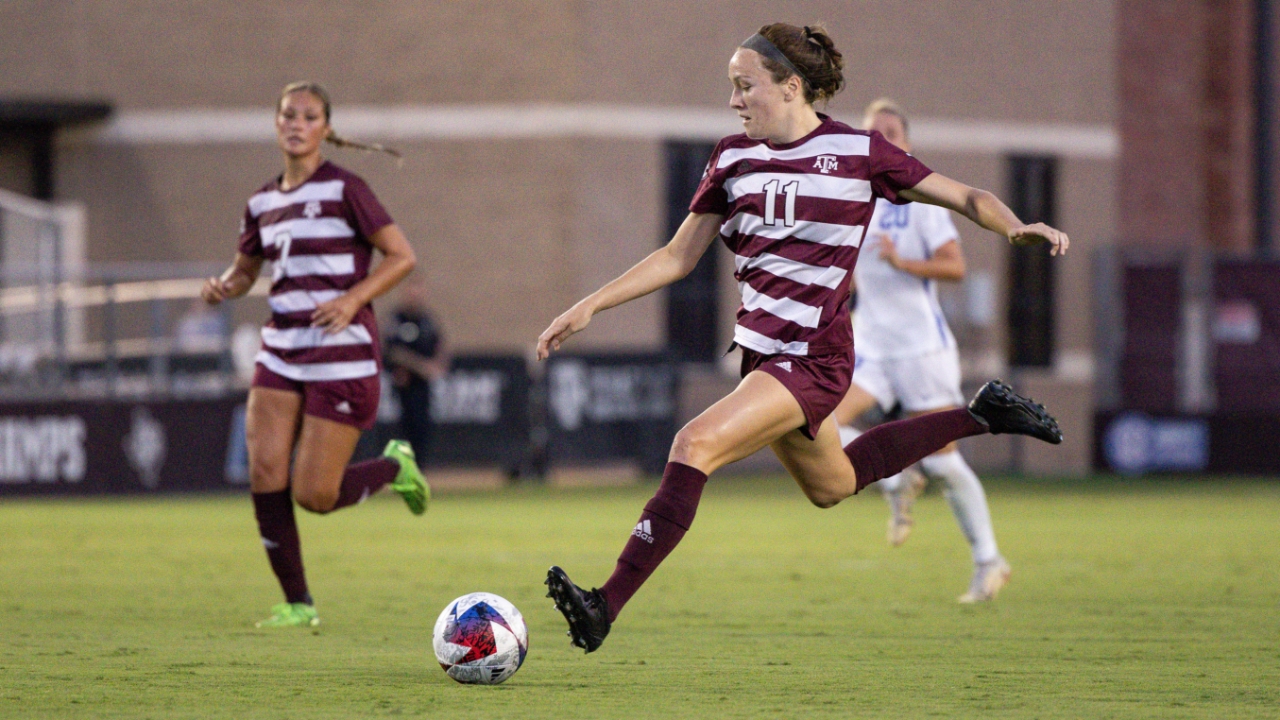 Photo by Chris Swann, TexAgs
Texas A&M Soccer
Smith's late PK lifts Texas A&M past Mississippi State, 1-0
---
In an aggressive and defensive battle, Texas A&M secured its first Southeastern Conference win on the road against Mississippi State with a 1-0 result earned on a 83rd-minute penalty kick by graduate forward Sammy Smith.
Despite the Bulldogs outshooting the Aggies 13-7, A&M goalkeeper Grace McClellan kept a clean sheet with five saves in her third appearance of the season and first SEC start.
Carolyn Calzada went down clutching her right ankle and exited the field without putting any weight on it in the 21st minute. Calzada did not return to the game, but was substituted by Quinn Cornog.
With a gritty match ensuing, the first half ended in gridlock.
In the same area of the field where Calzada went down, Jazmine Wilkinson also hit the ground holding her ankle in the 55th minute. MaKhiya McDonald subbed into the match, but Wilkinson later returned to the field.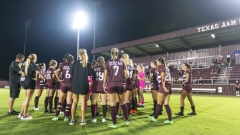 Chris Swann, TexAgs
Mississippi State's Alexis Gutierrez was given a straight red card for denying Maile Hayes a goal scoring opportunity in the 64th minute. The Bulldogs were forced to play with 10 on the field for the remainder of the match.
Georgia Leb took the free kick caused by the booking. Her shot curved around the defenders but was ultimately saved by the Bulldogs' goalkeeper Maddy Anderson.
Leb's attempt was the first of five shots-on-goal for the Maroon & White.
With time winding down and the Aggies desperately needing a break, they capitalized on the perfect opportunity.
A penalty kick was gifted to A&M by Mississippi State's Macey Hodge as the Bulldogs' midfielder got a yellow card for persistent infringement.
Smith took the penalty kick and scored with seven minutes left. The shot went top left as Anderson went right.
It proved to be all G Guerrieri & Co. needed to slide past the Bulldogs in hostile territory.
The Aggies return to Ellis Field for their Taylor Swift themed match against Arkansas on Sunday. Kickoff is scheduled for 6 p.m. CT.
Never miss the latest news from TexAgs!
Join our free email list