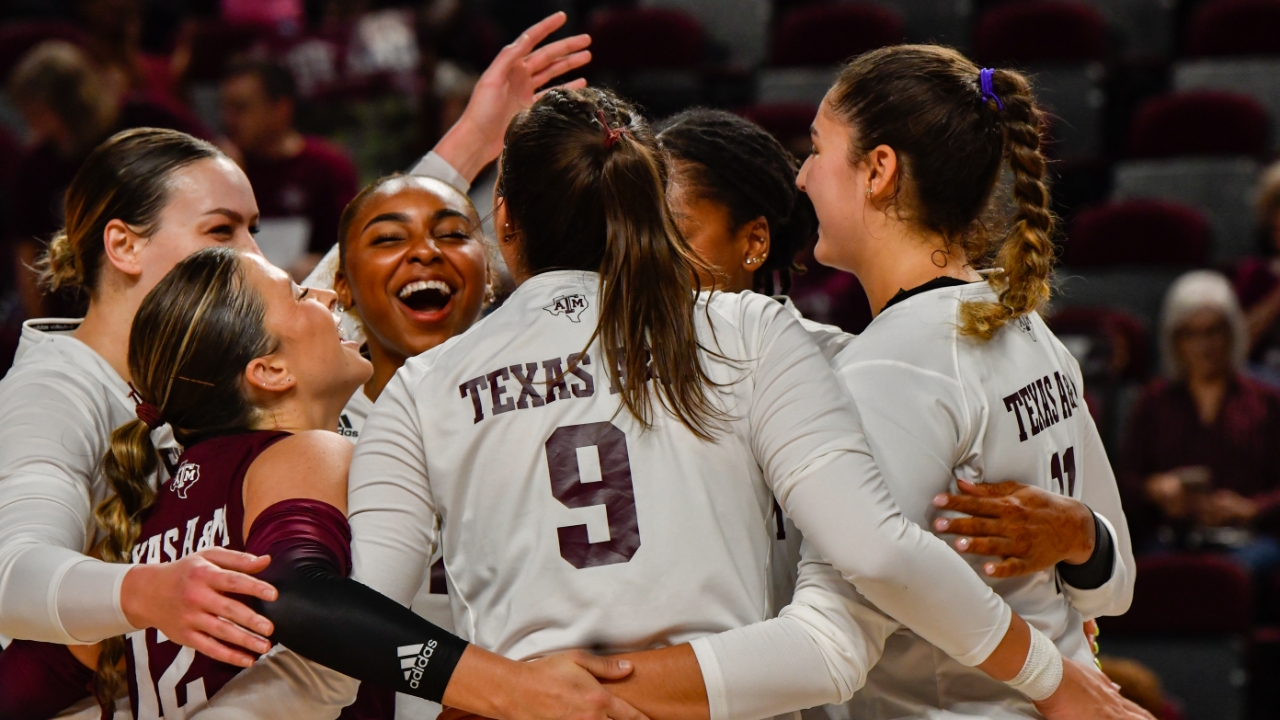 Jamie Morrison
Cos-Okpalla & Lednicky
Texas A&M Volleyball
Texas A&M bullies Mississippi State in SEC-opening sweep at Reed
---
Texas A&M opened Southeastern Conference play in dominant fashion on Wednesday night by sweeping the Mississippi State Bulldogs (25-20, 25-22, 25-18) at Reed Arena.
The Aggies continued to show off their impressive offense, totaling 40 kills on the night. Among the offensive leaders was Caroline Meuth, who was responsible for 12 of those kills. Other commanding presences included Bianna Muoneke, Morgan Perkins and Logan Lednicky. That trio combined for 23 kills.
Texas A&M libero Ava Underwood showcased her multitalented game by totaling 10 digs and five assists. Muoneke and Meuth also showcased their defensive talents, totaling eight digs collectively.
The first set started slowly as the visitors opened on a 4-0 run to start. A&M's defense was caught on its heels, and the offense was unable to produce like usual due to the slow defensive start.
"We were down 4-0, and I was thinking, 'Do I need to take a timeout right now?'" head coach Jamie Morrison said. "I legitimately had the thought that on that run that it is going to be tough to put balls down in this conference."
Yet, in his first taste of conference action, Morrison saw his Aggies quickly catch up and take over.
"It's really cool to be here in this conference playing and to be successful. Hopefully, that's the first of many to come."
Meuth and Muoneke jumpstarted the offense, and halfway through the first set, Underwood and Lednicky combined for an incredible show of athleticism and quick thinking which resulted in Mississippi State being forced to call a timeout.
Even after the break, A&M's first line of defense shut down the Bulldogs to take a 17-12 edge.
"I think that is a celebration of who we are. That's a piece of it," Morrison said. "And I think that that play let us get some momentum."
The Aggies took the first set 25-20 and carried that dominance throughout the remainder of the evening.
The second stanza saw more of a Bulldog attack, but once more, the Aggies retained the momentum and quickly stymied the visitors.
A&M's offensive and defensive effort seemed to lack slightly at the beginning of the set but picked up towards the end. Underwood established herself as a leader, barely allowing a ball to drop that was within her reach.
Kills from Lednicky and Mueoneke closed the set out with A&M on top, 25-22.
Set three was all about the home team.
Ifenna Cos-Okpalla tallied seven blocks in the third set alone, nearly doubling the Aggies' total through the first two sets.
"I think working on our basics in practice this week showed a lot," Lednicky said. "I mean our blocking was amazing this match, and our out-of-system and serve receive was also amazing."
A&M applied pressure on all fronts, not allowing the Bulldogs to catch a break until Meuth and Muoneke sent them packing with their first SEC loss in hand.
"It's really cool to be here in this conference playing and to be successful," Morrison said. "Hopefully, that's the first of many to come."
With his first SEC win under his belt, Morrison's club now turns its attention to a pair of ranked road matches with No. 16 Arkansas and No. 3 Florida.
A&M's SEC gauntlet resumes on Sunday, Sept. 24, in Fayetteville.
Never miss the latest news from TexAgs!
Join our free email list