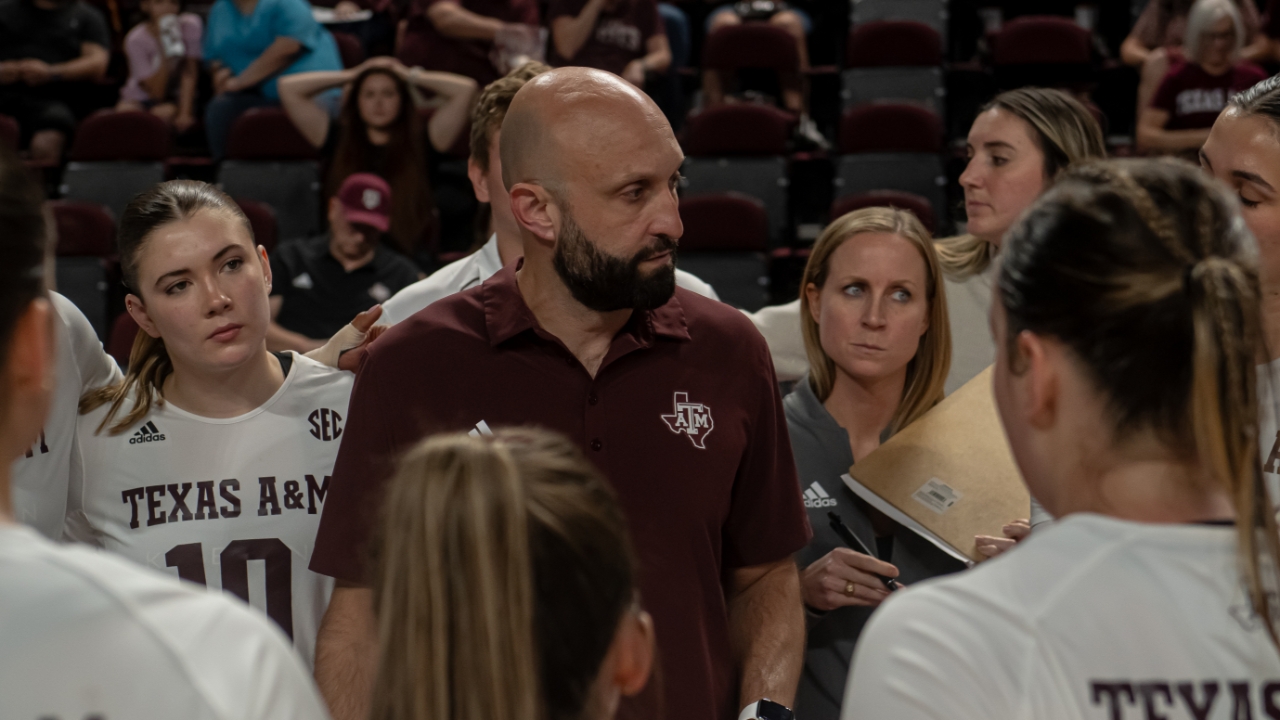 Photo by Zoe Kelton, TexAgs
Texas A&M Volleyball
Morrison excited with where Aggies are at heading into SEC schedule
---
Texas A&M volleyball head coach Jamie Morrison joined Tuesday's edition of TexAgs radio to talk about last week's matches against Houston and Liberty as well as the non-conference schedule as a whole before the Aggies dive into SEC action starting on Wednesday.
---
Key notes from Jamie Morrison interview
We got off to a slow start against a good Houston team. We talked about how we could not wait until the third set to get going, and we got off to a better start in the Liberty match. We have to play that way against great teams with that quick start, and I think we'll get there.

For one, you have to identify who you want to be. The leadup and warmup are about sharpening your sword to become that team before you step on the floor. We've seen that identity in matches, but it needs to be consistent night in and night out.

When you look at the conference, Florida lost a couple of players to the transfer portal, but they're No. 3 in the country right now. They just lost a nail-biter to No. 1 Wisconsin. You have a lot of experienced teams in the country too. Arkansas is doing well, and so is Tennessee. They're ranked No. 14 and No. 16 in the country, respectively. There have been really good coaches added to the league, and that's not tooting my own horn. We just need to buckle up for a bumpy ride because this is going to be tough.

Looking back to our non-conference slate, I think we're capable of doing good things this year, but with the young nucleus we're building, it's really exciting.

For Margot Manning, being a freshman setter is really difficult. College is tough from a student standpoint, and we don't get to train our players in the summer to prep for the fall. We get 12 practices before we get into the arena to play. To do what she's doing as a true freshman is really impressive. She did not get here early.

Whenever I talk to our student-athletes about their GPA in the first semester, I tell them mine. I won't share it here. Coming into college is always a shock to the system.

We give our student-athletes 20 hours of practice each week, and that's a half-time job on top of their full-time job of going to school.

Mississippi State runs with some tempo, which is tough to defend. They're a good volleyball team, and they're coached by a good friend of mine. The SEC is crazy because you'll turn around after that and have Arkansas on Sunday and Florida next week.

Next year, you have Texas and Oklahoma coming in. The SEC is going to end up being one of the best conferences, and it's already one of the best conferences. You don't want to have 11 snoozers. It's nice that every single match is a challenge in a different way.

We talked some about the purpose behind being uncomfortable as we went through non-conference. We set it up a certain way because RPI is important in getting into the tournament, and right now, there is a simulation out there that has our RPI at No. 19 come tournament time with 10 overall losses. I like where we're set up right now.

There are some key performance indicators. We're where we need to be statistically. We need to grind it out in a rally and grind it out when things get difficult.

We're at home on Wednesday at 7 p.m. CT. I know I keep saying it, but I can't thank the 12th Man enough for constantly showing up and filling it up.
Never miss the latest news from TexAgs!
Join our free email list