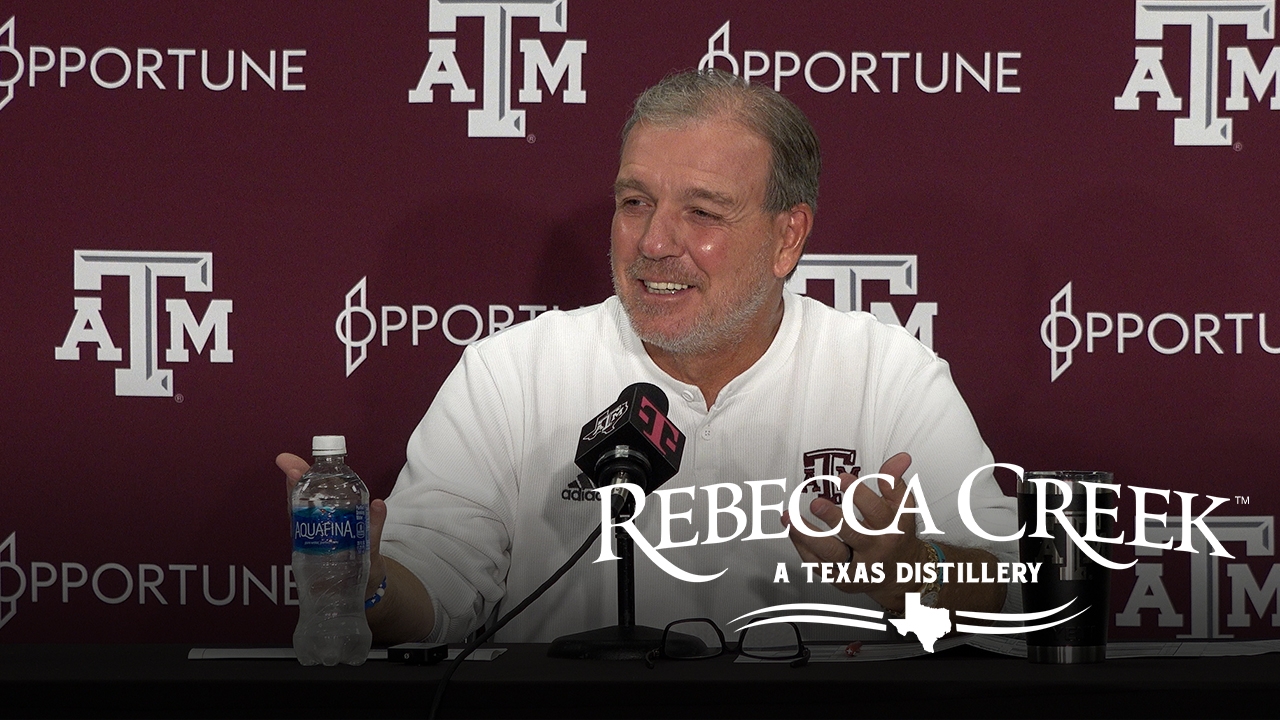 Jimbo Fisher
Conner Weigman
Mark Nabou
LT Overton
Texas A&M Football
Press Conference: Fisher, Aggies open SEC slate vs. Auburn on Saturday
---
Texas A&M gets its first taste of conference play this weekend as the Auburn Tigers venture to Kyle Field this Saturday. On Monday, Jimbo Fisher, Conner Weigman, Mark Nabou and LT Overton spoke to the media to preview the matchup.
---
The following are live, paraphrased notes from Jimbo Fisher's Monday afternoon media availability:
Happy with the guys and focus on Saturday. We played to a good standard and stayed focused. Special teams, we kicked the ball well. The one punt we had was good. Defensively, played well, covered well, and tackled well. They made a couple of good plays early. I was proud of Deuce Harmon. He didn't let that first play affect him. Offensively, Mark Nabou stepped up. Kam Dewberry and Trey Zuhn played well. Conner Weigman utilized the people. Good distribution. We ran the ball well. We are playing a very good 3-0 Auburn team. Inside, they are big and physical.

They have constant pressure. Payton Thorne has a lot of experience. He can throw the football. They can run. The backs are fast and strong. Returners are good. They are sound all the way across. It will be a battle.

It depends if you are zone or man to match up with the tight end. They make you play to the middle of the field. Auburn uses different schemes.

If you are hot, you go. You have to wear defenses down. This is a long haul. With the brutality of the running back position in this game, you have to have a rotation of guys.

The linebackers are more consistent in fits. Having a great front helps. They are playing with better eyes.

Shemar Turner's sacks don't surprise me. There is not a guy that loves playing football more than him. That guy loves to play, work out, run and everything associated with football. He plays with passion and energy in everything he does. He does that at practice.

Conner looks like he belongs playing quarterback. He fits in the game. It makes sense to him. He can do all the things, but the process of the things around him, there is a naturalness to it. That was my first impression of him.

Conner is not quiet, but not loud. He is confident in himself. Baseball players and quarterbacks have always related. He can speed those hands up and slow them down. He can process what is happening. Playing middle infield, you have to have the footwork. I get on him about it. You can't play quarterback like you play shortstop. They all do it. Patrick Mahomes does it. You can't do it all the time. He has the other tools that you can't teach. He has a lot of football to go. He doesn't mind getting coached hard. He has the right DNA.

You should always do it the right way. The good ones are not making that throw with their hands but with their feet. It's also when you carry the ball. They can do it, or they can't.

I hope Jake Johnson is becoming a security blanket. He is a 6-foot-6 guy. Max Wright had two nice catches in the game.

Everyone should be good. We will find out this week.

What you see this week may not be something you see next week. You are going from three to four down with the same personnel. There are different principles when you do that with different things. The game has become more intricate.

They are probably still learning their guys a little bit. When you teach offense and defense, you are teaching concepts.

I always go back to the trenches. You don't understand how the game is won and lost there. The intricacies of the O-line and D-line don't get enough credit. The greatness is measured by the guys with a hand on the dirt. Also, with quarterbacks, there is never enough experience they can go through.

We got beat physically by Miami. They had two or three guys that were really good players. I like what we did. That is a team that just beat good Army and UTSA teams.

Hugh Freeze is going to be aggressive on offense. He is not afraid to call a fake. He is a good guy and a very good football coach.
Never miss the latest news from TexAgs!
Join our free email list
SPONSORED BY