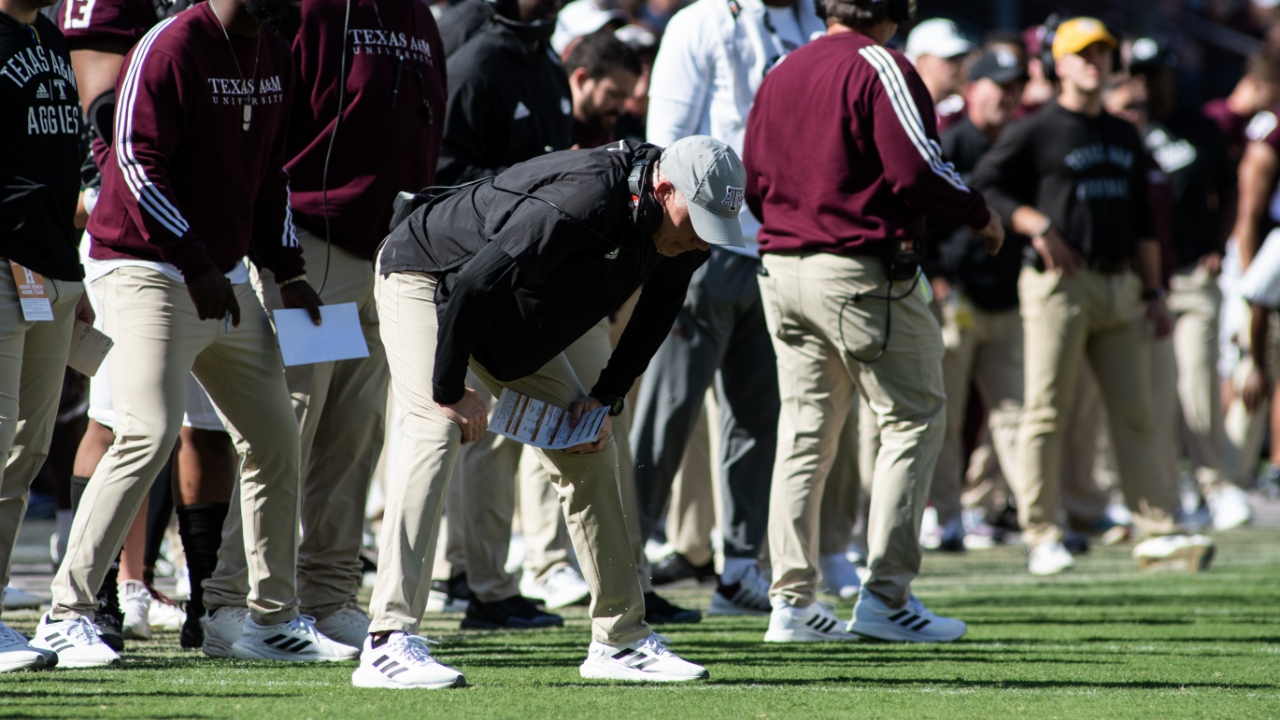 Photo by Jamie Maury, TexAgs
Texas A&M Football
Texas A&M must fix defensive issues, and fast, to have success in 2023
September 13, 2023
10,599
---
Those lyin' eyes just cannot be trusted.
We see the Aggies play football, but it disturbingly looks like "Whac-A-Mole."
One problem disappears, and another pops up.
That appeared to be the case last week in the college football arcade known as Hard Rock Stadium. There, the Aggies pounded away at Miami's run game only to have major problems in pass defense surface.
You saw the game.
You saw a moribund pass rush. You saw Miami slice through A&M's secondary. You saw defensive backs get beat on deep passes. You saw them miss tackles. You saw them allow a whopping 241 yards after the catch.
You saw defensive coordinator D.J. Durkin's futile attempts to contain Miami quarterback Tyler Van Dyke, who passed for 374 yards and five touchdowns.
Well, that's what you thought you saw. You can't trust those lying eyes.
Texas A&M coach Jimbo Fisher said you didn't see Durkin struggle.
"He did a good job," Fisher said. "Played the run extremely well. Played a great first game. We give up a couple of deep passes. We've got to get a little more pressure. D.J.'s a very good coach and does a good job and knows what he's doing."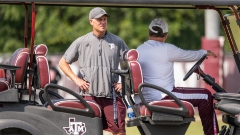 Jamie Maury, TexAgs
True, the Aggies played the run well. They're currently ranked 30th in the nation in run defense. That's an incredible jump from last season when they ranked 123rd.
True, the Aggie defense played great in the first game. That was against New Mexico, which hasn't scored more than 14 points against a Power 5 opponent since 2016.
But to say Durkin did a good job against Miami just doesn't ring true.
Miami's offense scored 37 points. The Hurricanes covered 75 yards in 44 seconds for a touchdown that gave them a 21-17 lead with 13 seconds left in the first half.
Players also need to be held accountable.
Coverages were busted. Little pass pressure was applied. Tackles were missed. Sometimes poor effort was given.
Who coaches those players, many of whom were five-star and five-star recruits coveted by almost every program in the country?
A&M's primary problem in 2022 was a bland offense that struggled to reach the end zone. Thus, Fisher brought in offensive coordinator Bobby Petrino.
The Aggies have scored 85 points in two games. Last season, that took four games and required help from a Devon Achane kickoff return (vs. Appalachian State) and a Demani Richardson fumble return (vs. Arkansas).
Petrino appears to have saved the offense.
Petrino appears to have saved the offense. But who's going to save the defense? Fisher is adamant Durkin will.
But who's going to save the defense?
Fisher is adamant Durkin will.
"He knows football," Fisher said. "He knows football very well. He knows as much football as anybody. We've just got to execute. We've got to get the calls. Put them (players) in the right thing. Get the right matchups for our guys."
Get players to execute. Make correct calls. Get correct matchups. You know … coaching.
Maybe Fisher is right and Durkin is being unfairly criticized. Maybe all of Durkin's knowledge will be on full display for the rest of the season.
The loss to Miami was disappointing for Texas A&M. So was Alabama's loss to Texas. But you know Alabama won't mail in the rest of its season. Expect Alabama to make whatever moves are necessary to play winning football.
A&M should, too. That's the plan anyway.
The Aggies will beat Louisiana Monroe on Saturday. Maybe they can follow up with strong performances to beat Auburn and Arkansas. That would set up a huge showdown with Alabama, perhaps for supremacy in the SEC West.
None of that will happen unless the Aggie defense makes giant strides.
Fortunately, Fisher maintained A&M's pass rush and tackling problems can be quickly fixed.
All Aggies are hoping so. But they also must hope other problems don't pop up. We've seen that occur too often.
Or was it just our lying eyes?
Never miss the latest news from TexAgs!
Join our free email list
SPONSORED BY