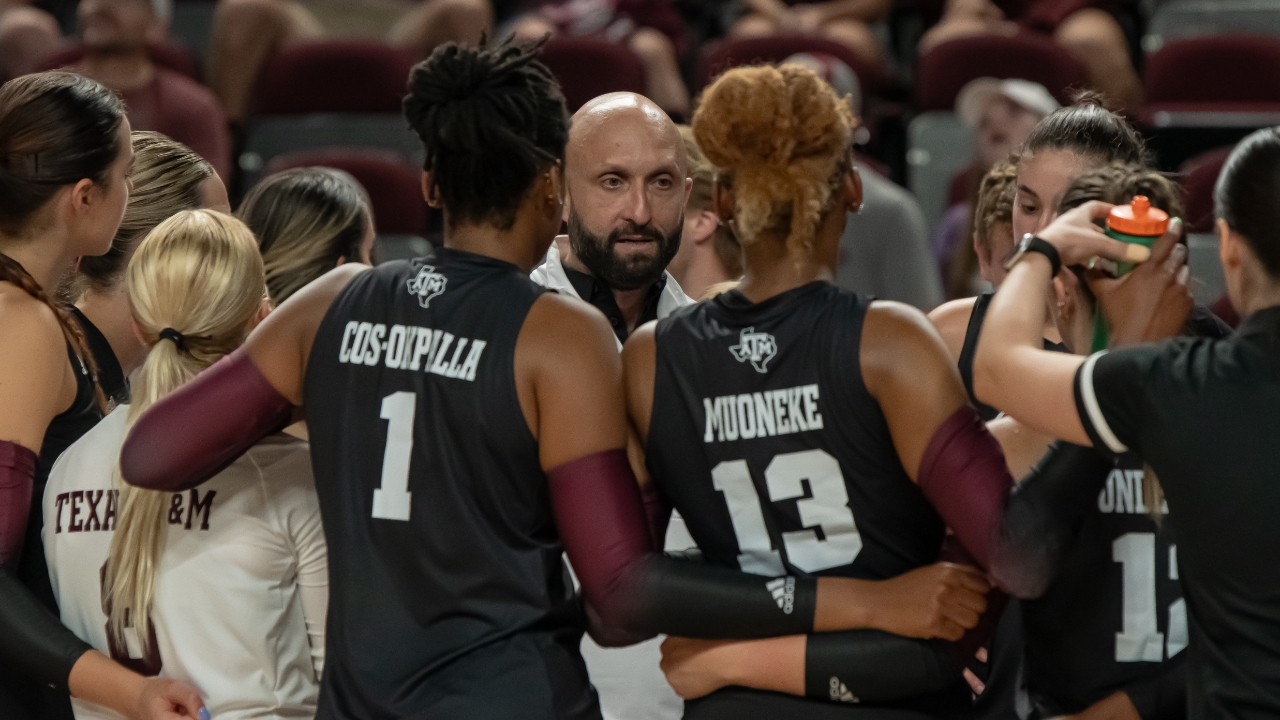 Photo by Zoe Kelton, TexAgs
Texas A&M Volleyball
Morrison's Aggies ready for No. 22 Houston and Liberty before SEC play
---
The Texas A&M volleyball team is off to an explosive 7-1 start, marking its best start to a season since 2019. On Tuesday morning, head coach Jamie Morrison joined TexAgs Radio to discuss his club's hot start, the team's upcoming slate, his gratitude towards the 12th Man and more.
---

Key notes from Jamie Morrison interview
I said this weekend was like winning the silver medal. You had two really good matches and then played a good TCU team. We learned a lot of things from that match. We're going to find out who we're going to be. It was a successful weekend. We're 7-1 and sitting in a good spot with two more matches before heading into SEC play.

You're starting to feel it. people are saying they feel a buzz around us around our campus. I cannot say thank you to the 12th Man enough. The amount of students that showed up on Thursday was inspiring. Friday, we had a lot of families and former students show up. It was inspiring to look in that direction. On Saturday, we were playing during the football game, and we had about 1,500 or 1,800 people there. It was an honor that people would come watch our program.

We have Houston on Wednesday and Liberty on Friday before we get SEC play going next week against Mississippi State.

I did make a promise to the student section that if they keep showing up, I'll wear a chef's hat during warmups.

During my first day on campus, I remember Henry Coleman III stopping to shake my hand and welcome me to Aggieland. He knew who I was. That was one of the first moments of feeling the Aggie spirit. Hats off to Buzz Williams and the culture he has established. Coleman is an amazing human being, and it was amazing to have the basketball team in the building to see us this weekend.

I don't think it was a fluke to get off to this start. We're playing good volleyball. We're excited to get a top-25 opponent in the house on Wednesday. We want to get to the tournament and go on a run. This is our opportunity to create that pressure.

We were the only team in the country that was top 10 in both our hitting efficiency and our opponent's hitting efficiency going into the TCU game. Early in the season, our offense was annihilating people. This weekend, we worked on some blocking things, and Ifenna Cos-Okpalla set a program record for blocks in a match with 14. I'm not sure I've ever seen that by an individual in a match, let alone a three-set match. We want to be able to have our offense and blocking humming. That's our goal this week.

Houston is ranked 22nd. They're a good volleyball team, and it's a chance for us to be under pressure and be pushed. We're going to have to grind for over two hours.

My assistant coaches had been asked about how I would be after a loss. I was OK with it because I thought we learned about who we are through the match. We lost because we lost who we were for two sets and then refound it. I'm OK because we learned lessons within the match that will help us on Wednesday and later on in SEC play.

The 12th Man is a big reason why I'm here and why I came to Texas A&M, and it's cool to see people at our matches. It's cool to see this vision somewhat coming to fruition early on.
Never miss the latest news from TexAgs!
Join our free email list