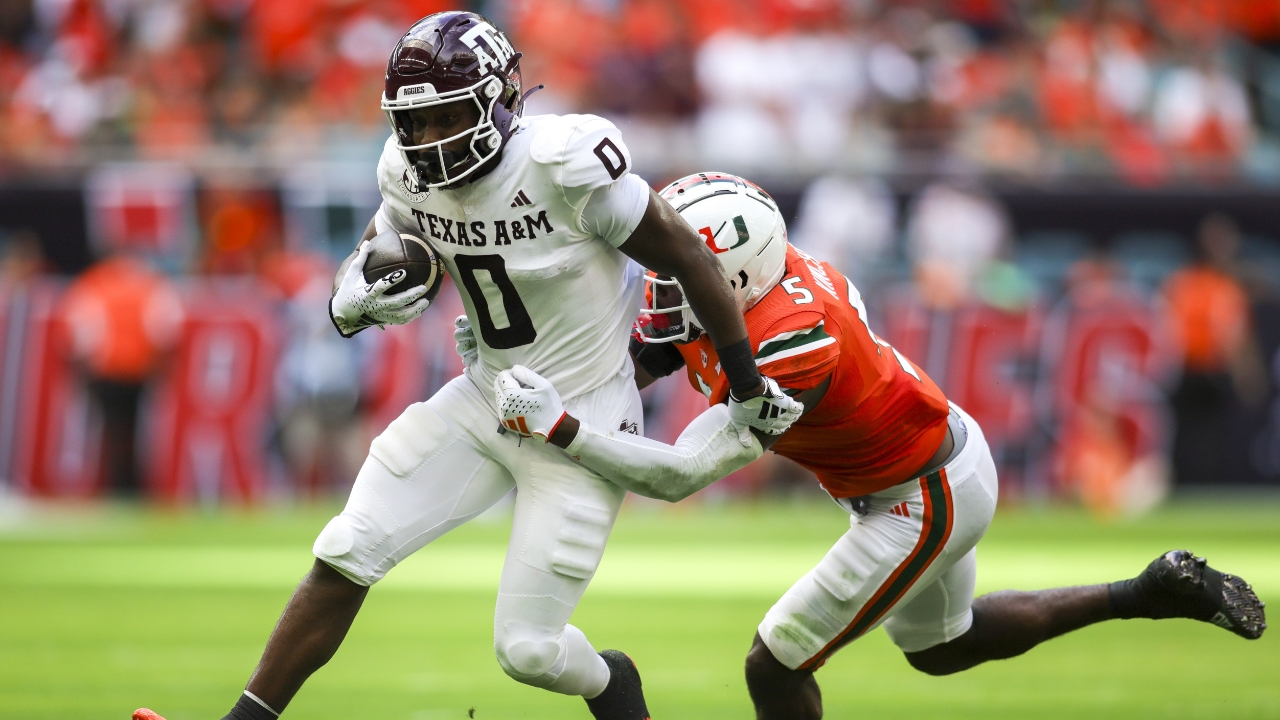 Photo by Sam Navarro-USA TODAY Sports
Texas A&M Football
Post Game Review: Miami 48, No. 23 Texas A&M 33
---
Gave up 451 yards in the 305.
On Saturday afternoon, No. 23 Texas A&M was outplayed by the Miami Hurricanes 48-33 at Hard Rock Stadium. An anemic defensive effort by A&M allowed the Canes to throttle the Aggies offensively, with Tyler Van Dyke posting 374 yards and five touchdowns.
Texas A&M won the toss and deferred to the second half, but 12th Man Sam Mathews took it upon himself to ignite an explosive start for the special teams, planting Miami on their own 11-yard line. The Aggies' defense made quick work of Van Dyke and the Canes, forcing Miami to go three and out.
The big plays from the special teams didn't stop there as Jahdae Walker blocked a punt, and the Aggies were set up 15 yards away from their end zone.
#15 only needed 57 seconds to get there.
In Conner Weigman's second road game as a starter, the sophomore continued his solid start to the season. Two plays by Amari Daniels got the Maroon & White to the one-yard line until Weigman capped off the three-play drive with his first rushing touchdown of the season.
On Van Dyke's next drive, Miami couldn't find a spark offensively and a holding call pushed the Hurricanes back into a third-and-long situation. The Canes did not see a first down until their third offense drive.
Daniels toted the rock eight yards to begin Texas A&M's second offensive drive, and a short sideline pass to Rueben Owens converted the third down. Two incompletions followed before a pass interference call gifted the Aggies an automatic first down.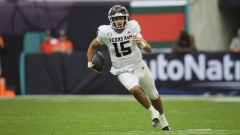 Sam Navarro-USA TODAY Sports
Daniels took it upon himself to get the Ags downfield, but Evan Stewart's first reception of the game was short of the first down. Randy Bond then knocked in a 24-yard yard field goal to give the Aggies a 10-0 lead.
Miami's offense moved the chains for the first time with 4:21 left to go in the first quarter. A play later, Van Dyke aired it out to Xavier Restrepo for a 48-yard gain.
A three-yard pass to Colbie Young cut the Aggies' lead to 10-7.
Back with the ball, on third-and-two, a pressured Weigman intended to pass to Owens, but the down was replayed thanks to offsetting penalties. #15 scrambled to move the sticks, and a Jake Johnson catch propelled the Aggies forward 10 yards and into the second quarter.
An incompletion and one-yard loss set up third-and-long. Weigman could not find anyone downfield, and the Aggies sent out Nik Constantinou to punt it anyway. What looked like a failed drive was quickly redeemed as the Aggies' special teams came through once again.
Edgerrin Cooper fell on a dropped punt on the nine-yard line, and a patient Daniels hauled the rock right up the middle for the score.
Yet, Miami answered right back. Shannon Dawson showed off his playbook as Van Dyke found Isaiah Horton with a 52-yard rocket.
To follow, Texas A&M struggled to get back its rhythm offensively. An incompletion and two-yard carry set up a big third down. Under pressure, Weigman threw to Daniels who was just short of the line to gain.
Miami continued to click offensively with a 23-yard pass to Restrepo to move the Hurricanes toward midfield. On third-and-11, a pass interference call on Josh DeBerry handed Miami another set of downs.
McKinnley Jackson picked up the pressure to make Van Dyke scramble for a loss of yards, and Shemar Turner followed his lead with a sack. The Canes sent out kicker Andres Borregales for a 54-yarder, which he missed wide right.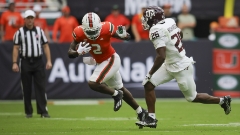 Sam Navarro-USA TODAY Sports
Looking to punch back with their own offensive spark, the Aggies found two yards in two plays before Weigman ran for a first down. Stewart's completion set up an easy, chain-moving rush for Owens. Yet, A&M could not capitalize, and Randy Bond took the field and missed a 47-yard field goal.
With a minute to go in the half, Fadil Diggs turned up the heat on the edge to cause an incompletion. The Aggies' run defense was gashed as Henry Parrish Jr. pushed for a gain of 18. The Aggies' backfield gave up 32- and 19-yard completions before Van Dyke hit Jacolby Geroge in the end zone to finish off their 75-yard, 44-second possession.
Miami's second-quarter surge resulted in a 21-17 lead at the break.
Weigman and Co. retook the field looking for a solid second-half start. Daniels strutted his way past the sticks, and Stewart followed with back-to-back nine-yard gains. The Aggies kept moving downfield with short passes, and Weigman found five yards with his feet. Stewart was just short on third down, and the Aggies were set up to go for it. Trey Zuhn's jump resulted in a 28-yard field goal.
Miami's fiery response came shortly after as Brashard Smith returned a 98-yard kick return to the house.
Moose Muhammad's 15-yard grab saved what looked like was going to be a unsuccessful possession for the Aggies. Unfortunately, the drive went awry when Weigman threw his first interception of his career.
After giving up 276 yards in the first half, D.J. Durkin's defense momentarily stepped up to prevent a first down. Borregales knocked in a 34-yarder to give the Canes an 11-point lead.
Weigman bounced back and delivered a 16-yarder to Noah Thomas for his first grab of the game. Two more first downs came from Stewart and Max Wright, and Earnest Crownover reached out for a 19-yard scoring snag. Now down 31-26, Jimbo Fisher elected to go for two, which the Aggies failed to execute.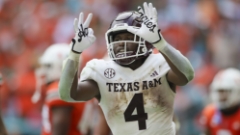 Sam Navarro-USA TODAY Sports
The Aggies needed a stop from their defense, and they got it. After a 13-yard rush, three straight incompletions put the ball back in the hands of Weigman.
Noah Thomas was on the receiving end of a deep ball but walked off hobbled as a pass interference call moved A&M up to their own 37. A tipped ball was luckily caught by Johnson, but the Aggies' second turnover of the game came from a Daniels' fumble.
The Canes made the most of A&M's mistake with a five-play possession which ended in the end zone. Restrepo torched A&M's backfield once again to surpass 100 receiving yards and set up an easy touchdown for the Cane, increasing their lead to 38-26.
A&M's lackluster drive in the fourth did not showcase any offensive spark. The Maroon & White went three-and-out and gave the ball back to Van Dyke.
The Hurricanes slowly pushed their way downfield, and a seven-play possession was capped off with a 50-yard field goal.
Trailing by 15, #15 hit Stewart for the Aggies' longest play of the day, a 44-yard grab. Stewart crossed the chains once more. A pass interference call gave the Aggies another first down but waited until fourth down to find Thomas for the score.
In order to stay alive, Texas A&M's defense needed to step up and halt a flowing offense. Yet, they failed to do so as a 64-yard touchdown pass to Jacolby George stopped any momentum the Aggies had built offensively.
Texas A&M ended the game with a last-ditch effort to put some point on the board as they drove down the field to the Miami 10-yard line. On fourth down, Weigmen threw his second pick right into the hands of Te'Cory Couch to end the game.
RUMBLED: Miami's offense brought the heat. Tyler Van Dyke showed off his veteran presence in the pocket and delivered a couple of deep balls. The fourth-year quarterback threw for 374 yards and five touchdowns. When Miami needed to deliver the final blow, Van Dyke hit Jacolby George for a 64-touchdown.
STUMBLED: Texas A&M's defense gave up big plays multiple times. Five of the Canes' receivers had a catch longer than 20 yards, and the receiving corps racked up 241 yards after catches. Speaking of big plays, A&M's offense could not find them. Before Evan Stewart's 44-yard grab in the fourth quarter, big plays were nonexistent.
TURNING POINT: All hope for a comeback seemed to disappear when Amari Daniels fumbled right before the fourth quarter. This turnover resulted in a quick, five-play possession for Miami and increased the Canes' lead to 38-26. While Texas A&M's offense fought to get back in the game, Miami overwhelmed the Aggies' secondary with big plays to claim the win.
UNSUNG HERO: Texas A&M's special teams performance was the reason this game was close. Sam Mathews' opening kickoff play led to a three-and-out shortly after. A blocked punt by Jahdae Walker put the Aggies 15 yards away from their end zone. Edgerrin Cooper fell on a punt inside the 10-yard line. Fourteen of Texas A&M's 33 points came easily because of a tremendous effort on special teams.
Bonus — After Conner Weigman threw his first career interception, he returned unfazed and led the Aggies to score on their next drive and again in the fourth quarter. Let's not forget he was under pressure almost all night and did not relent when Miami executed blows that should have extinguished Weigman's flame.
KEY STAT: The lede says it all. A&M gave up 451 total yards. Unless you're firing on all cylinders offensively, you won't win many ballgames giving up that many yards. Miami's 241 yards-after-catch is also pretty telling of how badly A&M's secondary was burned. Oh yeah, the Aggies only recorded 47 tackles compared to Miami's 66. Ouch.
Scoring Summary
First-quarter
A&M: 12:30 - Conner Weigman 1-yard rushing touchdown. Drive: 3 plays, 15 yards, TOP: 0:57. Texas A&M 7, Miami 0
A&M: 5:24 - Randy Bond 24-yard field goal. Drive 11 plays, 76 yards, TOP: 5:05. Texas A&M 10, Miami 0
MIA: 2:08 - Tyler Van Dyke 2-yard touchdown pass to Colbie Young. Drive: 7 plays, 75 yards, TOP: 3:17. Texas A&M 10, Miami 7
Second-quarter
A&M: 13:11 - Amari Daniels 9-yard rushing touchdown. Drive: 2 plays, 9 yards, TOP: 0:09. Texas A&M 17, Miami 7
MIA: 11:06 - Tyler Van Dyke 52-yard touchdown pass to Isaiah Horton. Drive: 5 plays, 75 yards, TOP: 2:05. Texas A&M 17, Miami 14
MIA: 00:13 - Tyler Van Dyke 11-yard touchdown pass to Jacolby George. Drive: 6 plays, 75 yards, TOP: 0:44. Texas A&M 17, Miami 21
Third-quarter
A&M: 9:07 - Randy Bond 28-yard field goal. Drive: 12 plays, 59 yards, TOP: 5:49. Texas A&M 20, Miami 21
MIA: 8:55 - Brashard Smith 98-yard kick return. Texas A&M 20, Miami 28
MIA: 5:39 - Andres Borregales 34-yard field goal. Drive: 4 plays, 6 yards, TOP: 1:25. Texas A&M 20, Miami 31
A&M: 2:29 - Conner Weigman 19-yard touchdown pass to Earnest Crownover. Failed 2-point conversion. Drive: 7 plays, 75 yards, TOP: 3:10. Texas A&M 26, Miami 31
Fourth-quarter
MIA: 12:37 - Tyler Van Dyke 3-yard touchdown pass to Jacolby George. Drive: 5 plays, 31 yards, TOP: 2:23. Texas A&M 26, Miami 38
MIA: 6:28 - Andres Borregales 50-yard field goal. Drive: 7 plays, 46 yards, TOP: 4:40. Texas A&M 26, Miami 41
A&M: 5:02 - Conner Weigman 9-yard touchdown pass to Noah Thomas. Drive: 6 plays, 75 yards, TOP: 1:26. Texas A&M 32, Miami 41
MIA: 2:36 - Tyler Van Dyke 64-yard touchdown pass to Jacolby George. Drive: 4 plays, 80 yards, TOP: 2:22. Texas A&M 33, Miami 48
Never miss the latest news from TexAgs!
Join our free email list