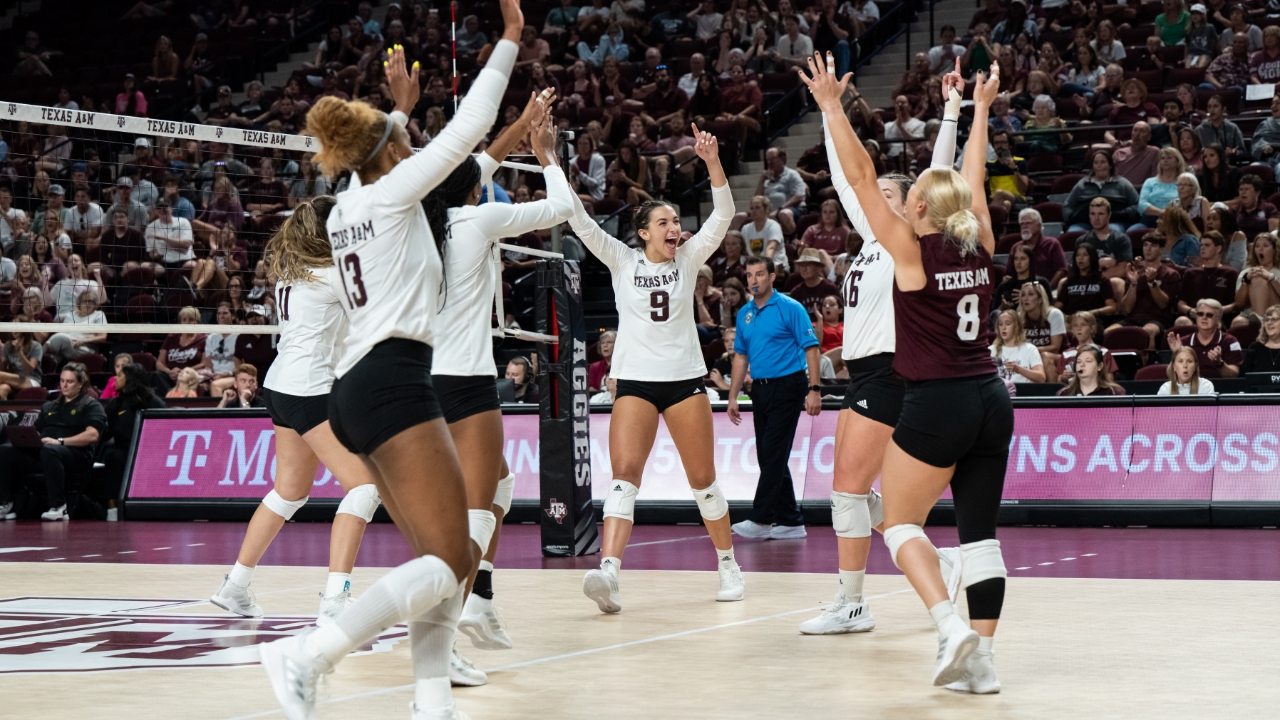 Photo by Jamie Maury, TexAgs
Texas A&M Volleyball
Jamie Morrison's undefeated Aggies are off to best start since 2011
---
Sitting at 5-0 through the first two weeks of the season, Texas A&M volleyball is currently riding its best start in 12 years. On Tuesday morning, head coach Jamie Morrison joined TexAgs Radio to discuss his club's hot start, the upcoming Texas A&M Invitational and more.
---

Key notes from Jamie Morrison interview
Volleyball is a big deal in the Big Ten, and our sport is growing. The interest, attendance and TV viewership, all of it is growing. Nebraska had the attendance record for a while, and Wisconsin eventually moved a volleyball match into a basketball arena to get like 18,400 fans. Nebraska wanted to go bigger, but they didn't have an indoor venue in Lincoln of that size. The athletic department decided to do it in the football stadium, and I think the volleyball team probably laughed at the idea. They sold out 50,000 in a day, and they sold 93,000 tickets in three days. There is a desire to see women's athletics if it's put there.

I've gotten 20 or 30 messages asking about a volleyball match at Kyle Field. It won't happen tomorrow. It's a slow growth. If you're interested, show up to a match and bring five friends. If they enjoy it, have them bring five friends. Texas A&M is one of the handful of places where something like that could happen. We're growing a volleyball fan base, and we're trying to make the atmosphere at Texas A&M volleyball matches fun. Our job is putting a winning product on the floor, and we talk to our girls all the time about putting on a show.

I feel it once, and I'm curious to feel it this weekend. An exhibition was the only feeling I have had of the 12th Man at volleyball so far, and that was 3,000 fans at an exhibition. I'm excited about this weekend.

We talked going into this last weekend about how good the teams we were going to see were, and all of them were in the NCAA Tournament last year. I was curious to see what happened when we faced adversity. I was happy we went five sets against Wright State, but I wasn't happy about being down 8-2 in the fifth. I took a timeout, and our team went to work. They didn't run from adversity. They leaned into it.

What's more important than getting the wins is how we're getting the wins. We're hitting .356, and that's third in the country right now. That doesn't happen every day. It's pretty extraordinary. Our offense is clicking right now, and now we need the defense and block to catch up a little bit.

Against Wright State, we had 82 kills, which is a program record. That's pretty crazy. We're doing things the right way and producing wins.

We had the highest GPA in the history of this program last spring. We're about excellence in academics and athletics. It's an awesome group.

We talked about wanting to go to the NCAA Tournament. In tournament matches, every point is going to feel like what we felt in the fifth set against Wright State. We don't want to run from that. We're going to live what we want to do every single day.

There is a different pressure in Bowling Green, and they had a small and mighty student section that deserves a lot of credit. There is a difference between standing up in front of somebody else's student section vs. playing in front of yours. I've been thinking about playing at Reed Arena.

The SEC is killing it right now, and I think it could become the best volleyball conference in the country. With the addition of Texas and Oklahoma, that adds come volleyball credibility. Florida has been playing extremely well. It's going to be a grind, but we're in this conference to play meaningful matches every single night.

Florida is better than people are expecting. Kentucky is good. There could be five or six teams that could win the SEC. If we keep progressing, we could be in that mix. We're not there just yet, but if we keep our heads down and continue working, we could get there eventually.
Never miss the latest news from TexAgs!
Join our free email list