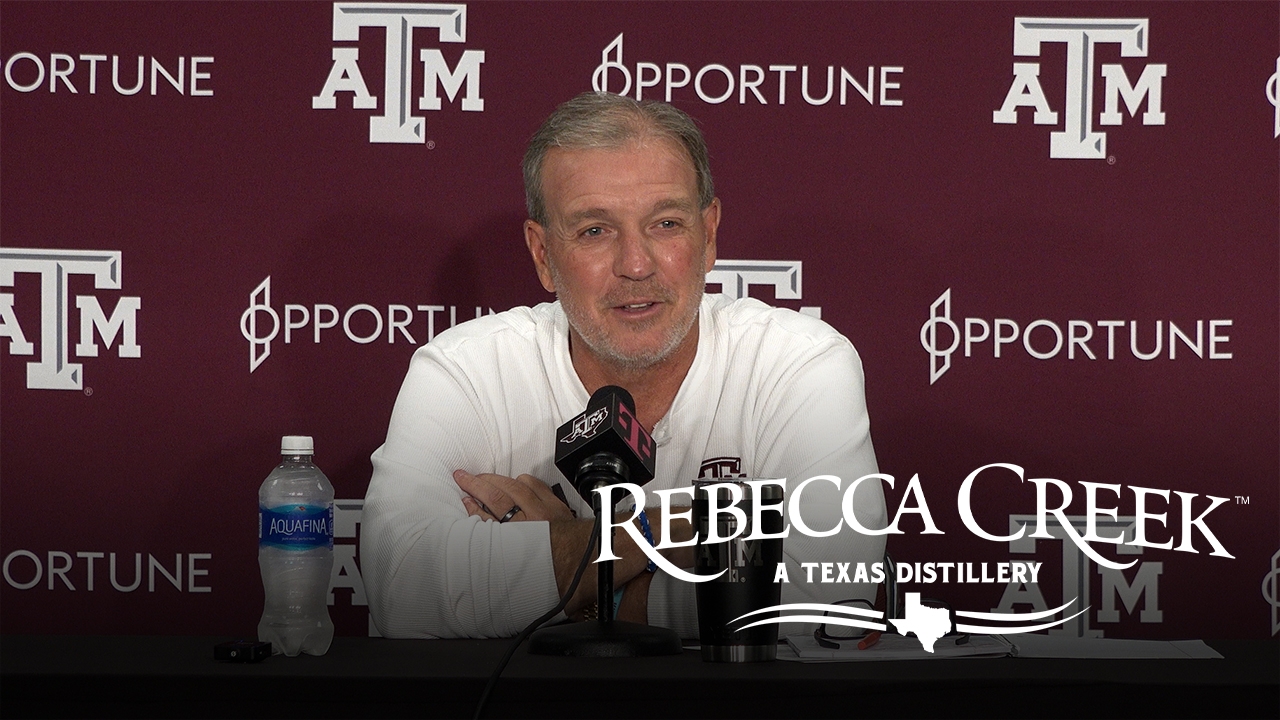 Jimbo Fisher
Sam Mathews
Josh DeBerry
Shemar Stewart
Texas A&M Football
Press Conference: Fisher, Ags ready for non-conference bout at Miami
---
With New Mexico officially in the rearview, Texas A&M now prepares for a true road contest at Miami on Saturday. On Monday, Jimbo Fisher, Sam Mathews, Josh DeBerry and Shemar Stewart spoke to the media ahead of the Aggies' meeting with the Hurricanes.
---
The following are live, paraphrased notes from Jimbo Fisher's Monday afternoon media availability:
Great to get out and get a different opponent. Our special teams did well. We had a protection issue on a field goal. We will get that fixed. Miami is a good special teams team. Defensively, judged the ball well. Got an interception. The offensive line did a really nice job. We had clean pockets. Conner Weigman did an excellent job of buying time and got the ball to playmakers. A lot of guys last year did not start games. Chase Bisontis had his first start. Dametrious Crownover played really well. Receivers were excellent. Had yards after the catch.

Mario Cristobal is a very good coach. Tyler Van Dyke is an experienced guy. It will be a great challenge, and we will have to have a great week of practice to prepare.

Portal guys when they have one year, how much of an impact can they have? There is a personality thing there too. Josh DeBerry is mature. We thought he was an excellent player.

Jurriente Davis is banged up but will be fine.

Sam Mathews handled the waiver process like he does with everything else. I cannot say enough about Sam as a person. The players respect him. He is a selfless human being. He did a nice job in the game.

I like our defense and our guys up front. Miami is a good opponent. It will be a great challenge. Their running back is very good. They are big up front. It will be a physical game inside. Their quarterback is a good player.

When the lights come on, it's different. Bisontis handled the situation well. Just like Taurean York. Rueben Owens too.

Last year, our best player was Devon Achane. This year, it's different guys. You have to be careful not to chase ghosts. We worry about everything.

They are a typical Miami team. It's fun as heck if you are a competitor. They are always going to have good players.

That's why I have so many people hired. I need the film and everything on a guy in the portal. You need to evaluate them on everything. It's a different world today.

Linebackers played well. Edgerrin Cooper played Well. York did a good job on his key. Martrell Harris flashed at times. Our guys up front were in control.

Across the board, if any receiver is one on one, they can all get it. They know the ball will come. Ainias Smith was very selfless in that game. He did the little things.

You can look at last year's game. It's the same personnel.

You can still judge Van Dyke's talent level. I can judge his skills, but it's hard. He has been productive, but you don't know how he is coached.

If starting fast didn't matter, we wouldn't try to. It doesn't guarantee a win, but it guarantees confidence.

We stayed simple. Our run defense was seeing it. They were processing. That's why I was so happy with York. The experience matters. Your eyes can get to where they need to get to to process the information. That is how you play well.

Walter Nolen is consistent. He hit the ground on a cut play, for a guy his size to get back up and go help on a tackle. Those guys are growing, He is disruptive and productive at the same time.
Never miss the latest news from TexAgs!
Join our free email list
PRESENTED BY