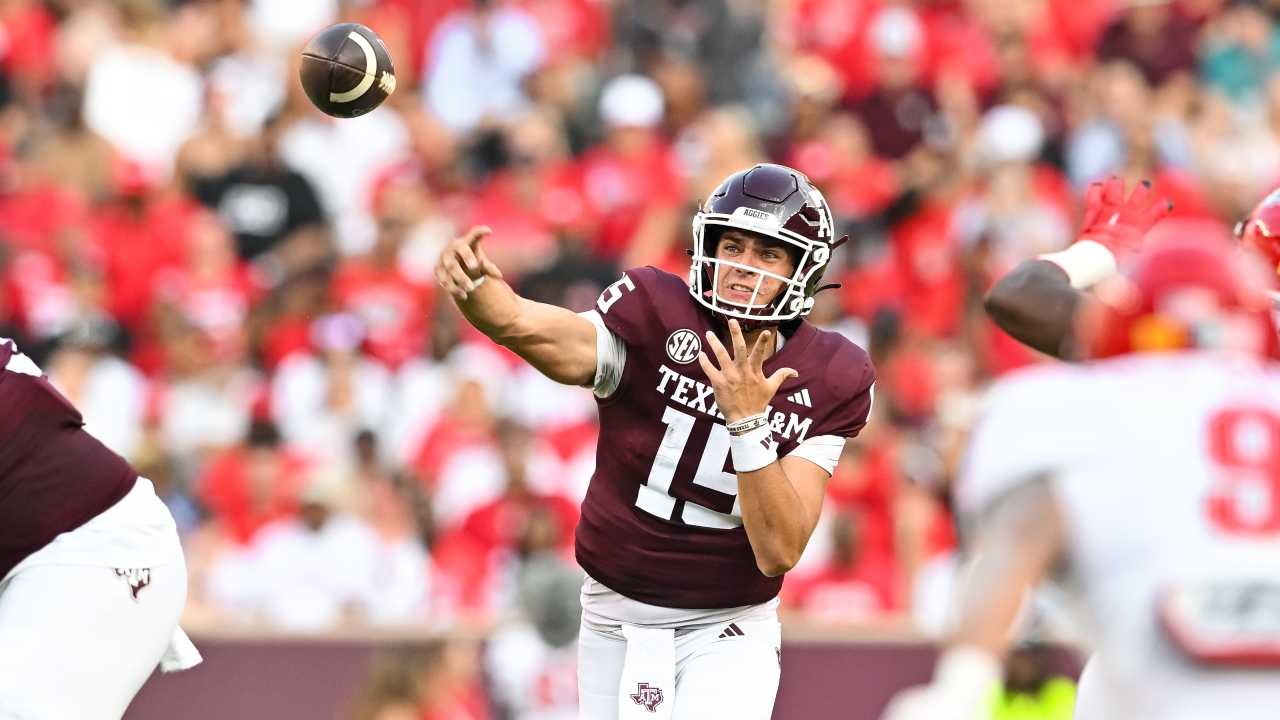 Photo by Maria Lysaker-USA TODAY Sports
Texas A&M Football
Post Game Review: No. 23 Texas A&M 52, New Mexico 10
---
Fed the studs.
Texas A&M's 2023 season kicked off with a new entrance into Kyle Field and an offensive showing the Aggies can be proud of as the Aggies defeated New Mexico on Saturday night, 52-10.
Conner Weigman passed for 236 yards and five touchdowns, a trio of which went to Noah Thomas as the Bobby Petrino-led offense consistently gave the Kyle Field crowd of 97,560 enough to be excited about.
The Aggies led 35-7 at the half and were never threatened from the outset.
D.J. Durkin's second-year defense took the field to start, and two short Lobo gains set up a third-and-1 situation, which New Mexico converted after a timeout. Quarterback Dylan Hopkins found receiver D.J. Washington, who scurried past Tyreek Chappell for a 21-yard gain.
Planted at midfield, Walter Nolen stuffed Hopkins for his first tackle-for-loss sporting the new #0. After New Mexico's second timeout of the opening drive, the Lobos moved the sticks with a seven-yard grab. A tackle for loss by sophomore Bryce Anderson saddled the Lobos with third-and-12, which they failed to convert as a 10-play, 42-yard drive stalled at A&M's 41-yard line.
On Texas A&M's first offensive play of 2023, Le'Veon Moss was stopped for a loss, but the play was quickly forgotten as A&M fans saw their first sight of Weigman's scrambling ability as he picked up 17 yards to move the chains.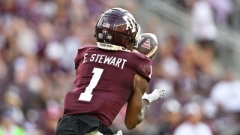 Maria Lysaker-USA TODAY Sports
A pass interference call pushed the Aggies downfield to set up Weigman's first completion of 2023 to Evan Stewart for four yards. A facemask penalty gave A&M 15 more yards and a first down.
Weigman's second pass also went to Stewart, who found space for a 21-yard pick-up. New Mexico's Donte Martin punched it out before Ainias Smith jumped on it to save the drive.
Rueben Owens was the last of the trio of running backs to see action, gaining two yards before Weigman hit Noah Thomas with a dime in the endzone for the first of three touchdown connections between them.
To open their second drive, A&M took a shot downfield, but Stewart could not come up with it. Amari Daniels hauled a pair of short rushes, and Le'Veon Moss earned a new set of downs with a one-yard carry.
On the first play of the second quarter, Weigman connected with Stewart on a laser to make it a 14-0.
Back on defense, Shemar Stewart documented his first tackle for loss, but a facemask moved the Lobos forward. A 9-yard pass and 7-yard rush continued to move the Lobos downfield until Albert Regis disrupted their offense with a tackle-for-loss.
Hopkins connected with Jeremiah Hixson for a 22-yard gain, and the Aggies gave up their first (and only) touchdown of the night on Jacory Croskey-Merritt's 27-yard strut.
Looking to respond, Jahdae Walker caught his first pass in Maroon & White for a 14-yard gain. Weigman aired it out to find Thomas in the endzone again, and the perfectly placed over-the-shoulder 34-yard pass expanded the Aggie's lead.
New Mexico started and ended its next drive with incomplete passes, logging the Aggies' first three and out of 2023.
Ainias Smith turned some heads as he shifted his way 44 yards downfield on a punt return. Amari Daniels followed that up with an explosive 27-yard rush to put the Aggies inside the red zone, and Moss shoved his way in and made a 28-7 in the second quarter.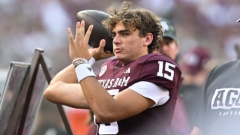 Maria Lysaker-USA TODAY Sports
A strong Aggie defensive front stopped any gain, and another holding call the next play pushed the Lobos further into their own territory. Finishing with seven tackles in the first half, Josh DeBerry added another big play with an interception — A&M's only takeaway of the night.
With the ball back in Weigman's hands, he took it himself for a gain of 14 before finding Stewart for nine. A short gain from Owens set up yet another touchdown three for #3 as Thomas' awkward catch gave A&M a 35-7 lead at the break.
Daniels kicked off the second half by rushing for three yards and caught a pass for five, but the drive stalled as punter Nik Constantinou saw his first action of the night.
New Mexico's drive began with a couple of short gains before the ensuing plays were halted by a pair of Aggie newcomers. DeBerry hustled to Hopkins and shoved the Lobos with a seven-yard sack, and freshman Taurean York prevented any major yardage with his first tackle of the night.
Hopkins' 13-yard scamper and a short pass gave New Mexico a new set of downs, and two penalties by A&M pushed New Mexico 22 yards closer to the endzone. Yet, the Lobos pushed themselves five yards back with a penalty of their own. Luke Drzerwiecki kicked a 27-yard field goal to put up the Lobos' final points of the night.
Another successful A&M drive began with Moss and Owens exchanging carries before Weigman connected with Smith for his first catch of the night. After that nine-yard haul, Smith followed with a 27-yard grab, and the sophomore duo of Stewart and Thomas moved the chains with short snags. On the 8-yard line, Weigman threw to Stewart in the corner in the endzone, but the pass was broken up. The next play, they got it right and #1 hauled in his second touchdown.
Jackson State transfer Jurriente Davis and Walter Nolen stepped up on defense to stuff back-to-back rushes up the middle for minimal gains. True freshman David Hicks logged his first tackle as the third quarter closed, and New Mexico punted in the first minute of the fourth.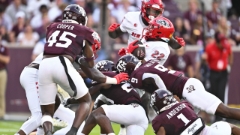 Maria Lysaker-USA TODAY Sports
Max Johnson jogged on the field as the Aggies' quarterback for the fourth quarter, but #14 was unable to do much in his first series of the evening.
However, A&M's defense held strong with a three-and-out to give the ball back to Johnson on A&M's 45.
On the second play of the drive, Johnson found Walker for a nine-yard completion. A false start penalty pushed A&M back five yards, but the Aggies were given 15 thanks to a pass interference call. Owens was fed for his longest rush of the night, and Thomas added the final 11 yards to his 74-yard night. Moose Muhammad capped off the drive with two feet in the endzone.
The Lobos proceeded to march down the field, yet two incomplete passes and a fumbled snap killed the momentum of the drive.
Several rushes from David Bailey got the Aggies past midfield. The Maroon & White's final possession ended with a 39-yard field goal from Randy Bond to seal the 52-10 win.
RUMBLED: In the first test of the season, Texas A&M showcased the offensive playcalling of Bobby Petrino. As an offense that averaged just 22 points a game a year ago, the returning weapons on the field EXECUTED, especially Noah Thomas and A&M's receiving corps. Simply put, Petrino gave the 12th Man its first glimpse of the damage A&M can do through the air.
STUMBLED: New Mexico's offensive line struggled to keep A&M's aggressive defensive front from impacting its playmakers. The Aggies posted 10 tackles-for-loss, two sacks and five quarterback hurries. It is hard to get any momentum building when being disrupted as such.
TURNING POINT: Touchdown No. 3 for #3. Noah Thomas proved his worth as a standout receiver at Texas A&M. After just two touchdown receptions a season ago, Thomas had three in his first game as a sophomore, and his third solidified the Aggies' lead over the Lobos.
UNSUNG HERO: If you had a "Who is #28 on defense moment?," let me introduce you to Boston College transfer Josh DeBerry. In his first game as an Aggie, he led A&M's defense with 10 tackles (seven of which were solo stops), one sack, 1.5 tackles-for-loss, one pass breakup, one interception and one quarterback hurries. Quite the stat line for DeBerry in his Aggie debut.
KEY STAT: Conner Weigman's 78.2 completion percentage (18-for-23, 236 yards) is the highest of a Texas A&M quarterback since Kellen Mond's 81.3 percent (26-for-32, 281 yards) in a 34-13 win at Tennessee in 2020.
Scoring Summary
First-quarter
A&M: 5:00 - Conner Weigman 15-yard touchdown pass to Noah Thomas. Drive: 7 plays, 85 yards, TOP: 3:10. Texas A&M 7, New Mexico 0
Second-quarter
A&M: 14:53 - Conner Weigman 35-yard touchdown pass to Evan Stewart. Drive: 5 plays, 45 yards, TOP: 1:37. Texas A&M 14, New Mexico 0
NM: 10:32 - Jacory Croskey-Merritt 27-yard rushing touchdown. Drive: 6 plays, 88 yards, TOP: 4:15. Texas A&M 14, New Mexico 7
A&M: 8:03 - Conner Weigman 34-yard touchdown pass to Noah Thomas. Drive: 6 plays, 67 yards, TOP: 2:23. Texas A&M 21, New Mexico 7
A&M: 8:03 - Le'Veon Moss 2-yard rushing touchdown. Drive: 5 plays, 38 yards, TOP: 2:02. Texas A&M 28, New Mexico 7
A&M: 1:27 - Conner Weigman 9-yard touchdown pass to Noah Thomas. Drive: 5 plays, 37 yards, TOP: 2:00. Texas A&M 35, New Mexico 7
Third-quarter
NM: 6:09 - Luke Drzerwiecki 27-yard field goal. Drive: 12 plays, 52 yards, TOP: 7:09. Texas A&M 35, New Mexico 10
A&M: 2:30 - Conner Weigman 8-yard touchdown pass to Evan Stewart. Drive: 9 plays, 70 yards, TOP: 3:39. Texas A&M 24, New Mexico 10
Fourth-quarter
A&M: 7:35 - Conner Weigman 12-yard touchdown pass to Moose Muhammad. Drive: 6 plays, 55 yards, TOP: 3:37. Texas A&M 49, New Mexico 10
A&M: 1:10 - Randy Bond 39-field goal. Drive: 9 plays, 40 yards, TOP: 3:32. Texas A&M 52, New Mexico 10
Never miss the latest news from TexAgs!
Join our free email list