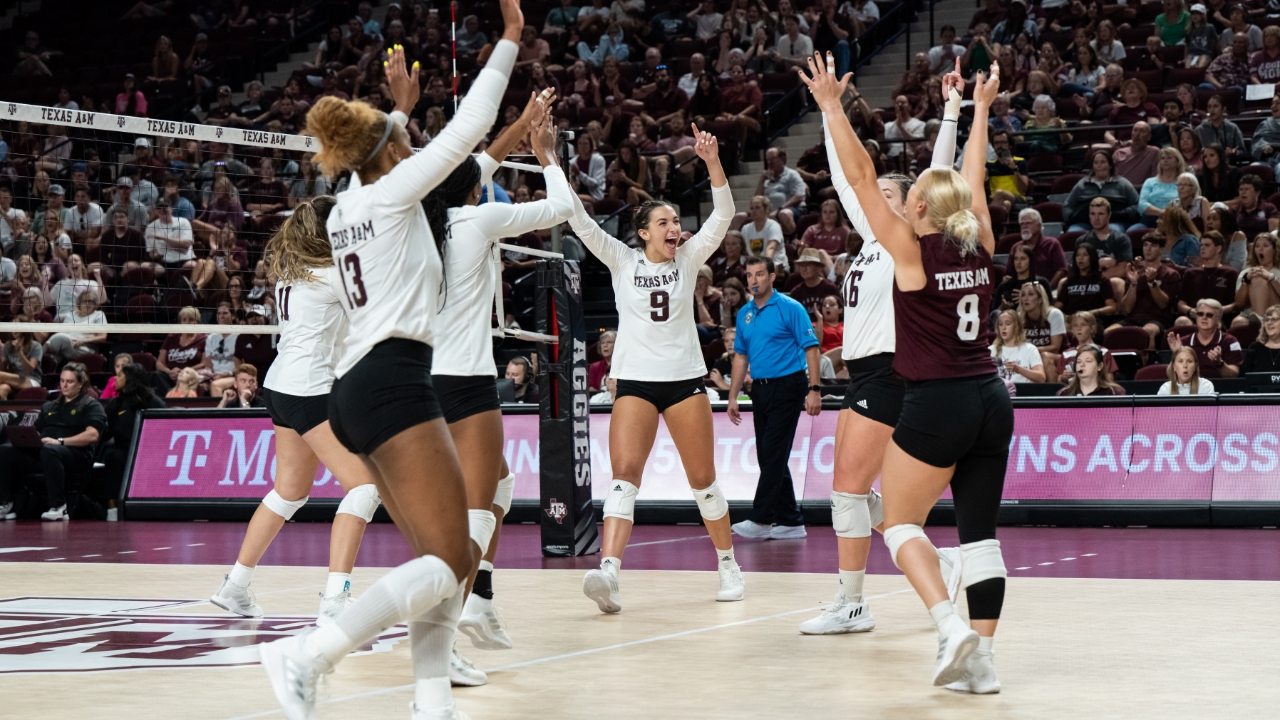 Photo by Jamie Maury, TexAgs
Texas A&M Volleyball
Aggies take down Wright State in five sets to open Falcon Invitational
---
Texas A&M volleyball secured its third victory of the 2023 campaign after defeating Wright State in five sets at the Falcon Invitational on Thursday afternoon, 3-2.
"We talked a lot about the fact we're going to play some great teams this week," A&M head coach Jamie Morrison said. "We knew someone was going to push us this week, and I was curious to see what happens when it happens. In the fifth set, we were down 8-2, and we were pushed to the brink, but the way we responded is something that we should rely on later down the line."
The ladies in Maroon & White dropped the first set 25-23 due to a slow start offensively, and the Raiders quickly found holes in the Aggie defense.
Early into the second set, A&M put up tremendous numbers with 23 kills and a .450 hitting percentage. Wright State was able to stay neck-and-neck throughout the set, but Caroline Meuth slammed the door on the Raiders' comeback with a kill.
"In the fifth set we were down 8-2 and we were pushed to the brink, but the way we responded is something that we should rely on later down the line."
The third set was all A&M as the Aggies pushed forward with their momentum from the second set and jumped out to an early 14-3 lead.
Never letting up, Meuth continued to shut down the Raiders' defense throughout the set. Logan Lednicky and Bianna Muoneke followed suit, helping lead the Aggies to an easy 25-14 victory in the third.
The fourth set seemed to be going Texas A&M's way until Wright State completed an improbable comeback after plenty of back-and-forth rallies and three straight set points to close. Momentarily losing their offensive firepower, the Aggies also struggled defensively and were unable to pick up short tips against the Raider offense.
Wright State downed the Aggies 28-26 to send the match into a decisive final set.
Building off their momentum from the fourth, the Raiders jumped to a quick 8-2 lead over Texas A&M. The Aggies were eventually able to catch up with Lednicky coming into the rotation and immediately tying the game at 11.
After three consecutive attacking errors from Lednicky and Morgan Perkins, A&M looked to Muoneke to help secure the victory, and she delivered with the last three kills of the game.
Muoneke personally sent the Raiders back to their hotel room and closed the match, 17-15.
"We'll go back tonight and look at the film to find some areas we can improve on," Morrison said. "Then it's time to turn the page and focus on tomorrow's match vs. Bowling Green."
The Aggies will continue the Falcon Invitational tomorrow against the host Falcons. First serve is set for 3 p.m. CT with streaming available via ESPN+.
Never miss the latest news from TexAgs!
Join our free email list