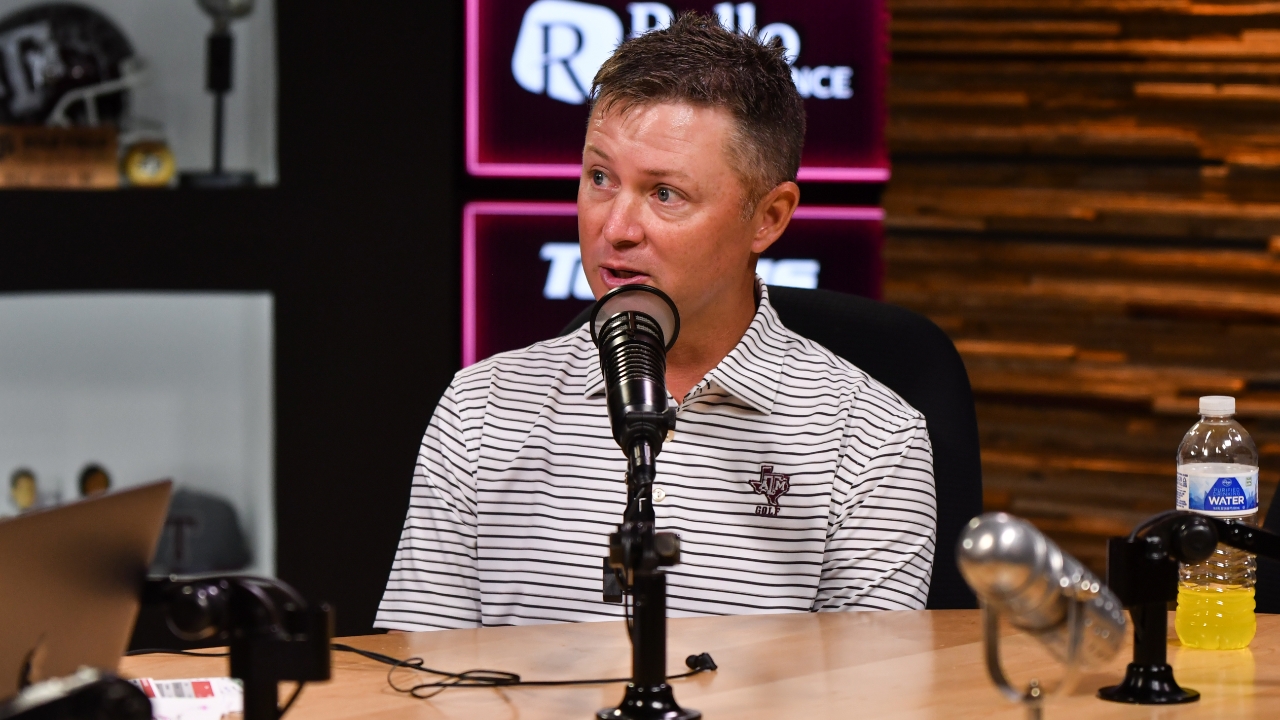 Photo by Jamie Maury, TexAgs
Texas A&M Women's Golf
Gerrod Chadwell previews Texas A&M's trip to Pebble Beach
---
Gerrod Chadwell and Texas A&M women's golf begin its 2023-24 season this weekend at The Carmel Cup in Pebble Beach, California. Chadwell joined Wednesday's edition of TexAgs Radio to discuss his roster and what to expect this year.
---

Key notes from Gerrod Chadwell interview
We're going to Pebble Beach this weekend. The weather will be cooler. I am ready. It's like a high of 65. I am ready for it.

It's "six count five" this year at The Carmel Cup, which is different than what we normally do. It provides another pairing and allows another student-athlete to go around Pebble Beach three times. They do a great job with the event. We had a lot of fun last year, staying in the lodge and playing the course. It was killer. Everybody is buzzing.

Elite schools will be at The Carmel Cup. You'll have Stanford and some regional flavor for us with Arkansas, Oklahoma, Oklahoma State, Texas Tech, Mississippi State and Vanderbilt. We're ready. We can't wait to get going.

It's the Tom Izzo method in which you schedule as hard as you can to get ready for March. For us, it's about April and May. It's going to be interesting because GolfStat has been our ranking system for forever, but it's now going to be run by Spike Mark. Everybody is struggling with that because it's going to be a point-based deal. It might not be in your best interest to schedule as hard as you can depending on your team. That's going to be a big thing for our staff and our future scheduling. You can find us on SpikeMark.com.

Playing in The Annika Intercollegiate is going to be a first for our program. That is the top 12 teams in the country, and we'll get to go up north again. We're excited for that. It's going to be impressive, and what they do around the event is special for the student-athletes as well. Our schedule for the fall is something we might never see again. After the Annika, we go to Stephens Cup in Dallas, another invite, which will be on the Golf Channel, and then back to East Lake. I don't think you could script a better fall schedule for us.

Cayetana Fernández García-Poggio is adjusting very well. She goes by "Cata." She's going well. Everything is still a little bit fast for her, but this weekend will be good because it'll get her in an environment where she's very familiar with tournament golf and in a routine. Our other freshman, Sky Sudberry, is thriving and on the road too. I'm excited for those two. For them to travel this weekend gives us expectations for the future.

Of course, Cata's sister is Blanca Fernández García-Poggio. She's the grandma of the bunch now in her fifth year, and Jennie Park will be a fifth-year senior as well. Blanca is a challenge because everything seems like a debate. Cata is a little more laid-back, but she's still fiery as you would expect a Spaniard to be. It has been neat to see Blanca the big sister trying to point Cata in the right direction. I'm excited for them to have this season together.

We will be senior-led this year for sure, and I'm excited for that as we get these freshmen up to speed and recruit more faces of the future of the program.

Park shot 71 and 70 at Q School the last two days. The golf course she is playing today has been one of the easier ones on average, so if she shoots in the red, that makes it more comfortable for her. She is like tied for 28th. There are 300 players there, and the top 100 advance. She's looking pretty good. I talked to her last night, and she's comfortable with how things are going but frustrated because she feels like she could have played better. That's a good sign. I fly into Palm Springs tonight to see her play her final round tomorrow before getting her to Pebble Beach.
Never miss the latest news from TexAgs!
Join our free email list