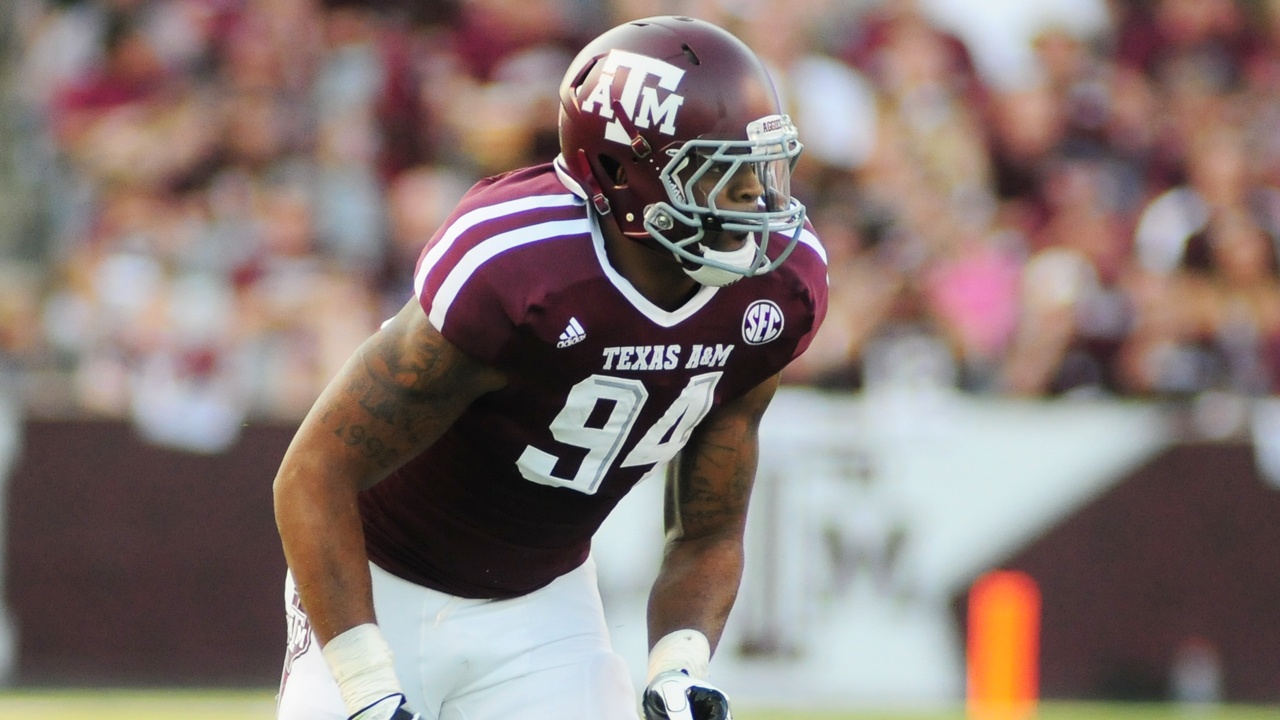 Photo by Andrew Kilzer, TexAgs
Texas A&M Football
Damontre Moore excited to see what Aggie football can do this season
---
On Thursday's edition of TegAgs Radio, former Texas A&M defensive lineman Damontre Moore joined to share his thoughts on what the Aggies can accomplish this year before reflecting on his career at A&M and also reacted to "Untold: Johnny Football."
---

Key notes from Damontre Moore interview
I think A&M can win 10 games. It's 10 games or bust. We have high expectations. We've brought in great talent and have new facilities. They've brought in Bobby Petrino to combine with Jimbo Fisher. I expect 10 wins, regardless if that's 10 games in the regular season or nine plus a bowl game.

Fisher has gotten better over time, but he hasn't gotten better fast enough for a lot of us. Talking to guys around the locker room, there is an energy. I remember that feeling around Mike Sherman. He built a solid foundation that eventually got there, and I see Fisher doing something similar. We put pressure on people at A&M, and it feels like that time is now.

With last season's pass-rush struggles, those come from experience being the best teacher. We had young guys playing, and you had linebackers and linemen in the same gaps. You have to have somebody step up too. That comes with time and development. This offseason, I think a lot of these guys will be more technically sound. We have guys coming back from injury too. If we lock in and the injury bug doesn't seriously hurt us, this could be a great defense.

The biggest thing against the run also alludes to the pass-rushing thing and gap integrity. When we got McKinnley Jackson back, he was able to eat up space. He eats up two or three guys. To play the scheme they're playing, you have to have mountain killers like him, and that allows the linebackers to shoot gaps. When I was there, we had Sean Porter, Jonathan Stewart or Michael Hodges, and they were so good at shooting gaps because we had guys that could take up blockers. That should translate over to this year with Jackson and some of those young guys stepping up.

After my freshman season, you get better with time. Experience is the best teacher. I had a phenomenal experience with Porter, who was there to mentor me. Competition breeds the best player, and Porter and Von Miller were guys I aspired to be like. When you come in as a freshman, you have to try and make as many plays as you can, and I benefitted greatly from being around guys like Miller and Porter. I studied film harder and worked out hard. I gelled with Porter and Spencer Nealy exceptionally well.

I'm excited about guys like Shemar Turner, Jackson and so many others. There is so much production that wasn't accounted for, but they should make that jump this year. I think they will.

Projecting the offense is hard because I don't want to be too harsh on my Aggies. I expect a lot. There are so many top recruits, but I need to see them gel. I am hopeful because the offensive line started to come together toward the end of the year. Guys were inexperienced, but now they have a full offseason together. I think the line will make a tremendous leap this year. If they live up to their potential, we could be a top-five offense this year because we have the weapons and talent at quarterback.

For me, the "Untold: Johnny Football" documentary did not show the Johnny Manziel I knew and loved. They showed his different lives, but they didn't show the school we fell in love with or how Johnny was with his teammates. He was never too big for anybody. He would hang around with the defensive line. They didn't show everything about Johnny, there are so many layers to him. We got to see him as a freshman go against our defense and shred us. Him and Mike Evans were like poetry in motion. He is our brother. He was always giving credit to everybody else. I wished the documentary would have shown more of the positive instead of the negative.

There was only a small part about Johnny and his journey to A&M. They showed a little bit about A&M before he got to Cleveland. I would have liked to see more of the good and show him in a good light.

I do like the direction that college football is going. It's a double-edged sword. I love that people can get paid off of their likeness now. It was such a tough decision for me to leave early, but part of why I did was the financial obligations. If I had NIL, I know without a doubt that I would have returned for a final year. It's great that people can get paid, but with the transfer portal, it becomes dangerous. I don't like the fact that transferring gives you a way out. I love the competition factor of football, and I believe it helps you become the best version of yourself. So many guys miss that factor and don't know how to handle adversity. A lot of the guys in the transfer portal don't know how to fight adversity now.
Never miss the latest news from TexAgs!
Join our free email list