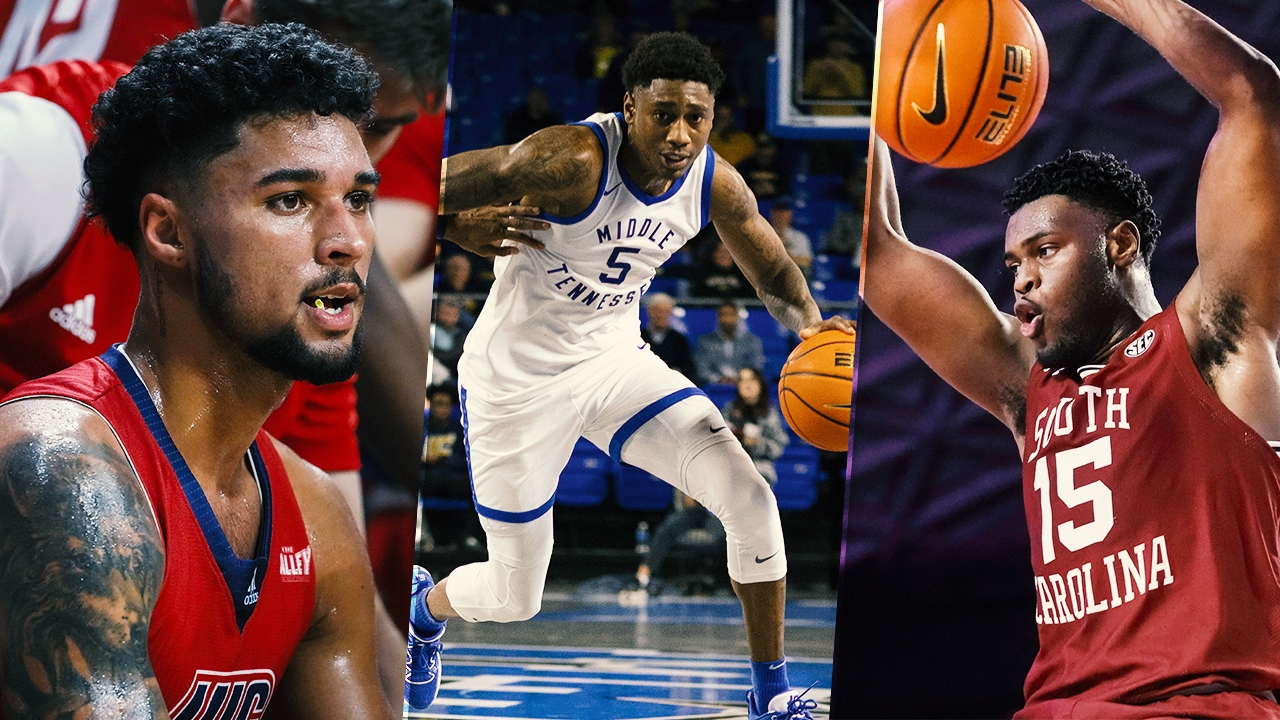 Texas A&M Basketball
Carter, Lawrence & Leveque look to boost A&M's production in 2023-24
---
In the latest edition of our Texas Aggie basketball player spotlight summer series, we'll take a look at the three portal transfers that will join the team for the upcoming 2023-2024 season.
Despite the program returning an SEC-leading 88.4 percent of last season's offensive production, the coaching staff needed to replace the lost production and leadership of Dexter Dennis, who expended his collegiate eligibility.
"I think Dexter Dennis was better than anybody thought. Dexter Dennis influenced winning, not statistically. He influenced winning as much as any player I've coached in a long time," head coach Buzz Williams said at last month's TexAgs Preseason Kickoff. "We need someone that can do that same thing without interrupting who's returning."
That "someone" tasked to take on the production and leadership of Dennis is the transfer trio of Jace Carter, Eli Lawrence and Wildens Leveque.
Let's take a deeper look at the three portal transfers and their potential impact on next year's squad.
By The Numbers
Let's compare the season statistical performances of Dennis, Carter, Lawrence and Leveque from the 2022-2023 campaign, along with the collegiate career starts of each player.
| | | | | |
| --- | --- | --- | --- | --- |
| Category | Dexter Dennis | Jace Carter | Eli Lawrence | Wildens Leveque |
| Career Starts | 103 | 47 | 71 | 76 |
| Points/Game | 9.2 | 16.6 | 12.2 | 5.5 |
| Field Goal % | 39% | 45.6% | 42.1% | 43.1% |
| Free Throws | 83 (77.1%) | 102 (68.5%) | 71 (81.6%) | 31 (75.6%) |
| Rebounds/Game | 5.7 | 7.0 | 4.1 | 4.6 |
| Blocks | 20 | 22 | 10 | 33 |
| Steals | 26 | 53 | 36 | 16 |
| Turnovers | 32 | 65 | 51 | 31 |
| Minutes/Game | 28.4 | 35.1 | 30.2 | 19.6 |
Jace Carter
Physically, Carter has the same build and body frame as Dennis. He's listed at 6-foot-5 and 210 pounds, while Dennis is listed at 6-foot-5, 210 pounds.
If you look at the statistical comparison above, Carter's numbers actually compare quite favorably to Dennis'.
Carter was the leading scorer on his team at 16.6 PPG compared to 9.2 PPG for Dennis. The Wichita State transfer was a big presence in the paint for the Aggies last season, ripping down a team-high 5.7 RPG.
Carter also led his team in rebounding, averaging a whopping 7.0 boards per game. Carter created more steals and blocks, had a higher field goal percentage and played more minutes.
So that solves that. The Aggies have their replacement for Dennis.
Well, actually, it's not that easy.
Dennis was a mature sixth-year player that brought many leadership intangibles to the club.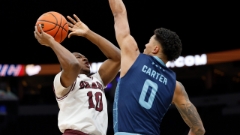 Michael Gulledge Special to the News-Leader
Carter comes to Aggieland with plenty of college experience, but he's a few years younger as a third-year junior. More importantly, Dennis' stat line came from playing a brutal SEC schedule and going up against the best basketball players in the country. While Illinois-Chicago moved up in class, playing in its inaugural season in the Missouri Valley Conference last season, Carter didn't face the same caliber of competition, and that's the question going into next season.
Can Carter successfully make the transition to the SEC being the same productive player?
Luckily, the Aggies don't need him to be the team's leading scorer and rebounder as he was last season. They need him to be a productive cog in a system filled with experienced and accomplished SEC players.
Areas For Improvement in 2023-2024
Statistically, there are a couple of weak areas that Carter will need to improve next season.
First, he turned the ball over 65 times, which would have ranked the second-highest on last year's A&M team. Dennis committed just 32 turnovers.
The other significant area for improvement is free-throw shooting, where Carter made only 68.5 percent of his free-throw attempts. That's not a horrible percentage at the collegiate level, but Texas A&M's starters made closer to 75 percent of their free throw attempts, which is a big reason why the team finished 15-3 in the SEC.
Eli Lawrence
Eli Lawrence is a fifth-year graduate transfer, as was Dennis last season, and we know how that turned out for the Aggies. There's no substitute for age, maturity and experience in college basketball when so many high-level Power 5 rosters are relatively young with early-entry NBA talent with limited experience. As we've seen in recent years with the transfer portal, teams can match elite future NBA talent with older, capable players with experience and maturity.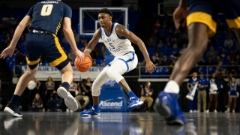 George Walker IV / The Tennessean
As with Carter, Lawrence was the leading scorer at Middle Tennessee State last season at 12.2 PPG. He was named to the All-Conference USA second team in 2023. He's a very versatile lefty that can score from anywhere on the court. He has a quick, efficient 3-point stroke. Add in his 6-foot-5 frame and long arms, and he can get off a shot when needed.
He'll also pull the trigger on a pull-up jumper, and he's comfortable with contact attacking the basket.
From a style of play standpoint, he reminds me a lot of Bernard King. He can create his shot from a number of situations and positions on the court. He's also a very good free-throw shooter, averaging 81.6 percent from the charity stripe last season.
Areas For Improvement in 2023-2024
The question mark here is the same as with Carter. While Conference USA has some good basketball programs, the league is clearly not a P5 and doesn't compare top-to-bottom with the SEC.
How does Lawrence adjust both physically and mentally to a step up in competition level?
That's the big key. He was the go-to player with the Blue Raiders last season. How does he adjust to being a role player on a loaded A&M team with high postseason expectations?
Lawrence has a high ceiling, but the challenge is finding his role on this team and blending in with a big group of returning veterans.
Wildens Leveque
Leveque was a surprise late get for the staff, but he's a much-needed piece of the roster.
He started his career at South Carolina under Frank Martin for three seasons and transferred to UMass to rejoin Martin when he took the Minutemen job. His move to College Station as a graduate transfer surprised everybody, including Martin, based on his public comments after the announcement.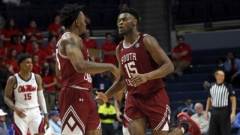 Petre Thomas-USA TODAY Sports
Leveque has started 76 games in his career, with most of those coming in the SEC. We know the 6-foot-10, 255-pound big man understands the physicality of this league.
He has also been a consistent, solid player in his four years. He played 19 minutes a game last season, averaging 5.5 points and 4.6 rebounds per contest. Those aren't eye-popping numbers, but then again, this A&M team doesn't need eye-popping numbers with both post-starters Henry Coleman III and Julius Marble II returning for another season.
What he does bring is needed size and strength.
The Aggies are loaded with athletic 6-foot-7 to 6-foot-8 big men. There will be times when Buzz Williams will need more length to counter a talented, tall opposing post player. Leveque provides that option, and he provides depth. The depth alone will allow the other bigs to play more aggressively, even in games with foul trouble.
Leveque's presence gives this roster a lot more versatility in the paint.
Areas For Improvement in 2023-2024
If we assume that Leveque's role is a backup to the front line of Coleman and Marble, then there are not a lot of areas for improvement.
He made 75.6 percent of his free throws last season. His turnover (31) numbers were very reasonable, and he accumulated more blocks (33) than anybody on A&M's squad in 2022-2023. His field goal percentage of 43.1 percent is a tad low for a big man, and given his size and number of minutes played, his 4.6 rebounds per contest is a bit on the low side.
In reality, there are no glaring weaknesses that he must address to fill his projected role next season.
Importance For 2023-2024 Team Success
The biggest hole to fill on the 2023-2024 team is the one left by the departure of Dennis.
If one of Carter or Lawrence, or the combination of the two, can come close to filling Dennis' shoes, this team can be dangerous and set to have a big season.
If neither of the non-Power 5 transfers can meet the challenge of the brutal grind in the SEC, that could leave this team vulnerable and weak at the two-guard and wing spots, which are critical positions on a Williams team.
As far as Leveque and the post position, the bar isn't as high. He's a luxury for this roster and not a critical component on paper. The Aggies did well last season with the exact same cast of characters returning in the paint.
Leveque can certainly elevate the position with his size and length, which is unique to the current roster. If A&M's post play had one soft area last year, it was a lack of blocked shots as a group. A&M finished dead last in the SEC with 80. In comparison, Arkansas collected 173 blocked shots last season. Any help in that area can only be a plus.
Never miss the latest news from TexAgs!
Join our free email list