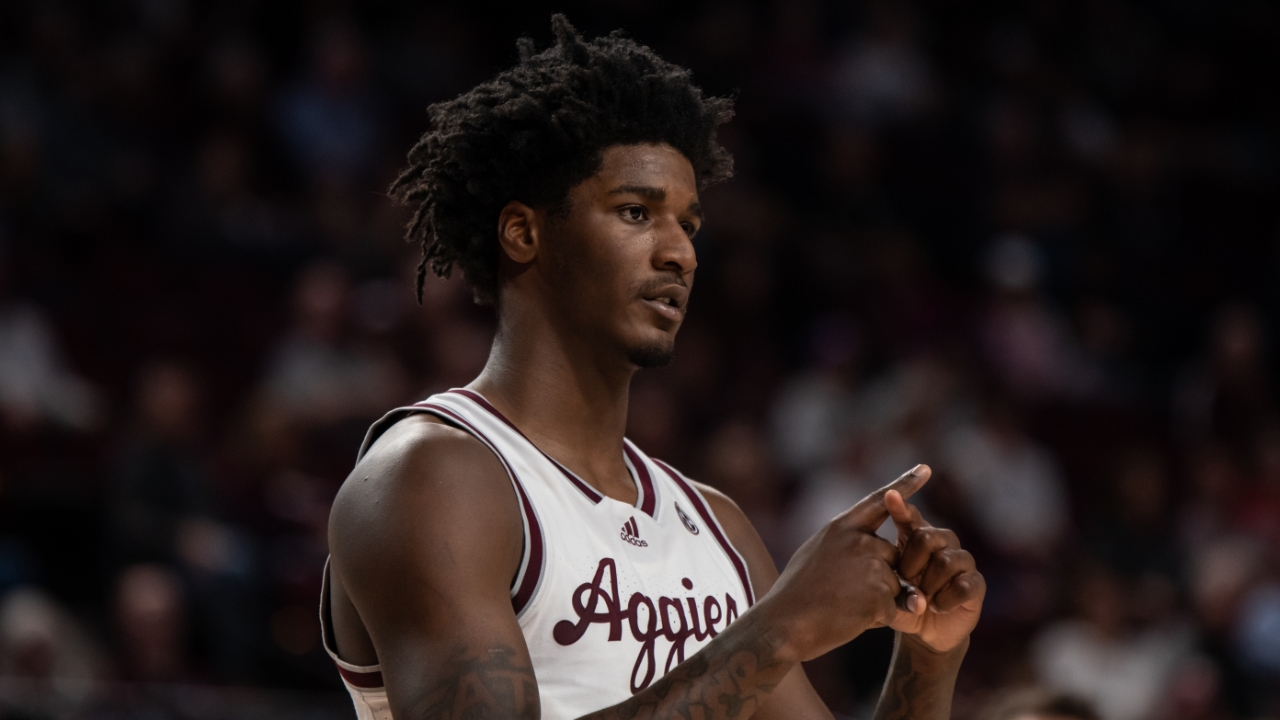 Photo by Jamie Maury, TexAgs
Texas A&M Basketball
Year-to-year improvement remains key for Solomon Washington
---
In this era of the transfer portal, true freshman contributors at major Power 5 programs are becoming a rare entity.
The portal has been good for older, more experienced players looking for new opportunities and a chance for a new start and not so friendly to incoming freshmen.
Last season, of the ten primary contributors on the Texas A&M roster that finished 15-3 in SEC play, five were veteran transfers over the age of 21. The rest of the contributors consisted of a senior, a junior and two sophomores.
There was one true freshman scholarship player among those ten contributors: Solomon Washington, an undersized 6-foot-7 post from New Orleans.
Despite competing against a crowded roster with teammates that are three to four years older, Washington earned double-digit minutes off the bench in support of post-mainstays Julius Marble II and Henry Coleman III.
As with any first-year post player, Washington was raw last season. He didn't have many post-up moves, and he was not a player that was comfortable creating off the dribble. He certainly didn't earn his minutes as a scorer. However, Washington managed to average 12.4 minutes per contest off the bench and, along with Andersson Garcia, was among the two primary big men to relieve Marble and Coleman as needed.
Washington's numbers weren't eye-popping, and you wouldn't expect a second-team post to fill up the stat sheet, but he did play with incredible intensity. He also had some productive minutes on the court. In the big win over No. 2 Alabama at the end of the regular season, Washington led the team with seven rebounds and two steals. Marble, Coleman and Garcia combined for just two boards in that game. Against Arkansas in the SEC Tourney, he had two critical steals, and in the SEC semifinal vs. Vanderbilt, Washington had a highlight reel windmill slam dunk in transition that started when he stripped the ball from a guard near the top of the key.
His playing time significantly increased toward the end of the season as he became more productive. In the three games in the SEC Tournament, Washington played over 45 minutes. That bodes well for his sophomore campaign when most players typically see their biggest year-to-year improvement.
By The Numbers
Let's take a look at Washington's performance from his freshman season in Aggieland (2022-2023). I've also included his 2022-2023 team ranking in each of these statistical rankings.
| | | |
| --- | --- | --- |
| Category | 2022-2023 | Team Rank |
| Points/Game | 3.3 | 8th |
| Field Goal % | 48.5% | 4th |
| Free Throws | 28 - 80.0% | 2nd |
| Rebounds/Game | 2.9 | 6th |
| Blocks | 15 | 2nd |
| Steals | 15 | 6th |
| Turnovers | 15 | 10th |
| Minutes/Game | 12.4 | 9th |
Minutes Played Per Blocked Shot
1. Solomon Washington - 25 min/block
2. Dexter Dennis - 47
3. Julius Marble II - 51
4. Andersson Garcia - 77
5. Henry Coleman III - 229
Minutes Per Turnover
1. Solomon Washington - 24.7 min/turnover
2. Andersson Garcia - 20.7
3. Julius Marble II - 19.7
4. Henry Coleman III - 17.3
5. Tyrece Radford - 17.2
Minutes Per Steal
1. Wade Taylor IV - 6.3 min/steal
2. Solomon Washington - 24.7
3. Andersson Garcia - 28.4
4. Henry Coleman III - 30.6
5. Julius Marble II - 47.3
Free Throw Percentage
1. Wade Taylor IV - .875
2. Solomon Washington - .800
3. Tyrece Radford - .799
4. Manny Obaseki - .794
5. Hayden Hefner - .792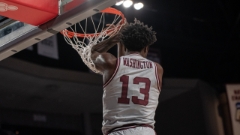 Zoe Kelton, TexAgs
Not a lot of surprises here for a young role player, but his ability to block shots and his free throw percentage are pretty impressive for the young prospect from the Big Easy. He also finished in the top six statistically in five major categories, which is noteworthy given he only played 12.4 minutes per game. It's pretty impressive to see a young bench player lead the team in the fewest turnovers per minutes played. He also led the Aggies in shots blocked per minutes played.
Probably the most surprising statistic is Washington's 80 percent free-throwing shooting, which was second on a squad with a 75.9 percent team percentage. I didn't bother to look through a hundred years of stats, but I think I can say with confidence that last year's Aggie hoopsters were one of the best free-throw shooting teams in modern school history.
Scouting Report
You've got to give the coaching staff credit. They know what they want in a post.
He doesn't necessarily have to be long or a skilled scorer in the post. They want somebody that plays with energy, intensity and is relentless and physical underneath the basket looking for rebounds and put-backs. They also want their posts to be athletic enough to guard on the perimeter after switches and rotations.
Washington fits that mold perfectly.
He's listed at 6-foot-7, but he's probably closer to 6-foot-6. He's not long by any stretch, but a strong case can be made that he's the best overall athlete on the team. He runs the transition like a guard. He has great hands, which is why he's effective at creating steals and limiting his turnovers. He's by far the most dynamic shot blocker with an elite vertical jump for his size. He's a solid, physical rebounder, and surprisingly, he's a great free-throw shooter at 80 percent.
The natural tools are there. He's an elite athlete. He does a lot of things really well, and the statistical rankings validate that he's an extremely efficient player in many categories.
What Washington lacks is a refined offensive skillset — whether that's a consistent perimeter shot, the ability to beat his man off the dribble and attack the basket or score with his back to the basket in the post. If he ever wants to be more than a steady presence off the bench, he'll need to develop those skills and come up with a plan to score in the half-court offense. I'm not saying that's critical to his role in 2022-2023 because the Aggies have two established big men who can score in the paint along with the best backcourt in the SEC. Scoring won't be a problem for the 2023-2024 Aggies. Regardless of his development this offseason, he's shown to be a valuable commodity off the bench that provides quality depth.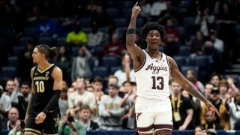 TexAgs
However, I can see a path where Washington has the potential to evolve his game and become a high-level, go-to player along the lines of Winston Crite in the 1980s or Joe "Big Money" Wilbert in the 1990s. Both players started out their careers at A&M being solid posts but developed the ability to score while at Texas A&M and became all-conference caliber players. I think Crite went from an 8-9 points per game scorer to over 17 points as a senior in A&M's NCAA Tournament season in 1987. Wilbert transformed himself from a 12-14 point per game scorer to a nearly unstoppable player in the low post that averaged 23.
I'm hoping to see some signs of Washington developing his offensive skillset. With his quickness, size and athleticism, he could really be a difficult player to guard if he improves his handle and gains more confidence taking his defender off the dribble, attacking the rim and collapsing defenses. I think we'd see most of those dividends in the 2024-2025 season, but if he can provide some offensive punch and get to the free-throw line the season, then this team could really have something special.
There are so many assets on this year's squad. Adding one more can make life difficult for A&M's opponents.
2023-2024 Areas For Improvement
I think I addressed areas for improvement in the scouting report, so I don't want to be repetitive. I think the discussion is more about how high the ceiling can go for this Aggie team if Washington takes his offense to the next level and create with the ball in his hands.
Normally, I'll find some weaknesses in a player's statistical by-line, but understanding that the undersized sophomore will likely be a role player off the bench, Washington is very strong across the board in those categories that you need him to contribute…rebounding, steals, minimize turnovers, blocked shots, a few offensive put-backs, adequate perimeter defense, etc.
Washington won't be counted on to take his game to a new level, and he doesn't need to shore up any glaring weaknesses. However, if he were to add an offensive scoring component to his arsenal, that's just a big cherry on top for this team. It's not critical for success, but man, it would be a really nice luxury we aren't necessarily expecting.
Importance For 2023-2024 Team Success
Certainly, this team will need depth in the paint. Inevitably, post players will get in foul trouble from time to time, and programs need quality depth to combat the loss of minutes. Also, the SEC is a physical league, and A&M's schedule is loaded with physical opponents in the non-conference... There will be some pulls, sprains and bruises that could limit minutes for a few games throughout the season, so having quality bench players like Garcia and Washington — along with recent Umass transfer Wildens Leveque — is a huge plus for this year's squad.
In general, after talking about needing quality depth up-and-down the roster, I've been discussing the importance of a player emerging as a No. 3 go-to scorer. We know Wade Taylor IV and Tyrece Radford are two of those guys. With those two, this team will be good. However, this team can take a huge step forward and turn this year into a special season if somebody like Manny Obaseki, Garcia, Washington or one of the newcomers can develop into that role as the third go-to guy that can create scoring opportunities off the dribble and get to the free-throw line in critical possessions.
I'm not picky. It can be anybody on the roster.
Washington has that elite athleticism and talent to potentially be that guy with some skills development this offseason.
Never miss the latest news from TexAgs!
Join our free email list
SPONSORED BY