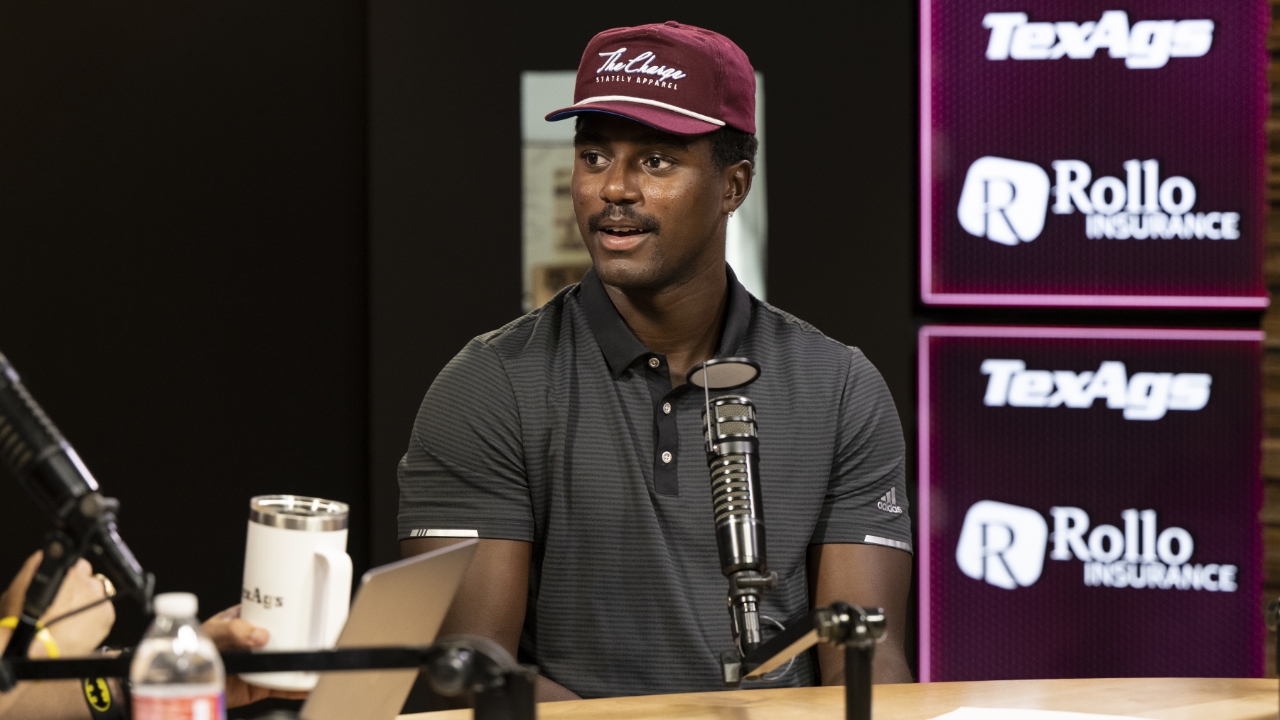 Photo by Jamie Maury, TexAgs
Texas A&M Basketball
Henry Coleman III partnering with Aggie-owned The Charge apparel
---
Texas A&M basketball's Henry Coleman III is now a spokesperson for the Aggie-owned-and-operated clothing company, The Charge. On Monday, Coleman — along with Travis Gardner & Tucker Burns — joined TexAgs Radio to discuss the company and talk some hoops.
---

Key notes from Henry Coleman III interview
Summer has been a lot of fun. It has been hot, but I've enjoyed it. We're getting back in the gym, so working with the new guys and the returners has been great. Seeing Buzz Williams play pickleball this summer has also been a pleasure. We're excited about this season.

I got in with The Charge Appeal through social media. We have the same beliefs. It has been a blessing. It's a great team and a great group of people. There is a Virginia connection too. With NIL, my family and I have had a big belief in partnering with somebody who represents you. Having a big military background, we felt like these guys were right.

My dad is somebody I have always followed. He has shown me how to connect and network with people. I never know where I'm going to end up, so you want to start building these relationships early.

The leadership that the military brings is so special. Both of my grandfathers were in the military. My uncle served in Iraq, and I have a cousin in the military now. I've been around the military my entire life. The military does so much for us. The Charge's 12 percent give-back is something that I'm passionate about.

We're excited about the Bahamas. We'll get to play three games against international teams, which will be good for us. We'll get to see where our team is pretty early on. We'll also have a great team experience and get to connect. We have to use this opportunity to have some fun, but we also have to be focused on a couple of basketball games in the Bahamas and the long season ahead of us.

It starts with our work. Our confidence comes from our work. We're going to work our tails off from the day we got back to the end of the season. I think we'll be a confident and humble group. I've been on this team for two years. We've had some slip-ups, but we've always bounced back. With our coaching staff and our players, we're a really well-rounded group.

Buzz knows I'm into a ton of stuff. We can talk about anything. We talk about football a lot. He's so well-rounded within a lot of stuff he talks about. He's a nerd for knowledge. If he doesn't feel strong in something, he's going to read about it and watch TED Talks. His consistency in acquiring more knowledge is what makes him special.

Tyrece "Boots" Radford works his tail off day in and day out. He brings a hard-working culture. It's every day with him. He's going to help the team. He helps guys improve. He has become more vocal. He has been talking to guys during the summer. I think he has been open to helping guys because he sees the vision of us being a pretty good team.

We saw that we were in the NCAA Tournament last year. It is tangible. I'm excited. We're going to work our tails off every day so we can pack Reed Arena. We know we could lose eight games in a row or lose a non-conference game, so we have to be humble and take it one day at a time.

We're super happy for Quenton Jackson and Dexter Dennis in the Summer League. They didn't have the easiest path, but they work so hard. I think they'll stick because they're committed to working. They don't just want to get to the NBA. They want to stay in the NBA.

The team comes over to my house a lot to watch football or basketball. We enjoy each other. It's not something you only see on social media. Hayden Hefner and I will play golf together. Julius Marble II and I will go out to eat. All of that. It's so crucial to truly enjoy each other, and that's part of why we're so successful.
Never miss the latest news from TexAgs!
Join our free email list
SPONSORED BY