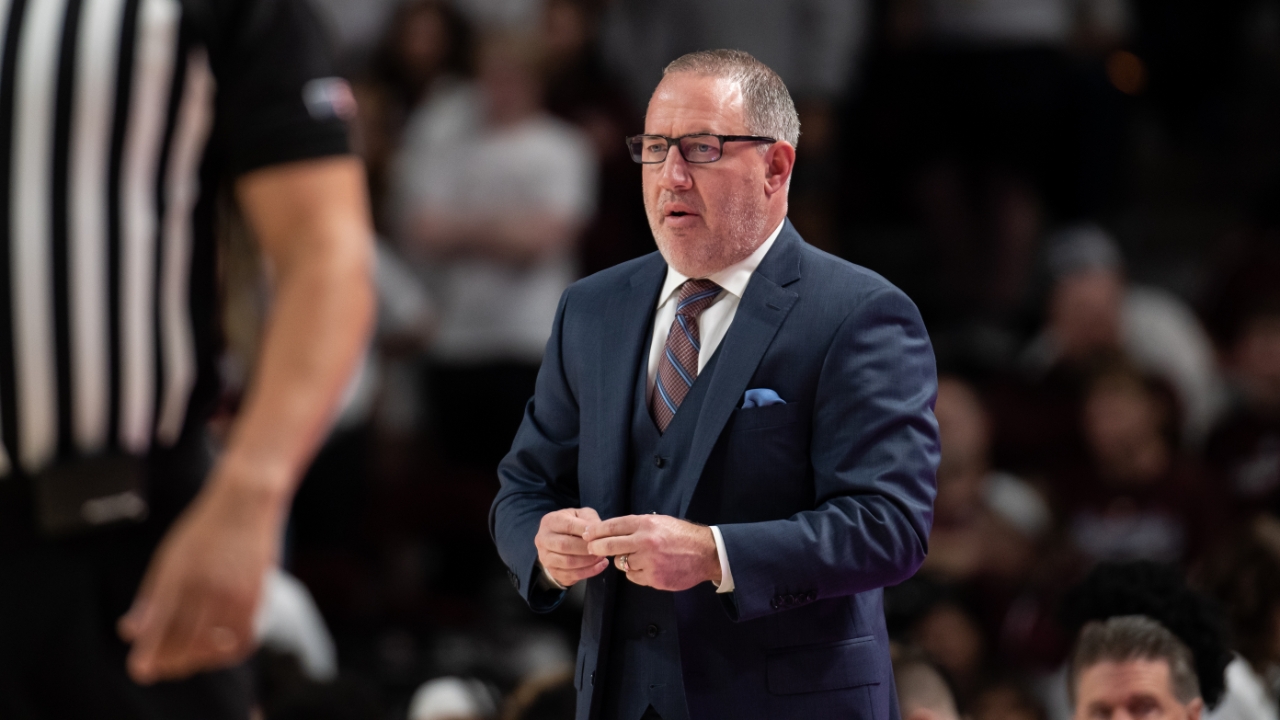 Photo by Jamie Maury, TexAgs
Texas A&M Basketball
Analyzing Texas A&M basketball's 2024 SEC opponents
---
The Southeastern Conference announced the 2024 conference basketball opponents for each league member on Monday. Times and dates will be released at a later date.
For those not familiar with the SEC basketball scheduling format, each team plays every SEC opponent at least once a season (13), and then there will be five home-and-home opponents (5) to reach the 18-game slate.
In recent years, Arkansas, LSU and Missouri have been Texas A&M's three permanent home-and-home opponents, with the final two spots determined at the discretion of the league with quality of schedule in mind. In the past three seasons, A&M's discretionary home-and-home opponents have been Georgia (2), South Carolina, Ole Miss and Auburn.
Do you see a pattern here? Yes, the league tries to match the projected better teams to enhance the SEC TV schedule, and the league sees Texas A&M as one of the SEC's better teams next year.
You'll see that reflected in Texas A&M's 2024 schedule, where Georgia and South Carolina are replaced by nationally-ranked Tennessee.
Let's take a quick look at Texas A&M's 2024 conference draw and what that could mean next season.
| | |
| --- | --- |
| Home Opponents | Road Opponents |
| Arkansas | Alabama |
| Florida | Arkansas |
| Kentucky | Auburn |
| LSU | Georgia |
| Ole Miss | LSU |
| Mississippi State | Ole Miss |
| Missouri | Missouri |
| South Carolina | Tennessee |
| Tennessee | Vanderbilt |
Teams listed in bold are the home-and-home opponents.
Judging the Schedule – By The Numbers
It's becoming so difficult in basketball to project the upcoming season because the rosters are turning over so quickly year-to-year. With the transfer portal and NIL financials, many players are essentially behaving like free agents finding the best financial packages and the best roster situations for playing time.
That said, let's look across the SEC and determine which teams have the biggest roster continuity challenges heading into the offseason. I've collected the data for each team and generated a table that shows last year's overall season and conference record, the number of players lost from last year's team, the number of top five scorers lost from last year's roster and the percentage of scoring lost.
| | | | | |
| --- | --- | --- | --- | --- |
| Team | 2022-23 Record | Players Lost | Top-5 Scorers Lost | % of Scoring Lost |
| Texas A&M | 25-10 (15-3) | 4 | 1 | 19% |
| Mississippi St. | 21-13 (8-10) | 6 | 0 | 23% |
| Tennessee | 25-11 (11-7) | 5 | 2 | 42% |
| Auburn | 21-13 (10-8) | 5 | 2 | 42% |
| Vanderbilt | 22-15 (11-7) | 8 | 3 | 61% |
| Ole Miss | 12-21 (3-15) | 10 | 3 | 62% |
| Georgia | 16-16 (6-12) | 8 | 3 | 69% |
| S. Carolina | 11-21 (4-14) | 7 | 3 | 70% |
| Florida | 16-17 (9-9) | 9 | 3 | 71% |
| Alabama | 31-6 (16-2) | 10 | 4 | 71% |
| Arkansas | 22-14 (8-10) | 8 | 3 | 71% |
| LSU | 14-19 (2-16) | 9 | 4 | 76% |
| Kentucky | 22-12 (12-6) | 8 | 4 | 77% |
| Missouri | 25-10 (11-7) | 9 | 4 | 77% |
As you can see, the Aggies lead the SEC in most retention categories, losing only 19 percent of last year's scoring and losing just one top-five scorer and four transfers, mostly smaller role players like Khalen Robinson, Javonte Brown, Ashton Smith and Erik Pratt.
Contrast those numbers to the number of players and scoring production lost by the rest of the league, and Aggie fans should feel pretty optimistic about next season. Half of the conference is losing at least 70 percent of offensive production, and 10 teams are losing seven or more players from last year. The Aggies will not only be the most experienced team from last season, but they also retained the most productive contributors as well.
This analysis doesn't take into account the quality of newcomers on each team. I certainly expect Kentucky and Arkansas to be league contenders in 2024 despite both squads losing more than 70 percent of last year's scoring, but the retention statistics indicate that the two games with Tennessee will be very competitive and could have SEC title implications.
Mississippi State returns its top five scorers and loses only 23 percent of last year's scoring. The Bulldogs could be a factor in 2024, returning Tolu Smith and two other top-five scorers from the 2022-2023 roster. Auburn should also be a factor.
Teams like LSU, Georgia, Ole Miss and South Carolina look to have an uphill struggle on paper, coming off a sub-par 2023 season and still turning over their rosters at a high rate with very few established scorers returning. Despite coming off a successful 25-win season, Missouri's Dennis Gates has to replace Kobe Brown and three other starters, and his incoming talent isn't on the same level as Kentucky or Arkansas.
Texas A&M's Critical SEC Games
Based on the offseason retention numbers and the amount of talent recruited and collected in the transfer portal, here's my early projection of the 2024 SEC conference race and where teams could finish.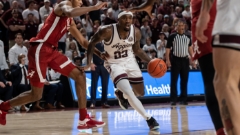 Jamie Maury, TexAgs
Texas A&M
Tennessee (2)
Arkansas (2)
Kentucky
Auburn
Mississippi State
Alabama
Florida
Vanderbilt
Ole Miss (2)
LSU (2)
Missouri (2)
Georgia
South Carolina
Based on these projections, A&M's four games against Tennessee and Arkansas will be critical with huge implications on the 2024 conference race…a season with high expectations for the Aggies.
The single games against Kentucky, Auburn and Mississippi State should also be significant as well.
Biggest Home Games on the 2024 SEC Schedule
If you live out of town and can only make a handful of home games in College Station, here are five that should be on your list to consider for the 2024 season.
1. Arkansas
The Razorbacks have been a top squad in the SEC during the recent tenure of Eric Musselman. "Muss" boasts a 34-19 SEC record, two Elite Eight appearances and a Sweet 16 berth over the last three years. Plus, is there a more unlikeable head coach in the SEC? No. After beating Musselman twice last season, he'll be on a revenge tour with a talented, re-tooled roster. It's not out of the question that this game could have SEC title possibilities.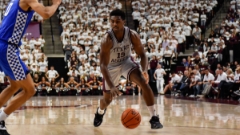 Jamie Maury, TexAgs
2. Kentucky
There are actually some rumblings in Lexington about John Calipari's future if he doesn't make a deep run in the 2024 NCAA Tournament. Incredibly, the Wildcats haven't been to the Final Four since 2015, and they've won only one March Madness game in the past three years. Calipari is still trying to figure out the optimal mix of five-star, one-and-done players and experienced portal transfers. However, it's Kentucky, and they are still the elite basketball brand in the SEC. Reed Arena should be packed for this match-up that should pit the experience and maturity of the Aggies vs. the young, elite-talent Wildcats.
3. Tennessee
Remember all of those Rick Barnes jokes when he was at Texas? Yeah, I don't either. While Texas has been cycling through three head coaches since Barnes' forced ouster, Barnes has quietly made the last five NCAA Tournaments, two Sweet 16 appearances and captured a regular season SEC Championship since 2018. The Aggies and Vols will be a marquee SEC match-up next season.
4. Mississippi State
Head coach Chris Jans had a very nice inaugural season, leading the Bulldogs to a 21-13 record and a trip to Dayton for the First Four. He returns his top five scorers, including first-team All-SEC forward Tolu Smith. Mississippi State should be a salty team next year, and that should make for a very entertaining and important game in College Station.
5. Ole Miss
Now this one will be interesting. After firing former Texas A&M head coach Kermit Davis, Ole Miss decided to roll the dice on the controversial and embattled Chris Beard, the former Longhorn head man. Although Ole Miss returns its top two scorers, Beard has a lot to rebuild and is bringing in eight newcomers to a 3-15 squad from last season. The Aggies have the advantage on paper, but there are plenty of juicy storylines when the Rebels and their contentious new head coach show up at Reed Arena.
Never miss the latest news from TexAgs!
Join our free email list
SPONSORED BY