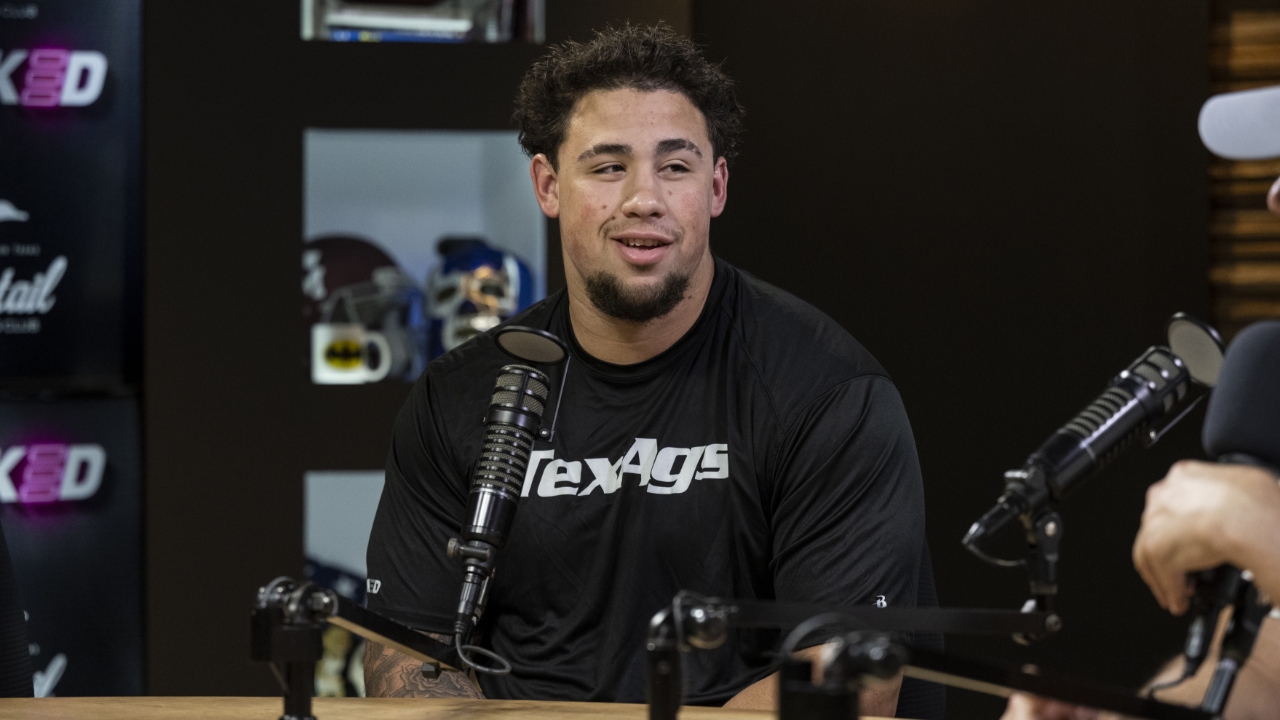 Photo by Jamie Maury, TexAgs
Texas A&M Football
Getting to know freshman offensive lineman Chase Bisontis
---
An early enrollee from New Jersey, offensive lineman Chase Bisontis has turned heads during his first spring in Aggieland. Courtesy of Pintail Hunting Club, Bisontis sat down for an exclusive one-on-one to discuss his transition to college, some hoops and much more.
---

Key notes from Chase Bisontis interview
I feel a little different after being here for a semester. I got here in January, and it has been great so far.

Spring football was awesome, and getting accustomed to being around players and coaches that just want to get better every single day. It has helped me buy into Jimbo Fisher's program.

I'm big on Steve Addazio and his tough-guy, Northeast mindset. He's big on sharing life lessons, so it's not just about football. I'm ready to do whatever I need to do to help the team win.

Coming in January helped a lot. Getting into the playbook and in the weight room is huge. Anybody who has the chance to come early, I highly suggest you do it.

The defensive line is good. Every one of them is amazing. Whoever I'm going up against, I'm getting better.

Layden Robinson has helped me get better. He's at right guard, and I'm at right tackle. We're always calling and texting about what I can do to get better. I have to give him a lot of props.

I need to get better in pass protection. Run blocking went well, but I have to improve in pass pro. I'm going to continue listening to Addazio and Layden and practicing what they preach.

Being "nasty" is kind of both natural and being from the Northeast. Playing basketball as a kid, I just wanted to win. I never wanted to let anybody down from middle school to now. I just don't want to let anybody down, and that's where my competitive spirit comes from.

My freshman year in high school is when I got an offer from Boston College. Addazio was the head coach at BC back then, so he was my first offer. Playing basketball was great for me because it gave me some help with my footwork and that twitch.

We're trying to make the practice harder so the games can be easier. We go through a lot of hard stuff during practice, so we want to get to the point where fall camp is like nothing.

I'm only taking two classes this summer, so it's good to keep my mind on something.

I've played basketball at the rec a couple of times. Mark Nabou can hoop, and Jordan Moko can as well.

This offensive line is tight. I could go to Trey Zuhn. He was hurt all spring, but he was helping me get better. Everybody is good. Kam Dewberry helped me on my visits. I'll talk to Kam outside of football. It's a really tight group, and it has been great to be around.

It only took about a week to get accustomed to the grind. I knew guys from my visit. I knew TJ Shanahan too. It has been great.

Once Shanahan gets that leg right, he's going to do some nasty things. He's still working on some things too. He's got that nasty streak as well.

I didn't really enjoy the recruiting process when it got toward the end. It got crazy, and some crazy things were said. Addazio kept it real the entire time. My process got shaky, but I came on another visit. That's when it stuck.

Carmelo Anthony was my favorite player. I just watched a lot of Shaq. I am not a point guard. I'm in the post. Shaq was a bully, so I really liked watching him. He had that nasty streak too. I enjoy watching Nikola Jokić right now in the NBA Finals. He's getting double-doubles and triple-doubles in the Finals. That's crazy.

I got to go home during the break for a good two weeks. I got to go to my prom and graduation, so that was really nice.
Never miss the latest news from TexAgs!
Join our free email list
PRESENTED BY