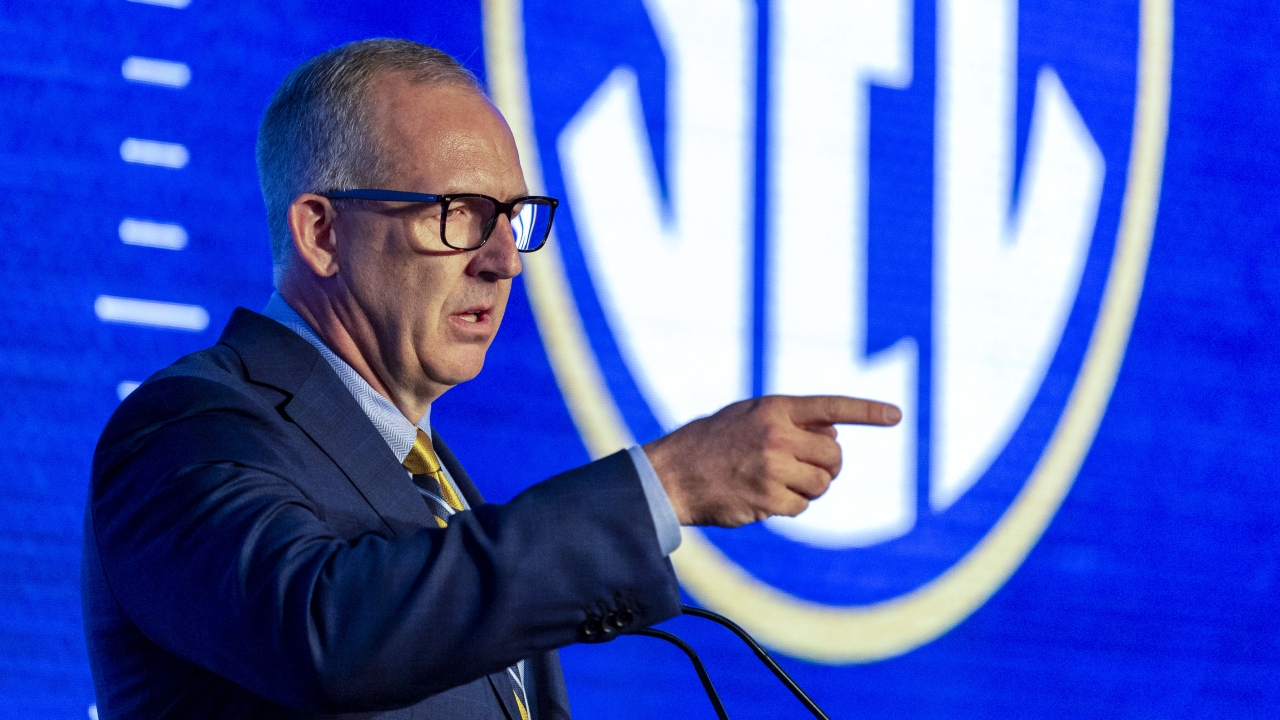 Photo by Vasha Hunt-USA TODAY Sports
Texas A&M Football
Future SEC scheduling remains hot topic as spring meetings near
---
By Friday afternoon, Southeastern Conference football teams may know how many conference games will be played in future seasons.
Continuing to play eight league games or going to nine for the 2024 season will be the primary topic of conversation when SEC coaches and athletic directors at the Hilton Sandestin Resort in Miramar, FL, for the annual SEC spring meetings this week.
Of course, Texas and Oklahoma will join the SEC in 2024 to create a 16-team league.
The current SEC football scheduling model calls for six games against division opponents and two interdivisional games. One of those interdivisional games is against a permanent opponent.
South Carolina is Texas A&M's permanent SEC East opponent.
If the SEC opts to maintain an eight-game schedule, the model would likely change to one permanent opponent and seven new opponents each year.
The most likely nine-game model would call for three permanent rivals and six other opponents.
For A&M, the likely permanent opponents would be Texas, LSU and Mississippi State.
"With either model, you'd play every team in SEC home and away in a four-year period," Texas A&M Director of Athletics Ross Bjork said.
Bjork also offered a reminder other topics and sports are on the agenda, too.
"With either model, you'd play every team in SEC home and away in a four-year period."
"The football scheduling model will get the most attention, for sure, among public discussion," Bjork said. "There's also membership transition items with Texas and Oklahoma coming in.
"There are a few other scheduling models we have to finalize, like volleyball. It's not just football."
Among the other issues on the agenda are the evolution of TV deals and streaming and digital broadcasts.
Also slated are discussions on how to eliminate fans storming the field or court following big victories.
Some proposals have suggested forfeiture of the win. Others have suggested the team whose fans storm the field will forfeit a home game the next time those teams are scheduled to play at the offending team's stadium.
Bjork highly doubts those proposals would ever be ratified but said the safety issues cannot be ignored.
"We want students and fans to have fun," Bjork said. "The other side is it's a safety issue. You have to protect players, the visiting team, officials …
"What if a student jumps off the side of the stadium (bleachers)? You don't want them to get hurt.
"To me, it's a matter of awareness and education."
Discussions will also center around the landscape of college sports under NCAA President Charlie Baker as well as congressional legislation and state legislation regarding Name, Image and Likeness laws.
But Bjork and his colleagues know that's not what is on the public's minds.
"That's not necessarily too exciting for the public," Bjork said. "They want to know if we're playing Texas every year."
Never miss the latest news from TexAgs!
Join our free email list