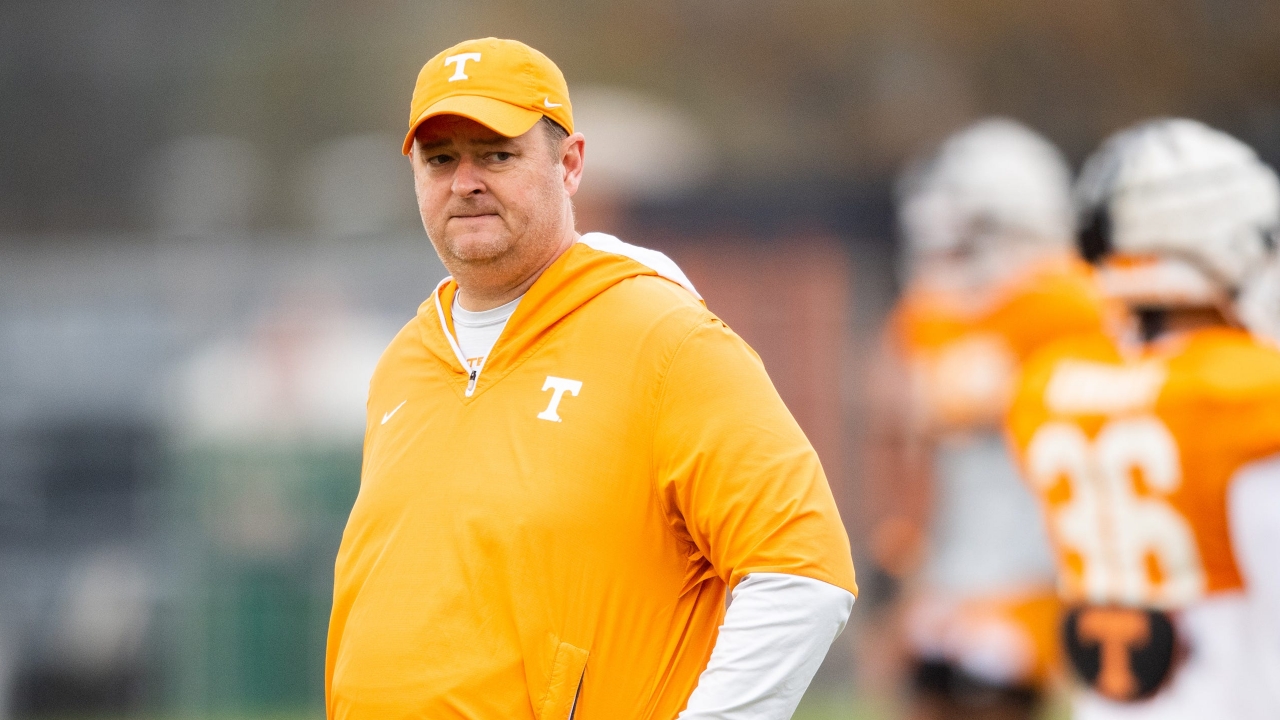 Photo by Brianna Paciorka/USA TODAY NETWORK
Texas A&M Football
Everyone has their warts: 7 SEC projections I have a hard time buying
---
During a recent Coach's Night speaking engagement, Texas A&M football coach Jimbo Fisher acknowledged his team has "warts."
Then he added: "So does everyone else."
That, of course, is accurate.
Yet, it seems SEC forecasters seem to ignore the blemishes of some programs while magnifying them at others.
With that in mind, here's a list of SEC projections and narratives for the upcoming football season that I can't help but question.
Tennessee is a championship contender
The Volunteers were playoff contenders until falling 63-38 to South Carolina on Nov. 19. Although 63 points allowed was alarming, Tennessee's defense was erratic. Alabama scored 49 against the Vols. Florida scored 33. Tennessee ranked 92nd in the nation in total defense and 127th in passing defense. That's with defensive end Byron Young — a third-round draft choice — who led the Vols in sacks with seven, quarterback hurries with 14 and was second in tackles for loss with 12.
That's OK, you say? Tennessee wins with offense.
True, the Vols averaged 46.1 points to lead the nation in scoring. However, the offense no longer includes quarterback Hendon Hooker, leading receiver Jalin Hyatt and offensive tackle Darnell Wright, a first-round draft pick.
Coach Josh Heupel is hyped as an offensive mastermind. He'll have to prove his offense can be similarly explosive without those star players.
Joe Milton ensures Vols remain explosive
Most rankings of SEC quarterbacks list Milton in the six. One had him third.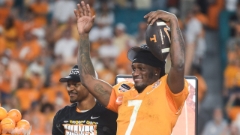 Caitie McMekin/USA TODAY NETWORK
And this is based on…?
Apparently, Milton's stock jumped because he closed the 2022 season by throwing for 398 yards and four touchdowns with no interceptions against Vanderbilt and Clemson.
Vanderbilt was ranked 128th in the nation in pass defense. Everyone threw on the Commodores.
Clemson was uncharacteristically ranked 76th in pass defense. Six quarterbacks — including Furman's Tyler Huff — passed for more yards against Clemson than Milton.
Milton transferred to Tennessee after failing at Michigan against Big Ten defenses, but he's going to light up SEC defenses like Hooker did?
Sorry, not buying.
Spencer Rattler is now an elite quarterback
Speaking of rising quarterbacks, I'm not sold on the emergence of South Carolina's Spencer Rattler.
Recall, Rattler lost his starting job at Oklahoma in 2021. Then, last season, at South Carolina he passed for 3,012 yards and 18 touchdowns with 12 interceptions.
However, 1,175 yards, 10 touchdowns and one interception came in three games against Arkansas (131st in pass defense), Tennessee (127th) and Clemson (76th).
In the other 10 games, Rattler averaged 183.7 passing yards with eight touchdowns and 11 interceptions. He's a good quarterback, but touting him as a rising star seems a bit of a stretch.
Alabama's defense is better
Word is Alabama's defense in 2023 is expected to be one of the best Nick Saban has fielded.
Last year's unit wasn't bad.
The Tide ranked ninth in the nation in scoring defense and 13th in total defense.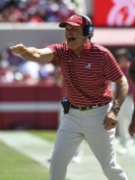 Gary Cosby-USA TODAY Sports
However, Alabama allowed 52 points in a loss to Tennessee and 32 in a loss to LSU. That didn't sit well in Tuscaloosa.
The replacement of much-maligned former defensive coordinator Pete Golding with Kevin Steele has fueled optimism. It's also true that Alabama always has capable players ready to step up when opportunity knocks.
Still, over the last two years, linebacker Will Anderson — the third player selected in the NFL Draft — was hailed as the nation's best defensive player. Some thought he maybe even the best overall player.
Also, five other Alabama defensive players were drafted, including All-SEC linebacker Henry To'oTo'o and defensive back Jordan Battle.
And Alabama's defense is going to be better? Steele will have to be really good. Or Golding was really bad.
Alabama is better overall
The Crimson Tide faithful like to point out Alabama was two plays away from going 12-0.
That's true, but Alabama was also one play away from losing to Texas A&M and Texas and had to rally late to pull away from Arkansas.
Along with the defensive questions listed above, Alabama no longer has star quarterback Bryce Young. He may be replaced by Notre Dame transfer Tyler Buchner, who started in the Irish's loss to Marshall last year.
Alabama no longer has running back Jahmyr Gibbs, a first-round draft choice. Also, three starting offensive linemen from 2022 must be replaced, including tackle Tyler Steen, a third-round draft choice.
As always, Alabama will be good, but it seems a lot of questions must be answered before the Tide can be called better.
Billy Napier is the answer for Florida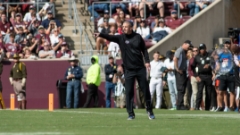 Jamie Maury, TexAgs
Despite a 6-7 finish in 2022 — which included a loss to Vanderbilt — there still seems to be a lot of faith in Napier's ability to return Florida to prominence.
OK. It was his first year, so he gets a pass.
But Florida could be worse this season.
Even in last year's debacle, the Gators had six players taken in the NFL Draft. Four were taken in the first four rounds.
Florida is replacing its best offensive lineman (O'Cyrus Torrence), best defensive lineman (Gervon Dexter), two productive linebackers (Ventrell Miller and Amari Burney) and quarterback Anthony Richardson.
The successor for Richardson — a first-round draft pick — may be Wisconsin transfer Graham Mertz. He completed less than 60 percent of his passing attempts over his last two seasons in Madison. He also has thrown 21 interceptions in that span.
And unlike Richardson, he is no threat to run.
This could be Florida's most challenging season since going 4-7 in 2017.
Look for the heat on Napier to increase dramatically.
Kentucky is ignored in the East
I get it. Kentucky is often overlooked because… well, because it's Kentucky.
Last year, the Wildcats were merely 7-6 and finished in a three-way tie for fourth in the SEC East.
This year could be much different.
Kentucky returns eight offensive starters and added transfers Marques Cox from Northern Illinois and Tanner Bowles from Alabama to bolster the line.
Also, quarterback Devin Leary transferred from North Carolina State where he threw 35 touchdown passes and only five interceptions in 2021. Last year, he had 11 touchdowns and four interceptions before a season-ending injury.
Further, offensive coordinator Liam Coen is back to call plays after a year with the NFL's Los Angeles Rams. The Wildcats averaged 32.3 points in 2021 with Coen in charge of the offense.
Kentucky also returns six starters from a defense that was ranked second in the SEC in total defense and third in points allowed last season.
Kentucky could realistically finish second to Georgia in the East.
Never miss the latest news from TexAgs!
Join our free email list
PRESENTED BY