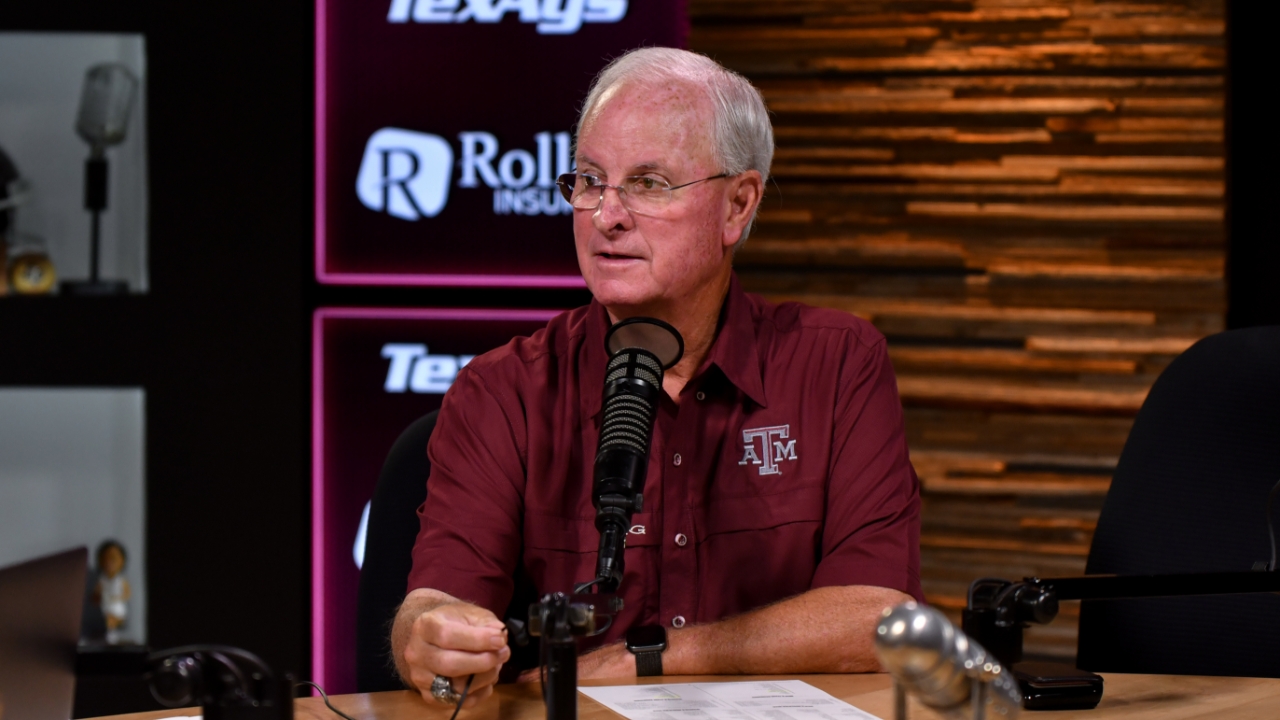 Photo by Jamie Maury, TexAgs
Texas A&M Track & Field
Track & Field Report: Legendary A&M coach Pat Henry recaps SEC Championships
---
Pat Henry and the Texas A&M track & field team returned from Baton Rouge after the 2023 SEC Outdoor Championships. The legendary coach joined TexAgs Radio after the women placed third and the men took home fifth, with the NCAA West Preliminary Rounds up next.
---
Key notes from Pat Henry interview
We're in the important part of the year. This is the time when everything we have done to this point starts mattering. The women finished third. The men were in third. Connor Schulman clipped a hurdle and went down and was winning the race. We could have used the points. Eric Casarez is running pretty good.

Arkansas' Jaydon Hilbert triple jumped 58 feet 7 inches, which is just outstanding. It was the 13th-best jump in the history of the planet. He's just a freshman doing that.

Anytime you go down, it's a tough time making up 20 meters. That's what Eric had to do, and he did a good job getting back into it. When he finished the race, I looked at his ankle, and it didn't look like he could run the next day. He came back the next day and was good to go. We left one at home this week because of a similar situation. We didn't think it would be positive for him to run. Eric was hurt in the middle of the battle, and he got back up and kept going. You've got to be tough about some things.

I'm pleased that our athletes are at their very best. They have to trust that they're coming around slowly. They are competing their absolute best at the end of the season. Everyone wants immediate results. We're not that kind of sport. You have to have that kind of patience to be good at this sport. You can win and not be very good next year, especially the way things are now. In my sport, you have some people go pro that completely change the dynamic of your team. With everything else involved, like the portal, it's a different environment now.

Lianna Davidson won the javelin and looked good doing it. She's one of the ones that's come along and is at her best right now. Lamara Distin is a three-time NCAA Champion and four-time SEC champ. We've never had someone do that before. She's a good one. Thatcher Frankfather went out really fast to Florida and learned what he was able to do. He's got some talent. Coach McRaven told him how to run this race and where he was supposed to be. He had the gas at the end to be able to beat the people in the field. We go one and two in that race, and that's big for us. He learned what he's capable of doing, and he did it in this meet.

The top 48 athletes in the SEC West will qualify in each event. 48 will advance to the Regional Championships out of that region. 12 will advance to the National Championships. The NCAA refers to it as the first round of the NCAAs.

Track is supposed to be no contact. Every once in a while, it's contact. When you get to the height of your season, especially when it's this competitive, you have to expect stuff like that. Some really good stuff happens now. The season is important, and it sets you up for success. This is about the people who can really do it.

Our ladies are running very well right now. Our relay is four ladies that are really competitive. Nicole Chastain is the only senior in the group. Cherokee Young left early, but if you throw her in that group it's different. The group has done a great job at making up for that loss.

The NCAA Outdoor Championships are going to be in Austin this year. The only reason is because there is construction of the Oregon facility. Austin said they would take it, but they said they would only take it if they could have it for two years. The NCAA won't even open bids for the national championship site. They do it for every other sport, but not for track.

We have a good group advancing. We just have to wait and see, but we have a group that can be competitive at this level. Arkansas is really good. They have great coaches. If you could combine us and Florida, we may have been able to beat them. That tells you how good they really are.
Never miss the latest news from TexAgs!
Join our free email list