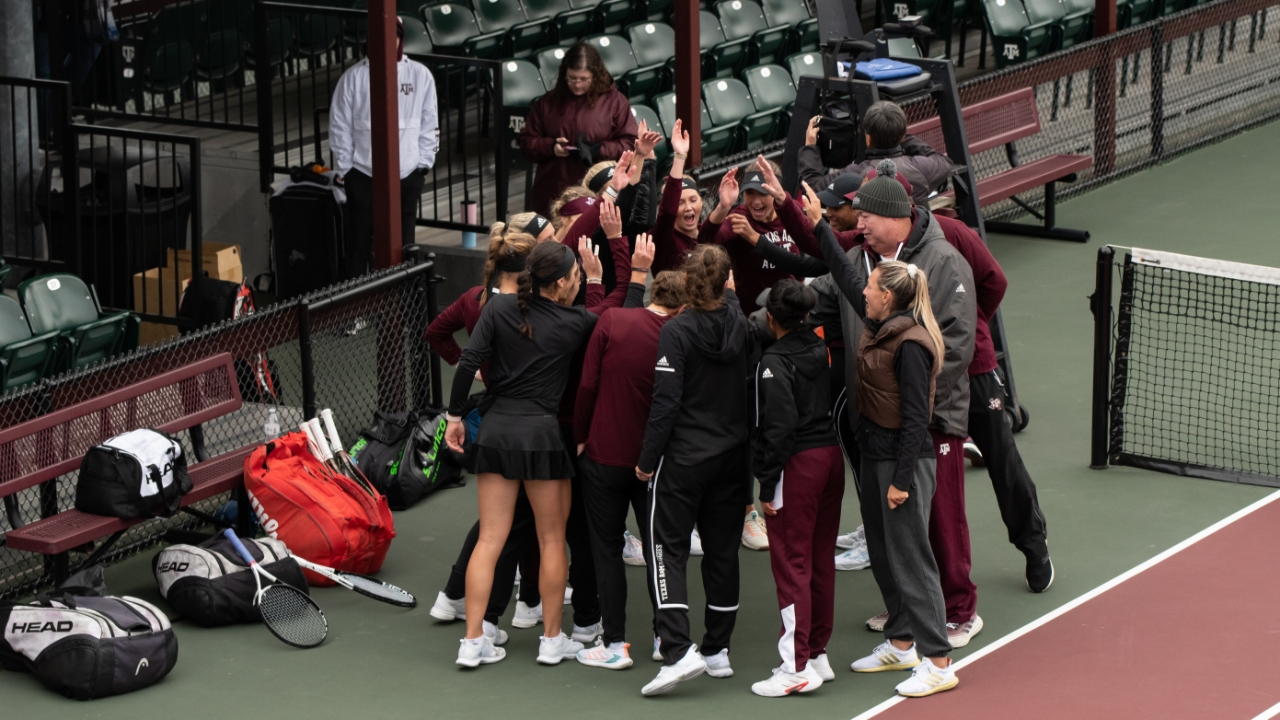 Photo by Jamie Maury, TexAgs
No. 2 Texas A&M women's tennis opens NCAA Tournament on Friday
---
It's not over yet.
After a perfect 13-0 SEC regular-season title, No. 2 Texas A&M came up short at the SEC Tournament in Fayetteville two weeks ago. With that small stumble past them, the Aggies begin a new run this week as they open the NCAA Tournament on home turf.
"The last time we lost a home match was about two years ago," said Texas A&M head coach Mark Weaver on Tuesday's edition of TexAgs Radio. "We have a home court advantage and want to protect our home as well as represent the 12th Man well."
The No. 2-seed Aggies face Quinnipiac at the Mitchell Tennis Center on Friday at 1 p.m. CT.
"I don't know much about Quinnipiac," Weaver said. "I looked up their universal tennis ratings to get a feel for where they were, and we will see how it goes on Friday."
SMU and Baylor are also competing in the College Station Regional.
"Baylor beat SMU earlier on in the regular season, so there is sure to be a battle there," Weaver said. "I know their players well and their coaches well. There should be some exciting matches this weekend."
"The last time we lost a home match was about two years ago. We have a home court advantage and want to protect our home as well as represent the 12th Man well."
In the SEC Tournament, the Aggies defeated Vanderbilt (4-1) and Florida (4-2) before falling to second-seeded Georgia in the final, which was only their second loss of the season.
While that loss stings, Weaver's group remains undeterred.
"I don't think we handled the pressure of the moment all that well, but we were not outplayed," Weaver said.
That defeat snapped a streak of 31 consecutive conference victories dating back to the 2021 SEC Tournament.
For A&M, being on top has been nothing short of extraordinary this season, and they planned on keeping that record. Even though the Aggies came up short in Fayetteville, it doesn't overshadow the incredible talent of the women on this team.
It also doesn't overshadow their real quest: Winning a national title.
Mary Stoiana, SEC player of the week for four consecutive weeks during the season, commanded the court against Georgia's Sara Dahlstrom on Court 1 to capture her 20th singles dual match win of the season.
Stoiana leads the Aggies in singles wins. She is also leading the singles winning percentage with a .909.
For her incredibly strong play this season, Stoiana earned SEC Player of the Year honors and has been ranked as high as the No. 2 singles player in the nation.
But Stoiana isn't the only strong player on the team.
Carson Branstine, whose season and Texas A&M career were cut short due to injury this spring, earned First-Team All-SEC honor alongside Stoiana. Even without an All-American like Branstine, these Aggies remain ridiculously deep.
Currently riding a six-match win streak, Salma Ewing is a dynamic asset on the court. Together, Ewing and Jayci Goldsmith — who now hold the program record for doubles victories — lead the Maroon & White with 20 doubles wins. Ewing and Goldsmith, along with Mia Kupres, are also Second-Team All-SEC honorees.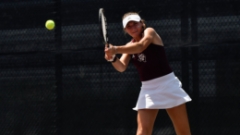 Jamie Maury, TexAgs
With so much talent accumulated on one roster, the run these Aggies are on surely hasn't been for nothing.
With the SEC Tournament behind them, all they can look to now is the chance at a national championship, and they'll be among the favorites.
Top-seeded North Carolina may have been the favorite at the beginning of this season, but after A&M had them on the ropes on their home turf, a new favorite is on the horizon.
Finishing the regular season 27-2 overall, A&M's only losses have been to then-No. 2 North Carolina in February and then-No. 4 Georgia in the SEC Tournament.
The Aggies also bring experience into this year's NCAA Tournament. A year ago, the Maroon & White reached the NCAA quarterfinals before falling to Oklahoma in heartbreaking fashion.
Weaver, the SEC's co-Coach of the Year, knows his team is hungry and their motto is to get better every day.
"As far as I'm concerned, these girls are world-class tennis players," Weaver said in a press conference ahead of the SEC Tournament.
They came up short in Fayetteville, but a bounce-back is very likely from these Aggies as they eye a trip to Orlando.
"We can't look past any weekend," Weaver said. "We can't get too caught up in the upsets. Every match is a win or go home."
While not looking beyond Friday's match, these Aggies are undoubtedly a force in the NCAA Tournament.
Never miss the latest news from TexAgs!
Join our free email list
PRESENTED BY