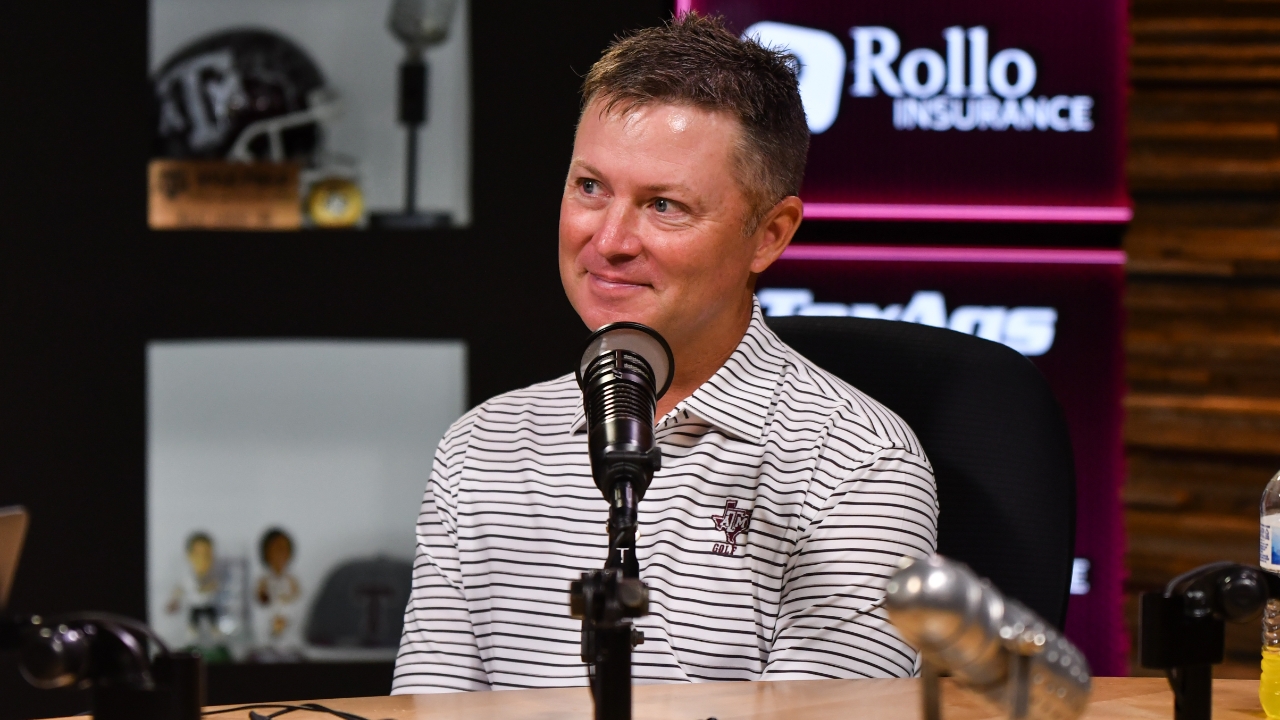 Photo by Jamie Maury, TexAgs
Texas A&M Women's Golf
Gerrod Chadwell & No. 6 A&M women's golf are ready for postseason run
---
Texas A&M women's golf is the No. 6 overall seed and will be headed to the San Antonio Regional to start its journey to a national title. On Tuesday, head coach Gerrod Chadwell joined TexAgs Radio to look back on the SEC Tournament and preview a trip to TPC San Antonio.
---

Key notes from Gerrod Chadwell interview
Bags are packed, and we're ready to go to San Antonio.

There were a lot of people that thought we were going to Indiana because of geography. There is only one truly west regional this year, which is Pullman. We had four SEC teams that were one seeds, and we are the furthest west. They thought we'd go north. I'm not going to complain. It will be nice to hop in a van and drive to San Antonio. I was preparing to go to Indiana. I was prepared to be slightly disappointed to hop on a plane and change climates. I really didn't care. We have a really good team that can play anywhere, but I'm excited for them to play in front of a bunch of Aggies in San Antonio. Admission is free. Come out and see us. We'll be easy to find.

We're comfortable with who we are. It's not easy. We preach family and being together from day one. That is the biggest compliment I can give to this bunch because it's a choice. We are an individual sport with a team aspect, but these girls choose each other over themselves. That's hard to do in today's world, and it's very special.

Birmingham will forever be a special place for this group. We didn't play very well in the first round. The message after that was about us digging a hole. We're better when it gets tough. It was packed up, but it wasn't a huge mountain to climb to get into match play position. They kept grinding and chipping away. When we got into match play, I felt comfortable against Florida. The South Carolina match was a heavyweight fight. It ended in a hurry. Blanca Fernández García-Poggio won her match, and Adela Cernousek got beat. It was a quick turnaround. We got off to a great start, but the tide turned. We had a fight on our hands.

Trust is the big thing. We could add that to our Block T. We know what they put in day in and day out. We know over the course of time that we're going to be fine. This team can win a national championship if they play their best. We totally trust them. We have to keep them in the right headspace, and we'll be alright in the end.

The success this year is crazy. In seven out of 10 events, we've been in first or second. We had an informal match play win out in the desert. This team set the bar high last year, and there is not even a bar anymore with how far they've taken it. We've had some time in the last couple of weeks, and this is an amazing run they've taken us on. They expect to be the last team standing.

Brian Kortan and I always text each other at the end of the week and say, "Golf school." And that's what we're trying to do. Look at what Sam Bennett was able to do. Look at what the men's team is doing. Look at what our team is doing. We truly have something special here in College Station. We want to leave this place better than we've found it, and if people are recognizing Texas A&M as a golf school, then we've done our job.

There are 13 teams in the SEC that could make match play. That week felt like running a gauntlet because of the matches we had to win. It had the feel of something like a national championship. It happened so fast. We're still in the gym three days a week, but I think we're ready to run the week of Scottsdale. We have to win in San Antonio, but we're ready.

I think Jennie Park has finished outside of the top 25 once this year. We don't talk about her enough. She is so steady and never really gets in trouble. We don't praise her enough. We have her for another year, which we're really excited about. She's going to start the Q School process this year. She's ready to try and win another national championship next year. She'll compete in the Palmer Cup and represent her country. There are so many things you could say about all of our girls, but with Jennie as the leader of this group, she probably doesn't get talked about enough.

We had December meetings at TPC San Antonio. Three of our five are from Texas and have played junior golf there. We'll be ready, and the biggest thing we're trying to do right now is get them through finals. We're really looking forward to getting into the van on Friday.
Never miss the latest news from TexAgs!
Join our free email list