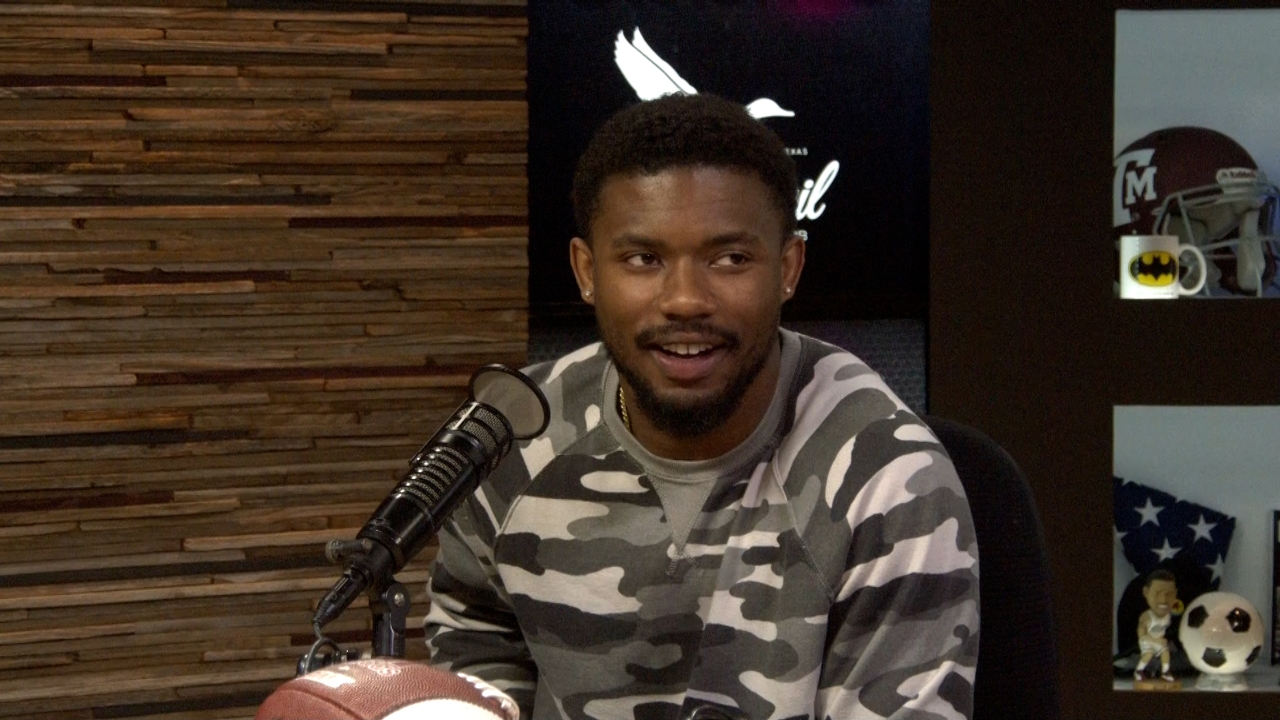 Texas A&M Football
Wideout Moose Muhammad looks back on A&M's spring evolution
---
Courtesy of Pintail Hunting Club, Texas A&M wide receiver Muhsin Muhammad III sat down to recap Texas A&M's spring practices. "Moose" shared how his game has evolved during his time in Aggieland, his health status following the 15 workouts and much, much more.
---

Key notes from Moose Muhammad interview
We have a few weeks. There is a bridge between spring and summer workouts. I like working. We need that while everyone else goes home. We are keeping our edges sharp.

I was pretty healthy in the spring. I had a concussion about two to three weeks ago that put me out for the Maroon & White Game. I'm doing everything I can to get back to where I need to be.

I think our offense was a lot more efficient. Getting the ball down the field and a lot more tempo. That makes us more on our toes and go quick.

Coach Jimbo Fisher likes a quote from Michael Jordan and says, "What do you do as the game goes on?" That sticks with him. He likes it because Jordan said doesn't change. Everyone else does. Like controlling your breathing when you are tired. Stay composed and thrive when everyone else is tired. It's about mental toughness.

I have definitely grown, on and off the field. Continue to learn from guys who have been here and guys who are getting here. Chew up the meat. Spit out the bones.

I am thoroughly impressed with the younger guys' work ethics. Talent-wise, those guys came in raw. In high school, you can rely on talent. At the next level, it takes polishing. They are willing to learn, especially the wideouts.

We talk about it. We are focused on each day, That's what is most important. By the end of the year, we want to be undefeated. Putting the pieces together each day to get there.

Everybody was excited about Noah Thomas' work ethic. He is just as fast, but he applies himself. He treats every play like it's his last. That motor never stops. It's good to have guys like that around you.

I have seen everybody come out and compete. Everyone is excited about the new offense and to get everything rolling.

I think having Bobby Petrino has helped us a lot. It takes a village. Now that he's in place, Jimbo has more freedom to look every which way. You work so hard. It's frustrating when you come up short. I feel like we are on pace to do big things. I'm excited.

I like the feeling of scratching and clawing. I don't like things being given to you. Now that we are not top six of whatever, we are coming to get it.

I would probably draft myself if I had to draft a college football player. That's far from any kind of cockiness. I feel like anybody should draft themselves. When the play is called, whenever my number is called, I'm going to make it.

We call Evan Stewart Mr. Tactical.

I'm excited to take shots down the field no matter the down. I have confidence in that, considering we got the tools.

I will go home this summer, play a little basketball and keep from getting hurt. I will see the family and stay in shape. The LA Lakers will win the 2023 NBA Championship.

This year's men's basketball team played hard. They had quite a few transfers, but I like the way they came together and played through coach Buzz Williams. It was cool to see.

Strength coach Wes Piersall and I were talking about 7-on-7. They can't make it mandatory, but we need to be out there every day. It will be hot, but it will get us ready.
Never miss the latest news from TexAgs!
Join our free email list
PRESENTED BY