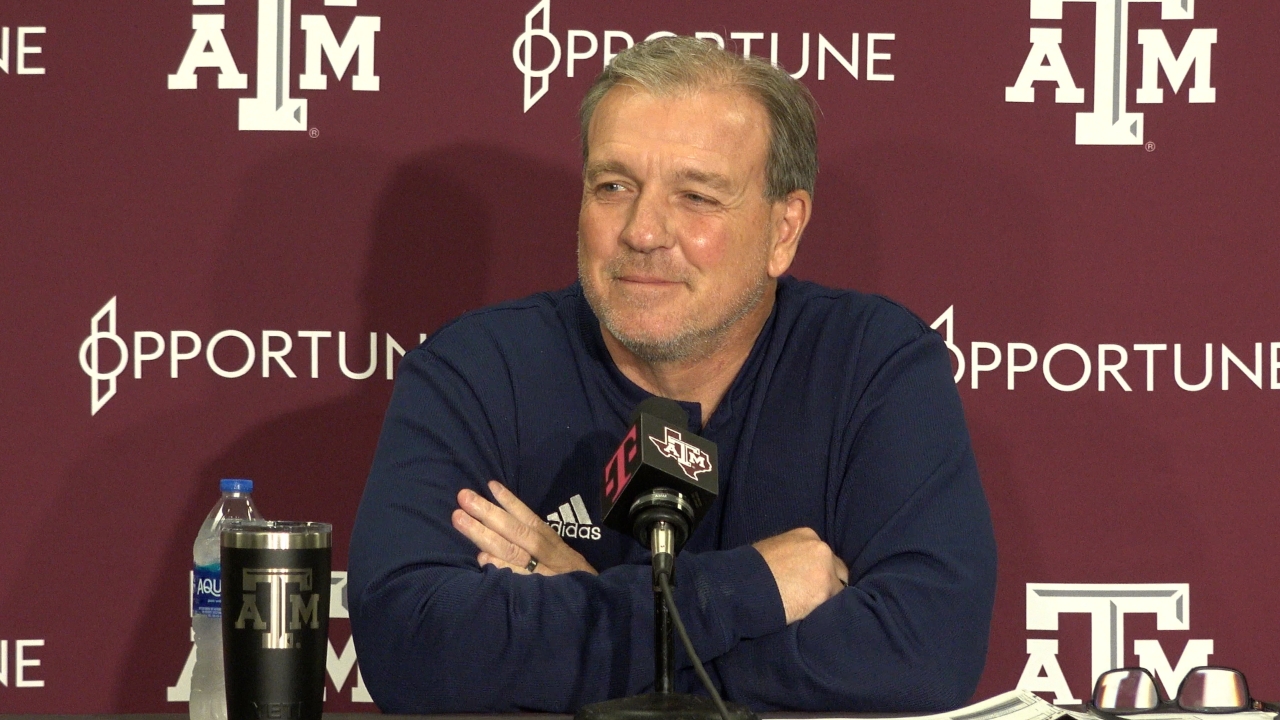 Jimbo Fisher
Layden Robinson
McKinnley Jackson
Texas A&M Football
Press Conference: Fisher provides update on 2023 spring practices
---
Football has returned to Aggieland as spring practices are now in full swing in preparation for the 2023 season. On Thursday, Jimbo Fisher, Layden Robinson and McKinnley Jackson addressed the media Thursday about the first two weeks of spring practice.
---
The following are live, paraphrased notes from Jimbo Fisher's Thursday afternoon media availability:
Jimbo Fisher
You create good or bad habits in practice. Every time you walk between the white lines, you create habits. We are doing a good job.

The schools being able to have conservations about NIL are good. The guys don't know what their rights are. From an advisory standpoint, it's good to let the kids know what they are doing.

They are understanding the concepts in greater detail. There is nothing that can replace experience. You are starting to see that. You are seeing physical differences. Strength, size and speed, and you can play faster.

Theo Melin Öhrström and Fernando Garza are doing a great job. We played with Donovan Green and Jake Johnson against LSU. We know what Max Wright can do.

Evan Stewart tweaked an ankle. He will be fine. Day to day.

Everything about football is leverage and numbers.

Sometimes the best running backs aren't trying to be heroes. The big plays will come. You need vertical runs. In high school, you get by with going north to south. You need to be able to drop your pads. Our guys work very hard.

I don't compare guys. That's like comparing children. Rueben Owens is gifted, and he understands how to work. He learns very well and is very intelligent. He is a big-time recruit, but he works his tail off.

Kam Dewberry is back in practice and running with the ones yesterday. Practiced good yesterday.

You present new things you do. That happens as soon as fall is over. You change it then, and it gives you a lot more time. Every year, that is a big thing that goes on. That process never changes. I don't know if you can put more emphasis on it than we do.

Recruiting rules have changed. We have nearly five guys at every practice. Then, you could have 10 to 20 on the weekend. The guys are coming through. There are way more now. Bobby Petrino has done and great job, and you know you have a guy with experience with the offense.

You coach every guy differently. You call different things more different players.

When you run motion, you want to know what you get. Experience and knowledge, there is no substitute for it. You are able to process. You get more comfortable, and you can execute. You can get faster, but sometimes you get smarter. Sports isn't if you can do it, it's how many times you can do it. It's if it doesn't phase you. The famous Michael Jordan quote. You don't worry about winning. You worry about the next play. The more mature you are, the more you understand that.
Never miss the latest news from TexAgs!
Join our free email list