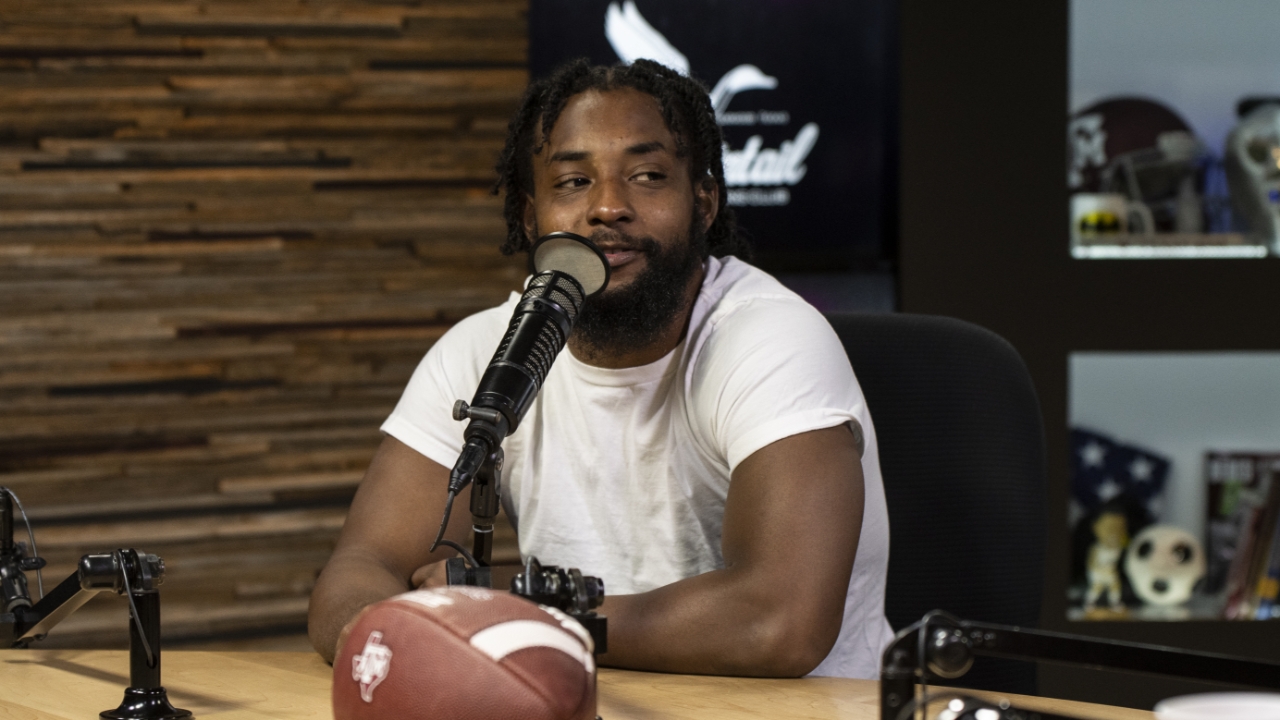 Photo by Jamie Maury, TexAgs
Texas A&M Football
WR Ainias Smith pleased with the energy of A&M's first spring practice
---
A&M wide receiver Ainias Smith came away liking the early energy the Aggies showed in their first spring practice on Monday afternoon. In an exclusive interview courtesy of Pintail Hunting Club, "Subzero" spoke about getting back after injury, youngsters who impressed and more.
---

Key notes from Ainias Smith interview
I ain't going to lie, I need to tap into the Pintail Hunting Club. I love hunting and fishing. I haven't seen these pictures of Moose Muhammad you're talking about, but that's crazy. The gar back in Sugarland were crazy big. They've got alligators at Pintail? That's crazy. I was just at a lake, and it was nighttime. I was taking a stroll. There were so many baby gar out there in the shallows. I thought about jumping in and getting one. It's dangerous. I don't know what I was thinking, even considering that.

Switching back to #17 has crossed my mind, but I've got the "Sub Zero" thing going. A lot of people have told me that I shouldn't switch back. It was just something in my mind because when I was rocking #17, I was going crazy. I went crazy in #0 too, though. Ryan Tannehill wore #17. He was crazy as a receiver too.

Playing running back in the Texas Bowl, on one hand, I definitely wanted to touch the field and help the team win. At that time, I was just eager to be out there. In the back of my mind, they were telling me how I was going to have to run routes out of the backfield, which is cool. I'll go up against a linebacker or whatever. The DBs would be out there doing one-on-ones with the receivers, and I'd be with the running backs. I'd be like, "Y'all don't forget now." I'd still run routes with them.

To be back at practice was exciting just to be able to compete again. The last time I competed was against Arkansas, and that was a while back. To be out there with the guys and be able to watch Jimbo Fisher be more of a coach, it was interesting to see everything unfold. The speed that everyone was playing with and the excitement and competitiveness everyone was playing with, it was crazy. I loved the energy. I was excited. That energy carried on throughout the entire practice. The end was fun. Instead of splitting up into two fields, everyone was practicing on one field, and it was live. I'm definitely liking the energy so far.

For sure, we'll play faster next year, but I don't really want to talk too much about the scheme. Even in the presser, it's hard to say because we don't even know the depth chart yet. We have a lot of cats we can move around, but it'll be easy to get mismatches from the scheme. It'll be cool, and I'm excited to see what the offense has.

I feel like Jimbo is enjoying the process that we're going through right now. In yesterday's practice, it was a 16-period practice, and he was able to go over wherever he wanted to coach them up. To see him be able to coach everybody instead of harping on one thing, it's different. The tempo of practice was smooth. To see him coaching and helping where things were needed was different. He's able to pull you off to the side now when all of the other coaches are coaching. I enjoyed it.

You can tell the quarterbacks are more experienced just based off the leadership both of those guys are showing. They're taking a stand based on where they want to take this team, and we're all on the same page. I'm proud of both of those guys and all of those guys, really. They come in with the right mindset and lead the right way. I'm excited to see what the future holds.

I like Micah Tease. I like Rueben Owens. I like "little" Raymond Cottrell. Ray definitely impressed me. He made me proud. Being able to watch what he came through when he first got through, and now seeing him on the field, it's moving a little fast for him right now because they're calling all the shots. You have to move fast, or you'll slow them down. You don't want to be the person that slows the offense down. It's definitely a little tough on them right now, but they'll get experienced with it. I'm proud of those guys.

Noah Thomas and Jalen Preston worked their butts off. JP has been somebody that has been where for a while, and he's probably one of those guys that you can look to for questions and influence. JP is always going to be there for you and if you need him in a game. Noah is growing up, and he has been since he got here. He's got that mindset and dog mentality. He's very humble, so he doesn't have a lot of those flashy moments. He's a reliable guy, and you can count on him. They've both been doing good.

My top music artist that I want to see would have to be Don Toliver. He's a Houston guy, and we're real close. I wasn't able to make his concert at AstroWorld a couple of years ago. I caught the end of the concert, and it was crazy. That's my dog. I know him and the DJ personally. If I was to catch a concert, I'd have to go see him and support him. For me, I know you were asking me for a random music artist dead or alive, I'd probably have to go see Michael Jackson. I just wanted to see the Moonwalk, the lean. All of that. I don't care if he was on strings either. I listened to all of that music when I was a kid. Also Tupac, DMX and stuff like that.
Never miss the latest news from TexAgs!
Join our free email list
PRESENTED BY