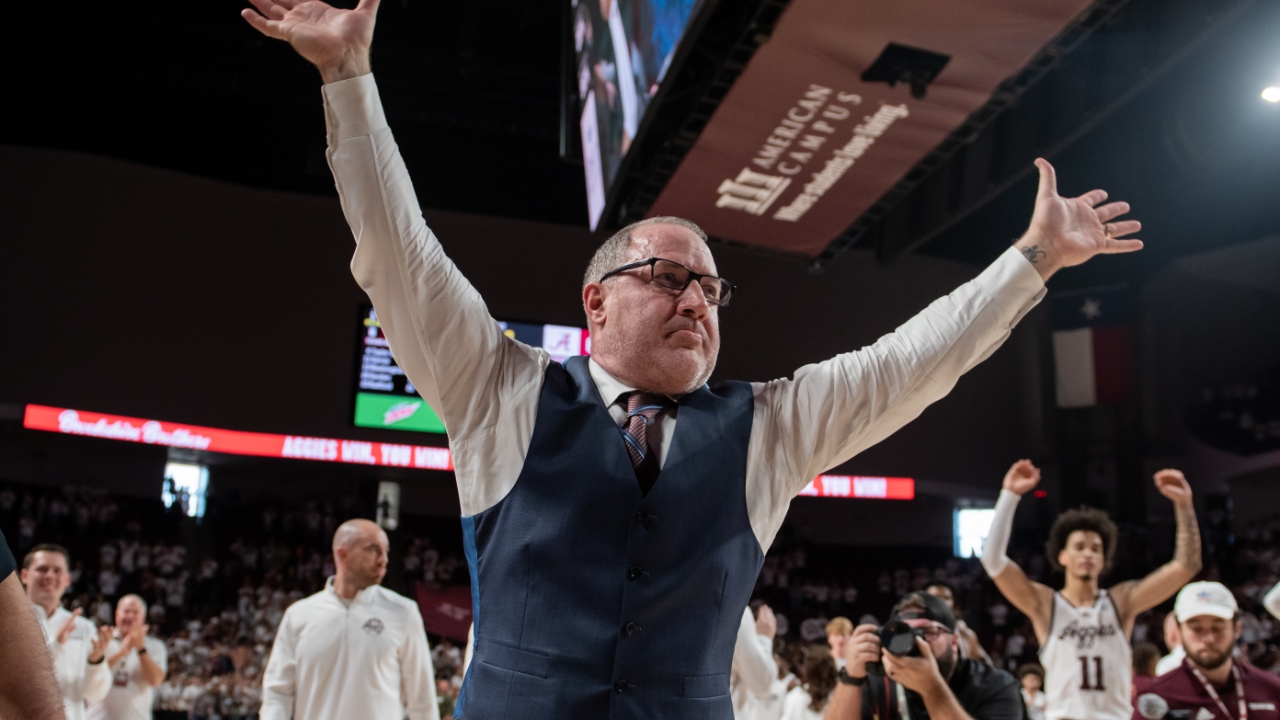 Photo by Jamie Maury, TexAgs
Texas A&M Basketball
Andrew Monaco 'thrilled' to have Buzz Williams on A&M's sideline
---
Last night's Selection Show was a head-scratcher, but in the room, there was only joy as the Aggies are going back to the dance. On Monday morning, Andrew Monaco spoke to TexAgs Radio about what makes this A&M hoops team special, the weekend in Nashville and more.
---

Key notes from Andrew Monaco interview
It was a great season. They were the No. 2 team in the conference, and there was only one team in the SEC that was more consistent than A&M this year. That team won the regular season and the tournament. Alabama deserves the No. 1 overall seed. A&M had 15 conference wins and split with Alabama. I think Texas A&M is a fantastic team, and I'm thrilled they had a great run in Nashville. They had a double bye in the SEC Tournament for the second time. They went to the conference tournament final in back-to-back years. It has been historical. Through all the storylines yesterday and the end of last season with their season on the line, to come back vs. Arkansas and beat Vanderbilt to meet Alabama was impressive.

Last year, the emotions of that Sunday were losing in a championship and not seeing your name in the NCAA Tournament. Players were sobbing. This year, the opportunity to have a rematch with Alabama in a championship while also knowing you were in the NCAA Tournament this time around. I was thrilled for everyone in that room, especially those that were there last year. There was joy when their name popped up. You just want to be in the tournament.

Getting a No. 7 seed is where I scratch my head. If you have a NET of No. 18, that tells me you're about a No. 5 seed. You beat Tennessee, and you're behind them. I get that they lost to Kentucky at Rupp. To be the same seed as Missouri? A team you beat twice? A&M was 11-2 vs. mirror opponents in the SEC, which got eight teams in the tournament. I don't want to make this a negative thing because they're in. There are a lot of teams that don't want the Aggies in their pod or their region. I don't know what else this team needed to do. The only thing to do is cut down nets in Houston, and then maybe they'll get a higher seed. They've won over 50 games in the last two years.

Texas A&M is going to be tough for other teams. You can watch what the Aggies do on tape, and that's what Penn State will do. Once you face the defense, it's completely different. It keeps coming for 40 minutes, and it will be something that a lot of teams have not faced. It's hard to see in the tournament. Vanderbilt struggled with it in the SEC Tournament. Vanderbilt's sets are usually really good, but they pounded the air out of the ball too much.

A&M is also a team that comes at you in waves. Guys can carry them at times, but there is not one guy. Sure, Arkansas and Alabama took Wade Taylor IV out of the game, but that means Henry Coleman III, Julius Marble II or Tyrece Radford can take over. Go ahead. Try and take Taylor away. Yes, Taylor is first-team All-SEC, and Boots is second-team. It's not just one position. Dexter Dennis is versatile. The bench is versatile. They are a tough tournament team to prepare for, especially when you only have one day to prepare.

Alabama was not celebrating until toward the end of the game. It was 58-48 before the back-to-back threes that allows Alabama to exhale. There was a moment when Dennis took an open three. It didn't go down, and then Alabama hit one at the other end. It was that kind of game. Boots isn't going to go 1-for-9 very often. They have it in their DNA that they're going to keep on fighting. There is not a team that the Aggies fear. They didn't fear Kentucky at Rupp. They didn't fear Tennessee. They didn't fear Auburn and the long winning streak. I don't know if it's about NBA talent, but collectively, they are one of the best teams. They have "lucked" their way into 25 wins. Teams look at these Aggies as if they're not that good, and then 40 minutes later, that team leaves with an L. They display their ability every single time they play, and they'll do that regardless of the number by their name in the NCAA Tournament.

Brandon Miller is not a one-trick pony. I do not see the first-round pick hype in Nick Smith at Arkansas. A shot that Arkansas needed was on the baseline, and he hit it. That baseline jumper, is that any different than Dexter Dennis? No. Miller is as-advertised though.

I am still grateful that these players in Buzz Williams' program represent Texas A&M on the biggest stages. I am thrilled we have Buzz Williams on our sideline.

I think 3-point shooting will be key vs. Penn State. The number of 3-pointers they hit is like Alabama, but I don't think they hit the money ball like Alabama. Jalen Pickett has size. He can score and assist. He's almost a point forward. He's similar to Arkansas' Anthony Black.

For the last 21 games, you've known your opponent. Now the opponent is brand new. The way Buzz prepares his team is a combination of new and old similarities of "they do this like against so-and-so." The length can give A&M issues, but Arkansas is one of those teams with length. A&M handled that in the second half. They will always have to rebound, and you can't turn it over. Alabama forced live-ball turnovers. It's not just one bucket on one end, but it's the lack of an opportunity on the other. The rest of the way, I don't care who they play, it's about rebounding and taking care of the basketball.

One thing you have to say about this team: If there is a breakdown on defense, they communicate about it, but they don't let it happen again. They might let a mistake happen once in a game, but they don't let it happen twice.

These guys are so nice, but they'll rip your heart out on the floor. There is so much joy for one another. They know the little things matter, and they practice those every day. That joy for one another is special. Just watch their sideline.

The moment is not too big for Solomon Washington. They put him in the Memphis game late because they knew it would pay off later. He was on the floor late in big wins. He has learned to do his job.

This is a team that is definitely in the here and now. Williams getting Coach of the Year is for this season, but this program is also in great shape moving forward because of who he has brought in, their personalities and who they are. This wasn't a fluke year.

The grass isn't always greener. If a player does transfer, whoever the next coach is, they'll be getting a heck of a player. These guys are part of a family here.

Taylor is going to be a junior next year. He's only a sophomore! Manny Obaseki was great yesterday. He didn't have a grand re-entrance. I am looking forward to the future, but I'm also very excited about the present.
Never miss the latest news from TexAgs!
Join our free email list