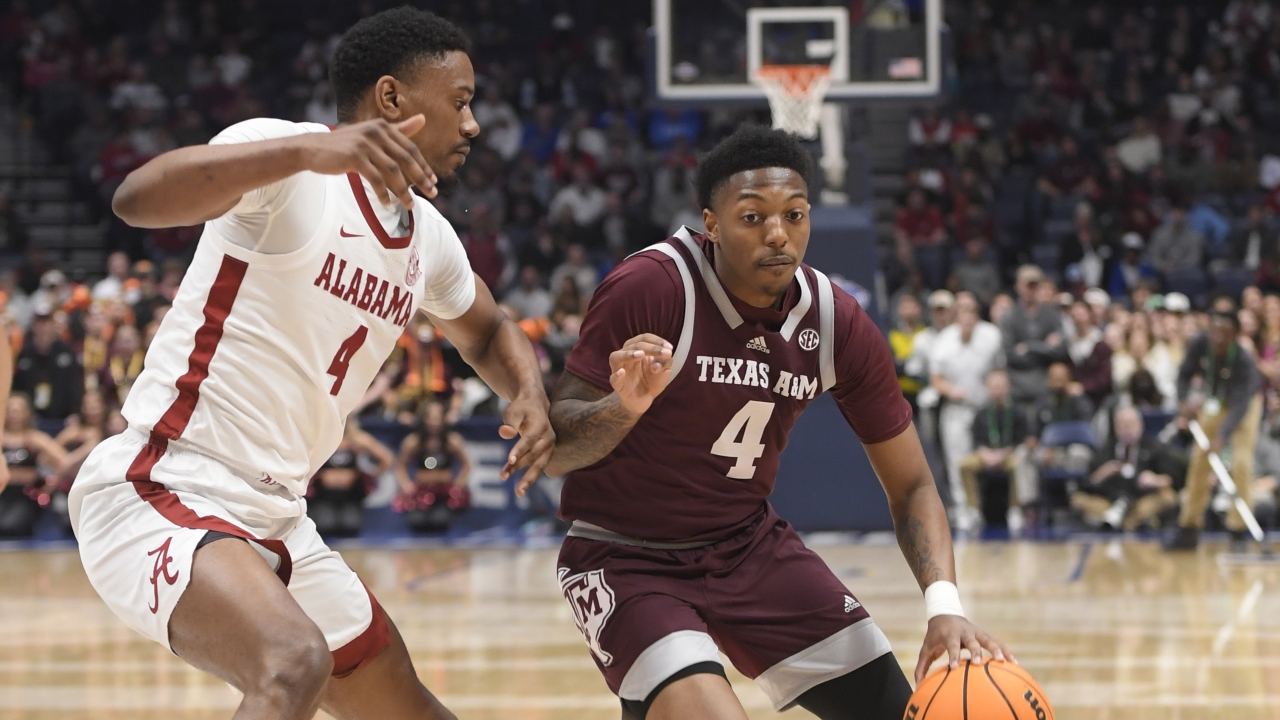 Texas A&M Basketball
After falling in SEC title game, Aggies look ahead to NCAA Tournament
---
Press conference videos courtesy of the Southeastern Conference.
---
NASHVILLE — It took about 10 minutes to dash Texas A&M's hopes of winning the Southeastern Conference basketball tournament championship.
The Aggies don't figure to take much longer to put that disappointment behind them and look ahead.
An 82-63 loss to top-seed Alabama (29-5) on Sunday at Bridgestone Arena could certainly be viewed as a big opportunity that got away.
"We do have to put our emotions behind us and start thinking about the future and what's next for us as a program," said senior guard Dexter Dennis, who led No. 2-seed A&M with 14 points. "I say we have to have a short memory in this situation."
The Aggies (25-9) have the proverbial bigger fish to fry.
A trip to the NCAA Tournament looms. Some bracketologists have the Aggies projected as high as a No. 5 seed.
That in itself is amazing considering the Aggies were a mere 6-5 at Christmas. There was no indication that a stunning reversal of fortunes was imminent.
"We've improved a lot. Coach (Buzz Williams) preaches to us every day about being resilient, staying together through the ups and downs. We've had a lot of ups and downs through these last 65 days."
Then came a seven-game winning streak and a 15-3 march through SEC play.
"We've improved a lot," star sophomore guard Wade Taylor IV said. "Coach (Buzz Williams) preaches to us every day about being resilient, staying together through the ups and downs. We've had a lot of ups and downs through these last 65 days."
The highest of those "ups" was a 67-61 upset of then-No.2 Alabama (29-5) just a week ago.
But this clash hardly resembled that one.
Alabama only hit seven times from 3-point range in the A&M win. Star freshman Brandon Miller scored 19 in that game while hitting just seven of 23 shots.
This time, Miller had 23. A dozen of his points were scored from the 3-point line. Alabama hit 12 times from behind the arc. Six came in the first 10 minutes as the Crimson Tide stormed to a 24-13 lead midway through the first half.
The Aggies never recovered. In one stretch, A&M made just one of 16 shots and went more than 10 minutes without a field goal.
Julius Marble II finally ended the drought with a jump hook with 32 seconds remaining to bring the Aggies within 34-23 at halftime.
A&M got no closer than eight points in the second half.
Alabama's defense continuously frustrated the Aggies. The Tide shadowed Taylor's every step on the perimeter. When the Aggies ventured inside, they struggled against the length of Alabama's 7-footer Charles Bediako, 6-foot-10 forward Noah Clowney and 6-foot-9 forwards Miller and Nick Pringle.
They could not compensate from 3-point range. A&M converted just five of 15 attempts from behind the arc. Two of them were scored after Alabama had taken a 75-50 lead.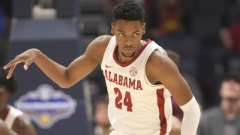 Steve Roberts-USA TODAY Sports
In the first game, Taylor and guard Tyrece Radford combined for 49 points. This time, they combined for 25. Taylor scored eight in the final four minutes when the outcome was already decided.
Alabama blocked seven shots and out-rebounded the Aggies 50-37. The Tide had 21 offensive rebounds, which led to 14 second-chance points.
"I think the thing that hurt us today was their offensive rebounds," Williams said. "We have done a good job. We did a better job last Saturday in that regard against Alabama specifically."
The disappointing loss should not diminish prospects of what the Aggies could accomplish in March Madness. Indeed, in a strange way, they could possibly even glean some encouragement.
A&M has consistently demonstrated incredible resiliency since a stunning loss to Wofford on Dec. 20.
Since then, the Aggies have suffered five losses. They've come back strong from the first four.
The loss to Wofford was followed by seven consecutive victories. A loss at Kentucky was followed by wins over Auburn and Vanderbilt.
A&M launched a six-game winning streak after falling at Arkansas. They won four straight after losing at Mississippi State.
If that trend holds, at least a Sweet Sixteen appearance awaits.
"The response after the loss(es) was just as mature as the response was after winning multiple games," Williams said. "I hope that that continues on.
"They're hurt, as any person would be, to play in a championship and lose, but I think we've had reps of responding the right way. I anticipate, hope and pray, that's the same going forward."
Never miss the latest news from TexAgs!
Join our free email list