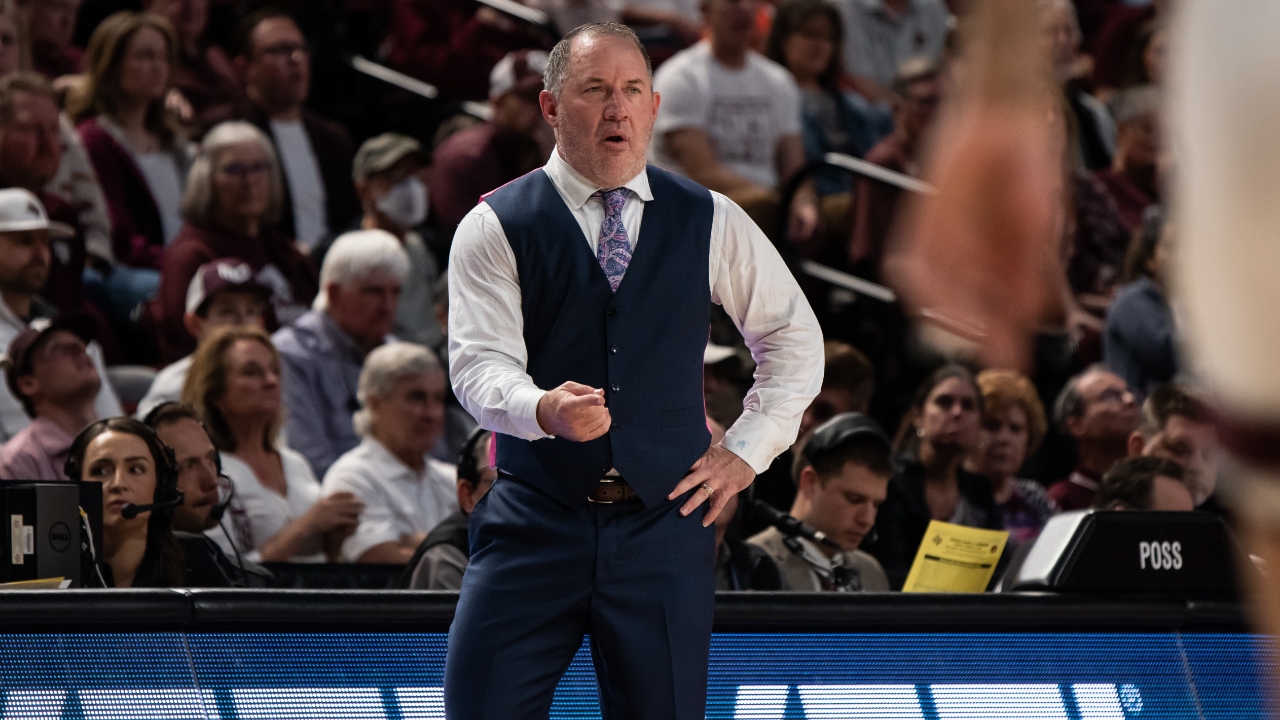 Photo by Jamie Maury, TexAgs
Texas A&M Basketball
Williams' squad 'bought in' approaching difficult conference stretch
---
Texas A&M men's basketball is off to its best start since joining the SEC and does not look to slow down. Ahead of a Q1 meeting with Arkansas at Reed Arena on Wednesday, Buzz Williams joined TexAgs Radio to discuss his team's mentality and players making strides this season.
---

Key notes from Buzz Williams interview
I think there is a lot of answers to that. I think it depends on where your team is at and what we are trying to do. We were not mature in how we handled the second half of LSU. I think we were up 30. They outscored us by 19 in second half. We were trying to play different minutes, but we have to be mature in handling off-guard situations.

I think our staff has done a good job of their adjustments required for that opponent. We are so much better when the game is our fourth rep. We have a first rep today. The next day is the second rep. Shootaround is the third rep. It depends on when the game is, but we want the game to be the fourth rep. We made that change, and we are going into our third week of that.

Our team is completely bought in. All the things we were prepared for, we were executing at a very high level. That speaks to the concentration and execution of our group. Today will be our first rep. We have to get to four before game time on Wednesday night.

I thought Solomon Washington had some of the same maturity Wade Taylor IV had but in a different way. As good as Taylor was playing, he still played with great discipline. There was a time he could have shot it, but he got us into offense, and we got a great shot. There's a delicate line. He has the ability to score in different ways. Some of the same things are true defensively. At DePaul, he had four steals, and they were not what you would want at a coaching clinic. He gets more grace. The players agree. If there is going to be just a good shot taken, they want Wade shooting it.

I think Andersson Garcia is sneaky good. The transfer portal has become such commonplace in coaching speak. I've learned no matter how good a player you are, there still is an adjustment. We only talk about the adjustment from high school to college. There is an adjustment to everything at a new program. What Garcia has done has been a needle mover for the program. Solomon was a little out of sorts against Georgia, but since then, he has been as mature as he could be.

Andersson and Solomon have really helped us. They are one of us. They are excepting of their role. Andy is the eighth most efficient player in the SEC. If I told him to start, he wouldn't because he knows his role.
Never miss the latest news from TexAgs!
Join our free email list