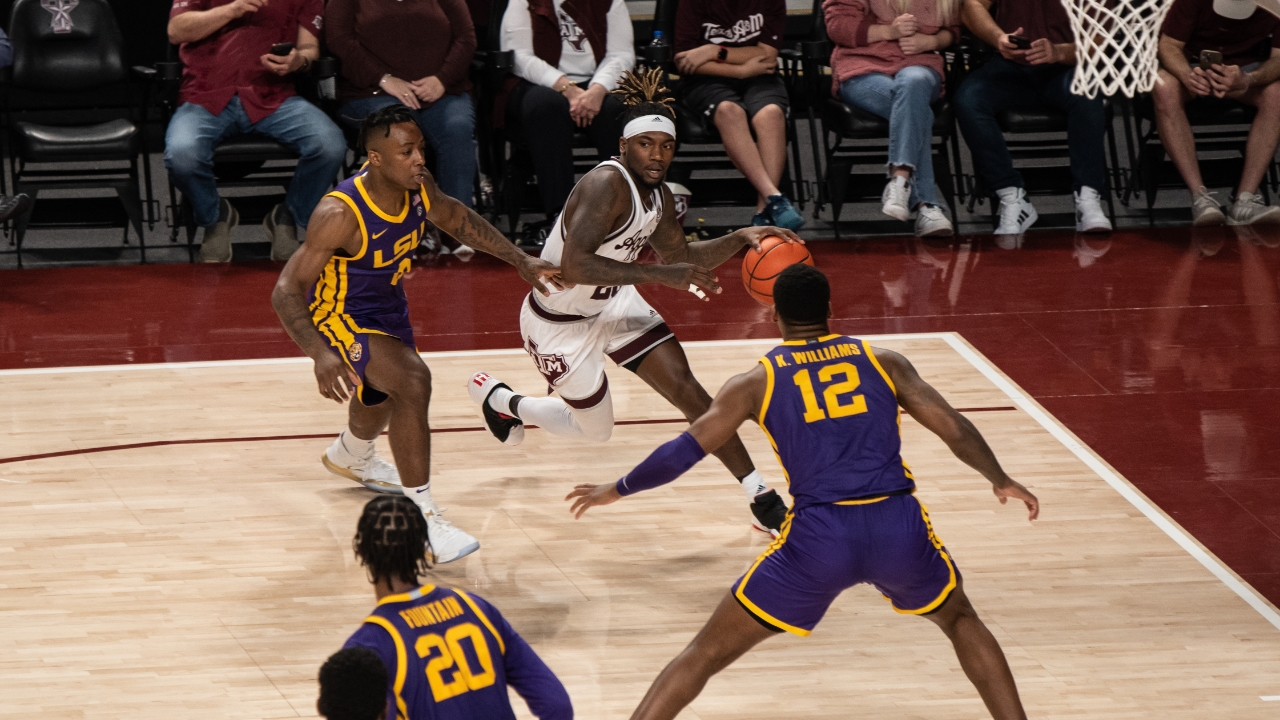 Devin Johnson
Tyrece Radford
Texas A&M Basketball
A&M's Louisiana natives more interested in win over LSU than kin
---
Going home is nice. Going strong is much better.
Therefore, continuing Texas A&M's Southeastern Conference basketball surge is priority for several Louisiana natives on the roster when the Aggies (17-7, 9-2) travel to face LSU (12-12, 1-10) on Saturday at 7:30 p.m.
A&M, which has won 11 of its last 13 games, is going strong. So strong, in fact, that NCAA Tournament bracketologists are finally projecting the Aggies to make the March Madness field.
But the Aggies know they cannot take any win for granted. Not even against LSU, which is tied for last in the SEC standings and lost to A&M 69-56 in Bryan-College Station on Jan. 7.
"We've had conversations about it and talked about it. A couple of us were in this situation last year. We're not above anybody," said A&M associate head coach Devin Johnson, a native of Baton Rouge neighborhood Zachary. "They're (LSU) still playing hard. Non-Conference, they're 11-1. They beat Arkansas to start the league, and it's the same guys out there. When you watch those guys play, they never give up.
"You don't want to be that team, that person, who thinks just because you beat them the first time means this is going to be a walk-over the next time, you know?"
"But we have a good group of guys that aren't really looking at it as, 'Hey, they're struggling right now. We're going to take advantage of that.' We have a good group of guys that's locked in."
Those guys include Tyrece Radford from Baton Rouge, Dexter Dennis from nearby Baker and Solomon Washington from New Orleans.
All expect a large contingent of family at the Pete Maravich Assembly Center.
But Radford, who has scored at least 10 points in 11 of the last 13 games, insisted the Aggies are more interested in a win than kin.
Even though LSU is mired in an 11-game losing streak, Radford vowed the Aggies aren't assuming an easy win awaits.
"Going in there thinking that you've got it … that's what this program calls being "Jacob." Just thinking you know, and you don't," Radford said. "You don't want to be that team, that person, who thinks just because you beat them the first time means this is going to be a walk-over the next time, you know?"
The Aggies will look to again contain LSU's 6-foot-10 forward K.J. Williams, who averages 16.5 points and 7.5 rebounds.
In the first clash, Williams was limited to two field goals and 10 points. The Aggies hope to duplicate their defensive effort, which held LSU to just 34.7 percent shooting. LSU scored only 23 points in the first half.
A&M hopes to repeat their offensive showing, too. In that first game, the Aggies shot 48.1 percent with 6-foot-9 forward Julius Marble II and Dennis leading with way with 17 points each, while Radford had 14.
But A&M only hit four times from 3-point range in that game. The Aggies hope sophomore guard Wade Taylor IV will maintain a hot hand. He scored 22 points and hit four treys in an 83-78 victory over Auburn on Tuesday.
"We're going to do what we do," Radford said. "We're going to stick to us and try not to get too far ahead of ourselves. Just taking it a game at a time. Just take it step by step."
Just trying to keep going strong.
Never miss the latest news from TexAgs!
Join our free email list