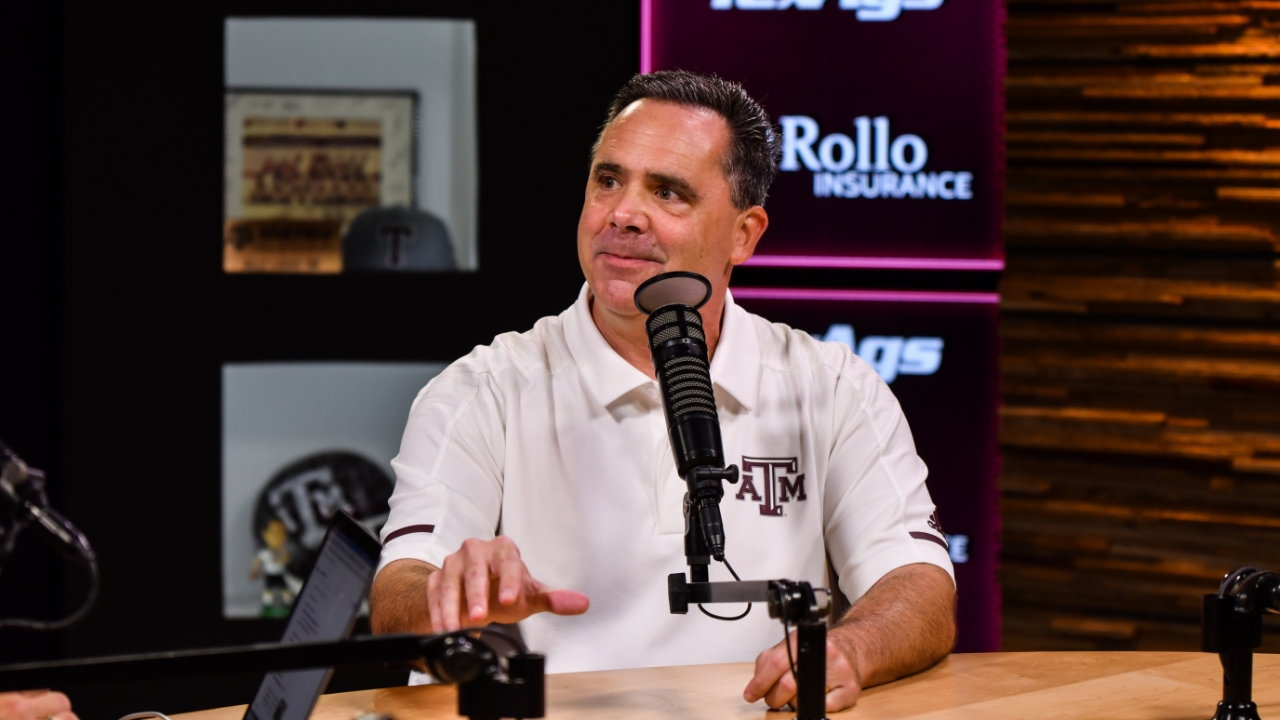 Texas A&M Football
Monaco says Aggie hoops are capable of bouncing back vs. Georgia
---
"The Voice of the Aggies" joined us on Thursday morning as Andrew Monaco took us on an interesting road trip up to Northwest Arkansas with Texas A&M basketball. Monaco also discussed the latest regarding Buzz Williams & Co. ahead of Saturday's meeting with Georgia.
---

Key notes from Andrew Monaco interview
Traveling this week, it could have been a lot worse if you didn't have the setup that the Aggies have, and Luke Hillin did a great job. They had a backup plan. You got to do what's next, which was Wichita, then bus to Tulsa, sleep in the hotel there then get to Arkansas the next morning. It was a bad situation, but it was smooth because of what Luke and the staff did. If you didn't have that type of coordination, it would have been a nightmare.

I think a break will do them well, and Buzz Williams gave the program Feb. 1 off after we had to fly into Houston rather than College Station after the game. Buzz said after the loss to Arkansas, from Dec. 31 to Jan. 31, you can really see the growth. I thought it was a really good January.

Buzz said post-Arkansas game, "In a game, you need to be sharp, we were really dull." What really jumped out at me, I'm telling my broadcast partner John Thornton that this seems to be a key moment. I think it was at 6:83, this team had so much fight, it's more than effort. There were those moments at Florida, too, and the moment may have been too big.

I've asked Tyrece Radford and Wade Taylor IV this, and I think it goes back to the Memphis game. Yes they lost a bit but also gave themselves that chance. I think it's a good thing to have when you go into another team's building and that team asks when are the Aggies going to make this run.

To me, Buzz describes it beautifully: You can force all the turnovers in the world, but you have to score off them.

I love the way they bounced back after Kentucky, and I want to see them do that with Georgia. It's not like the NBA. You can't just throw it away. If there's a wart, you have to take care of it. At half-time, they were saying all the right things. They are reminding one another. They are coach-fed players that lead each other. You love when it was player-led.

I understand that even though Gregg Popovich had the most wins, he's also self-deprecating. He's never taken that credit. Now he has adapted, which I don't think he gets credit for. I don't know how it is sometimes we love the flavor of the month. NBA Coach of the Year were typically given to guys that went from bad to mediocre. It's much more difficult to win 50 to 55 games consistently, which Pop did.

Deafening is when the Aggies are at their best. I think the defense triggers the offense. When they run their offense, Buzz says they are not taking surprise shots. They are taking their shots. The shots that they practice. When you get Boots in the corner, I'm pretty sure he's going to make that.

I think they wear you down on defense for 30 seconds, and then you do it on offense.

I don't want the shot clock to go down to 24 seconds. I like 30 a lot for the college game. I think 24 seconds will be just too much for them. I do like that they've borrowed the 20-second clock on the rebound. A lot of these teams love to score early. When you go to 24, you almost have to adopt the same for everyone. We are going to get more shots at 24, but those aren't exactly good shots. I'm not sure more shots equates to better shots.

It's part of the storyline, but it comes at the end of the story to be with the team and watch them evolve. It's really enjoyable. I hope they make everything move.

More than anything, it's the patience. It's looking at things long-term. I don't know if the committee thinks about things like Solomon Washington and Manny Obaseki being out. Dexter Dennis has that finger wrapped, and I don't think they see how important they are. I thought the committee just looked at the eight-game losing streak, and they ignored the run through the SEC tournament. If you look at this year and the metamorphosis, as Buzz puts it, I think they belong.

Who's the best/most consistent play? Taylor comes to mind. If you take KJ Williams away from LSU, just keep the ball out of his hands. With the Aggies, if you take one away, I think they are built collectively. You want to be a fist, not an open hand. I think Wade Taylor is fantastic. I always expect his shots to go in.

Radford is the best all-around player. It's about degrees. I think he's done what Quenton Jackson did last year. I didn't think Auburn wasn't prepared for Radford to run the offense. You could be up 13, and Boots is the same.

I don't want to ignore Henry Coleman III, Dennis or Julius Marble. I think they are so collective. Boots has been impressive, though.

We are going to see a lot of things. The entire offensive line is back. Deuce Fatheree had a fantastic year. Layden Robinson right next to him. All healthy. That's the key word: Healthy. Sometimes you make the player uncomfortable in the spring by starting him somewhere different. That allows you to run, pass and protect that young quarterback.

Going to the defense. McKinnley Jackson is coming back. That's huge. Fadil Diggs and Albert Regis. Those are some impactful guys on that line. Demani Richardson coming back on the back end. For Antonio Johnson and Jaylon Jones, I wish them nothing but success.

Those young guys had to play and had success. Spring will give us some ideas, and then fall will as well.

With Richardson, you think about his interceptions, they are all in big moments.

When you have to respond to a teammate, that's big. Whole lot of corporate knowledge. You have to have the right guys. It's the reason why last year's freshmen are so tight. They went through it, and they didn't like it. They want to win. The same way Jimbo says players recruit players, they set the culture.
Never miss the latest news from TexAgs!
Join our free email list