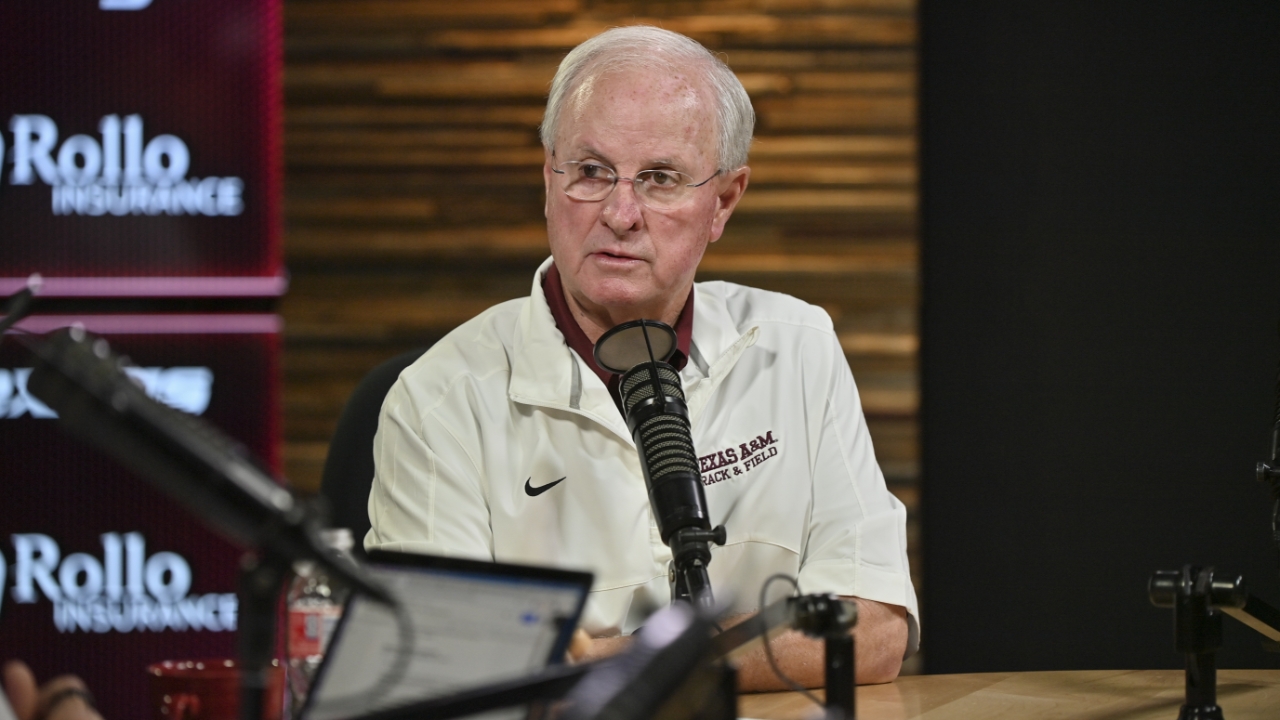 Photo by Jamie Maury, TexAgs
Texas A&M Track & Field
Track & Field Report: Henry shares how to beat the freezing weather
---
With cold weather outside, Texas A&M track & field is facing the tough challenge of training through the low temperatures. During Tuesday's edition of TexAgs Radio, Pat Henry shared how they're attacking the cold in preparation for another meet this weekend.
---

Key notes from Pat Henry interview
This is not track weather. This is tough weather right now. We had a teaching session yesterday, and you have to make it work somehow. We are outside, not inside, and we just have to run a training session that doesn't involve really ballistic activity. With weather like this, it's a day where you have to overcome the mental aspect of it rather than the physical, because your brain shuts down. I'm a sprint coach, and for my athletes, warm weather is definitely better. That's also true for our throwers and jumpers. Normally warm weather is better for them.

My team is motivated, and when you lose the motivation, it's tough to have any kind of success. If you have the opportunity to aim at a specific event, I think that keeps you more in tune and driven to do what you need to do.

For us older people, the best way to continue to do things is find a friend who wants to do the same and become responsible for each other. Then there can be some consistency.

Let's talk about Arkansas last weekend. We had to fly into Tulsa when we went up there as well. The meet went really well. Our team is starting to be more of a team. Some people will say track and field is just an individual sport, but no, it's not. It's a team sport. It's a bunch of individuals that come together, and it's a team sport. You have to have some expectations for each other and hold each other accountable. Eric Casarez is sitting over here, and he has to have some expectations for what a our long-distance group has to do. I bet he wants to be on a team that does well as a whole. He wants to be with a successful group, not just an individual. I think it's important to have expectations from each other, and that's what makes it a team.

Casarez will tell you it's been a process and time frame. It hasn't all been physical. It's a mental game too, and he is starting to overcome that aspect. He ran under a four-min in a mile, and 7:57 for 3K, which is a big-time run.

The distance medley relay is a 1200m, 400m, 300m and a mile in between. That was the fastest we have ever run. Those four guys, they are now dependent on each other, and they want to run faster. They are going to put pressure on each other to run faster. That is a group of men that can run fast, and now they really want to run faster. They set themselves up for some good things.

I tell our team all the time, each one of these is a rehearsal. You have to run fast on a specific day, and that takes a lot. That is what the sport is about. Saying this is the day I have to get it done and also have 35 other people do the same thing.

We have a really good meet this weekend from USC to Florida to LSU to ourselves to Arkansas. Overall, about 30 institutions are involved, and it is going to be a very competitive meet.

I think we talk about intention, and when you walk in the building or on the track, you dream about being successful and how fast and how far. It's trying to see if you can do what you have been dreaming. It's about intent.

G'Auna "Gigi" Edwards is in the top two or three in the country. It was her first pentathlon of the year. She is a very talented young lady. It came down to her winning the competition. She was going to have to run a fast 800m.

Lamara Distin leads the country now. She is going to jump real high. She has to manage those time frames. It's mental prep. It's preparing yourself mentally to do what you do and managing the rest of the time that you aren't. Most people can work hard, it's managing the time frames that you aren't working hard, the rest times. We have a sports psychologist. I think it's good to talk things out with them.

New Mexico is coming up this weekend, and we go there because you have to get used to a different track and how you bank differently around the turn? You have to get used to the ring and the runway. This gives our group the opportunity to do that. We are going to take a smaller group for this meet, about 18-19 people of each gender. This is a good weekend for our short sprinters.

We have some definite holes. We lost Charokee Young. We lost Brandon Miller. They had a lot of years left, but they went professional. Those are holes that are difficult to fill in one year. The loss of those young people that went pro early created hard holes to fill. They are quarter milers whose numbers were in the top three of the world, but we will fill them.

We can't have any home competitions, so for people to know what is going on is important to us.
Never miss the latest news from TexAgs!
Join our free email list